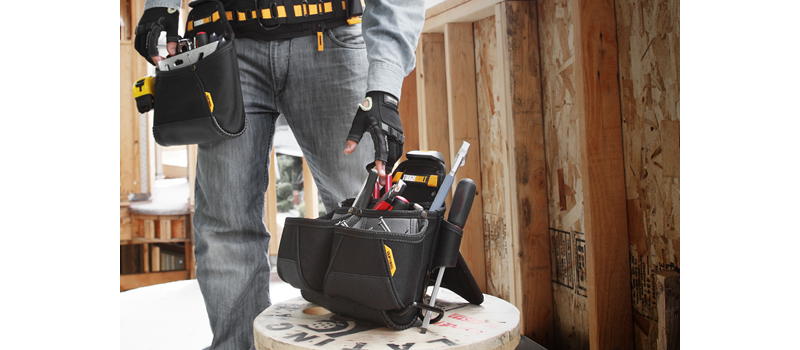 Keeping your van and tool bag tidy can help you work more efficiently, gives a professional image to your customers and can save you countless pounds in having to replace lost tools. PHPI looks at some of the options available from Toughbuilt to help you get better organised.
Very few plumbing and heating engineers would deny that their tool bag and their van could do with a tidy up, but finding enough time to keep things organised, with everything in its place, is easier said than done. Instead, more often than not they are met by a barrage of tools and equipment landing at their feet each time they open their van doors, and are left hunting around in the bottom of their tool bag for that all-important pair of pliers that simply must be in there somewhere. But while it can be easy to make excuses and tell yourself that you'll get around to sorting things out when you're not quite so busy, the truth is that an untidy van and an untidy tool bag not only have a negative impact on your efficiency levels, they can also give a bad impression to your customers.
All of this can be easily avoided without the need to spend hours at the end of each day sorting through your equipment before heading home. The solution lies in investing in a tool bag or tool box that helps you stay organised from the outset.
While spanners, screwdrivers and pipe cutters are essential tools of the trade, the bag or box used to store them and carry them around is just as important. But with such a wide range of tool bags, boxes and belts to choose from, it can be difficult to decide which one best suits your needs. Should you opt for a good, old fashioned tool box or a tool bag which is easier to manoeuvre, but might not be up to the general wear and tear? Or how about a tool belt that will ensure all your tools are within easy reach?
When it comes to choosing the right tool bag there is no 'one size fits all' solution. What works for one installer won't be another's cup of tea, but there are certain things you should bear in mind to ensure you make the right choice for you.
Metal toolboxes are certainly sturdy; they will ensure tools don't get damaged even if they get bashed around in the back of the van. One drawback of the metal tool box though is it can get heavy and carrying one around all day can put a strain on the body.
A lightweight alternative is a synthetic or material tool bag, an increasingly popular option among plumbers. They're not only easier to carry around, they also make organising tools a lot simpler, with multiple compartments to keep even the smallest of tools in their rightful place.
Tool belts are often used alongside either a tool bag or a box to ensure your tools are always to hand, even when you're working at heights or in tight spaces. However when you're working at floor level the tools can dig in your side, with many installers taking the belt off to avoid this, with tools inevitably ending up strewn all over the floor.
What installers may really need is a tool bag that combines all the durability and robustness of a metal tool box with the organisational capabilities of a tool bag. The ToughBuilt range does all of these things. The Massive Mouth, for example, features a super-wide opening that makes it easy to access tools, while its synthetic material means it is lightweight and easier to carry than a metal tool box.
Created to solve the issues of tool belts in one product is ToughBuilt's Cliptech system. The tool pouch is designed to clip effortlessly on and off a tool belt, while its contents remain secure when it is not attached. When you're working at floor level, the pouch can be unclipped and propped up using the built-in stand at the back, enabling tools to be kept close to hand without them getting in the way.
And at the end of the day when you're in a rush to get home? The Cliptech rail can be attached to the bulkhead of your van, ensuring it won't take up racking space.