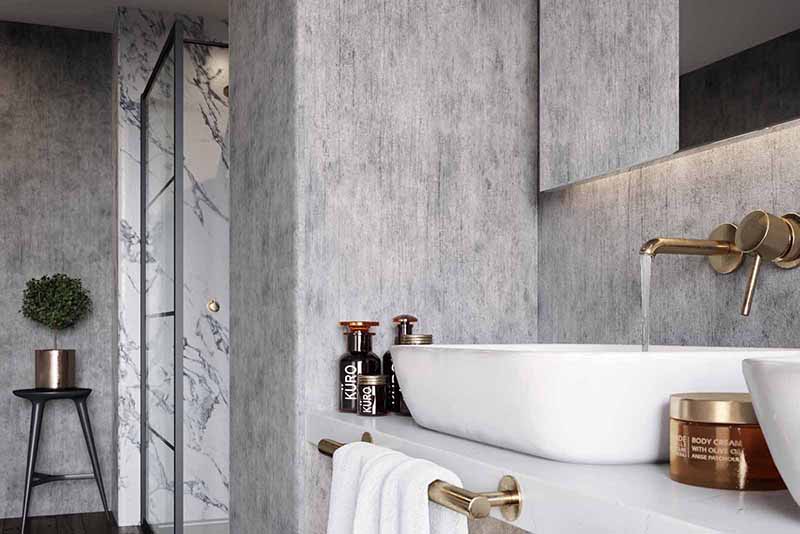 Keely Greenhalgh, National Sales Manager at Mermaid Panels, explains why bathroom panels as a tile alternative are growing in popularity, and the benefits they offer to installers.
The surfaces market is experiencing soaring demand for bathroom panels as one of the most popular ways to create an entirely new look in a tired or dated space. The mid to premium end of the sector is particularly flourishing, as consumers seek out high-end materials and finishes to give their home a luxury look.
In the bathroom, the key trends being favoured are typically timber, industrial-inspired and marble styles. For those projects seeking a natural aesthetic, wood effects are all about a sense of bringing the outside in and restoring a feeling of wellbeing. Biophilia, or a tendency to connect with nature, has become the buzzword of recent times, as consumers look to ground themselves with the family, with their home and their health.
The industrial trend, meanwhile, is a mix of the raw and refined; vintage and modern, unfinished and sleek. And as for marble, its cool, serene finish with undulating veined detail is the epitome of luxurious bathroom design. This desire for greater personalisation and individual style choices in the bathroom, along with the wish for a more hygienic solution has resulted in laminate bathroom panels coming to the fore: an easy to clean and simple to fit alternative to tiles that enables installers to create sophisticated and styles bathroom spaces with a premium feel.
Advantages of bathroom panels
Bathroom panels can offer more choice in terms of variety and décor than tiles, with the most innovative, advanced solutions providing the added advantage of post-formed edges. This intricate design detail creates a seamless finish that doesn't require any trims, making it easier to keep hygienically clean. This in turn makes bathroom panels ideal for shower cladding, bath surrounds, splashbacks and feature areas in family bathrooms, wet rooms and en-suites.
The panels themselves can be manufactured with a waterproof core and post-formed edges, which creates a beautiful design feature out of external corners, whilst eliminating the need for grouting, which can be difficult to maintain and is prone to mould growth over time. Designs in wood effects, marble styles, terrazzo trends and concrete imitations enable homeowners to emulate on-trend materials and finishes without the high maintenance, price tag and installation issues to match. Acrylic panels in bold, solid colours can also be used to achieve a modern look while softer shades are ideal for a calming feel. There are also acrylic patterns and prints as well as composite waterproof panels that provide the look of a metro tile with an easy-clean finish that avoids the need for grouting.
Benefits for consumers
Bathroom panels provide many advantages for the consumer and they are becoming an increasingly considered option for specification in new build bathroom projects due to the superior benefits they can provide over other surface options in the bathroom and shower area.
Firstly, moisture and humidity don't affect acrylic, glass or composite bathroom panels so there's no need for homeowners to worry about mildew or mould ruining their new bathroom space. There is a huge choice in terms of design and style; the latest trends can be integrated into the bathroom with ease as bathroom panels can emulate the luxury look of wood or stone, while being fully waterproof at the same time.
Homeowners will be spoilt for choice and feel empowered by the range of choice and the ability to create a bathroom design that is unique to their personal taste and style. The long-lasting, durable properties of laminate panels are, in fact, even better than the real raw materials when it comes to practicality and they are far more cost-effective too. One of the biggest benefits that shower panels can offer are trimless panels, which feature post-formed edges to eliminate the need for grouting. Grouting is notorious for discolouration over time and requires lots of maintenance to keep clean, so trimless solutions can completely eliminate this common pain point for homeowners.
Ease for installers
Bathroom panels are also gaining increasing interest from the installer community thanks to their simple and hassle-free installation process. Not only are they quicker and more efficient to install than tiles but they don't require a specialist to fit them either, which can really help to speed up the installation process of a project. The panels themselves can be cut down and adjusted to suit the project on site and can be fitted over virtually any surface. Versatile, flexible and available in a wide range of styles and colours coupled with the benefits of cost, installation and hygiene, could bathroom panels be the solution to triumph over tiles?