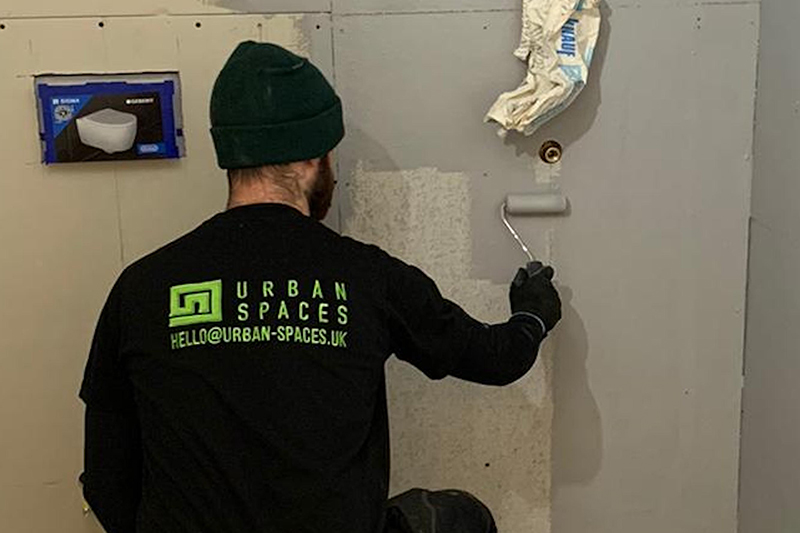 Scarlet McAleese-Banks, Co-Managing Director of HB42, explains how to save time and money when tanking basements and waterproofing wet rooms.  
Tanking can help to stop leaks and prevent damp and water ingress, especially if you are converting a space into a bathroom or wet room. Traditionally, when preparing a cellar or basement, for instance, a tanking slurry is used, but it may need more than one coat, plus it can take time to go off. However, there is another way, which thanks to advanced Hybrid Polymer sealant technology is quick and saves time.
This technology is present in HB42 Ultimate Waterproofer, which creates a waterproof membrane that is highly elastic, self-levelling, non-brittle, and has gap filling properties suitable for all kinds of waterproofing repairs inside and out. It only needs just one coat of at least 2mm thickness to waterproof an area, straight from the tub, saving time, money and hassle.
No need to mix
You can apply the Waterproofer with a brush, trowel, or squeegee as you don't need to mix it. It can even be used in place of the backer board normally used in bathrooms and wet rooms.
It is also ideal for repairs to roofs, around chimneys, roof domes and gutter sealing and can also be applied to prevent wood rotting and metal corrosion. The Waterproofer can seal floors, fixings, plasterboard, wood and walls and shower trays too.
Not only that, it can be used as a tile adhesive, can seal concrete foundations, balconies and can be used on stone, metal and polystyrene foam.