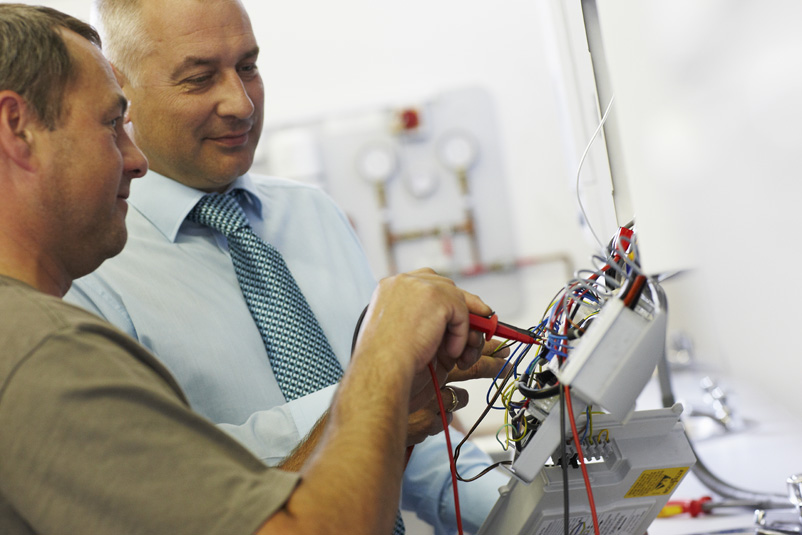 Whilst training can play a key role in an installer's career progression, the trials of managing the day-to-day mean it can often be left on the back burner. However, with changes to the sector both now and in the future, training will be more important than ever for installers looking to stay one step ahead. And with increased options and accessibility for courses, now is the time to take stock of how training can help your business. Steve Owen, National Training Manager at Baxi, explains.
With a new tax year on the horizon, for many installers, this time of year means working hard to complete end of year paperwork. However, now is also an ideal time to re-evaluate business needs for the year ahead and weigh up the options when it comes to investing in training.
Given that managing the day-to-day workload of a busy heating business is already more than a full-time job, it's worth taking time out to think about resourcing. Planning for training needs will pay dividends into the future, improving customer satisfaction, reducing call backs and opening doors to new revenue streams. What's more, major changes taking place in the market right now – from new technologies to updates in government policy – mean that remaining competitive means keeping up-to-date with the latest best practice.
So it's good news then that the training on offer has changed. Leading manufacturers are continually expanding their provision to help ensure that heating engineers are equipped with the skills and information they need to both carry out the work on their products correctly and, in turn, continue to build their business.
As such, training courses are now designed to cover an increasingly wide variety of topics – from sharpening up on the basics like how a combi works, through to more specialist subjects designed for experienced and established installers looking to widen their remit into new areas.
And it's not just the variety of training courses that has changed. Tailored options are becoming more accessible, helping to ensure that any installer can find a course that meets their requirements. Manufacturers have come a long way in recognising that courses have to fit around a heating engineer's needs, so tailored doesn't have to be expensive either. Don't forget, it is in their interest to make sure that their products are installed and maintained correctly, so feedback is welcome.
However, taking a day out to go on a course – and perhaps even spending money on that training – is a significant investment. The majority of installers work for themselves so as a manufacturer we understand that for most, time is money and a day spent away from work can feel like a loss.
Yet the benefits of becoming properly trained are ten-fold. Product training means fewer return visits and better customer satisfaction, leading to repeat business. Staying up-to-date with best practice and legislation protects businesses from the implications of failing to fulfil legal requirements. Specialist courses upskill staff, improving business prospects as a whole.
Ultimately the right training course, followed correctly from start to finish, can be instrumental in helping a heating engineer to sell more services or products to their customers. Over time, this means the financial benefits can easily outweigh that relatively small investment of a day or two out of work.
When researching training, heating engineers should first assess whether the courses on offer meet their needs. If the basic content is there but you want to ensure a particular area is covered, it is always worth speaking to the training centre and asking if changes can be made. Likewise, if a course is scheduled at an inconvenient time, it is worth asking whether an alternative option is available – other installers may be in the same boat so an extra session can be arranged.
Accessibility has also improved vastly over recent years. With manufacturers placing more emphasis on the importance of training, the number of areas in which the courses are made available has increased. In addition, training centres have a vested interest in making courses flexible and adaptable, including for installers with special needs.
It has never been easier for installers to access training and tailor courses to their requirements. Nor has it proven so crucial to the ongoing quest to stand out from the crowd and deliver superior service to customers. As we enter the new tax year, now is the perfect time to take stock of the past year and focus on plans for the year ahead, in which suitable training should play a starring role.