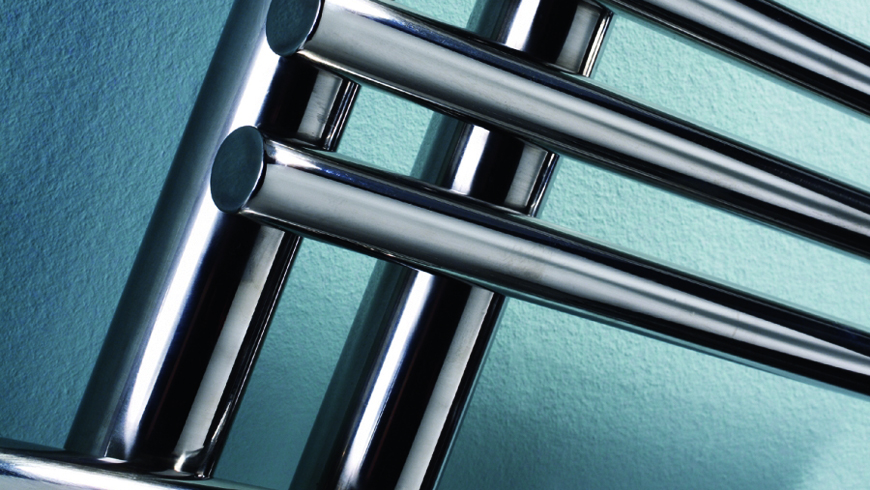 Heated towel rails and radiators boasting towel-hanging options are growing in popularity due to their practicality, adaptability and style. Gareth Charles, National Sales Manager at MHS Radiators, explains the benefits and the reasons behind their appeal.
Heated towel rails are no longer confined to luxury venues, as advances in manufacturing and affordability have seen them introduced to many properties, from apartments to large family homes. The rooms where heated towel rails really come into their own are bathrooms and kitchens, becoming inexpensive, effective and warm additions to the interior. However, as the towel rail sector of the UK market continues to grow, more and more models are becoming available, each claiming to be the best in its class. But everyone knows this can't be the case—so what exactly should installers be looking for?
When selecting a radiator that will warm the kitchen or bathroom, as well as the towels hanging from it, there are many factors to consider. First of all, what is the towel warmer going to be used for? Yes, it will warm towels as the name suggests, but is it also going to be required to heat a bathroom or shower area as well, for instance?
If it is to be the only heat source, the emitter needs to be powerful enough to warm the room as well as the towels. If it is to be used alongside another emitter, such as another radiator or underfloor heating, then a lower output rail can be selected. Any towel rail should also fit the hanging and wall space available, as well as have a style and finish that complements the rest of the décor. In terms of practicality, consider how many towels will actually need hanging up each day—for example, a towel rail in an en-suite will not need as much space as on in a family bathroom. There also needs to be enough space between each group of rails to drape a large bath sheet.
Of course, sufficient wall space for the towel warmer is also required. A full size towel radiator capable of heating a large bathroom can take up a lot of wall space, whereas smaller rails can be wall-mounted at waist height, leaving space below for storage, or narrow rails can be installed behind a door, optimising space that would otherwise be wasted. Some end users may consider installing underfloor heating as part of a space saving initiative, but such systems are difficult to retrofit – after all, nobody wants to have their floors pulled up for pipework to be installed when there are more cost-effective options.
Towel rails are manufactured to allow for different sizes of towels to be dried and stored easily. If the product is to heat the entire bathroom, a rail with larger diameter tubes is recommended, as these produce more heat than rails with smaller tube diameters. The tube count is also important, as there needs to be enough to generate a sufficient level of heat. However, some manufacturers reduce the number and diameter of the tubes to cut costs, which can have a major impact on performance of the rail.
A room's size will also dictate how much heat it requires. If space is not an issue, owners of larger properties can opt to have a heated towel rail and a radiator, or even radiators which have towel hanging options. Furthermore, many of our own towel rails come with electric options that can be useful when the central heating is switched off during the summer – warming towels when required, without making the bathroom temperature too tropical.
Once the emitter size has been finalised, the next step is finding the right style; after all, there is a huge variety to choose from, ranging from traditional ladder rails to more avant-garde designs. Designer radiators are also being produced with towel holders and hooks, in a variety of styles and colours.
Again, in terms of materials, a choice of options is available. Steel remains popular due to its robustness and ease of manipulation. In the consumer market, stainless steel is becoming increasingly popular due to its aesthetic properties. Aluminium is another material that has entered the fray, following advances in renewable technologies—such as heat pumps—operating at lower water temperatures leading to radiators needing to run with greater levels of efficiency. As a result, aluminium radiators and towel rails have become more appealing, not only for their compatibility with low temperature systems, but also their high outputs, low water content and efficient heat transfer into a room. Additionally, the metal's properties enable it to be extruded into complex shapes, creating radiators that have distinctive sculptural characteristics. Plus, its ability to be endlessly recycled is both practical and eco-friendly, making the material good-looking and extremely cost effective, too.
Towel rails and radiators with towel hanging options are going to remain key features for kitchens and bathrooms for many years to come. Whatever shapes and sizes are used, they are the best products for keeping towels warm, while ensuring rooms remain stylish and elegant.