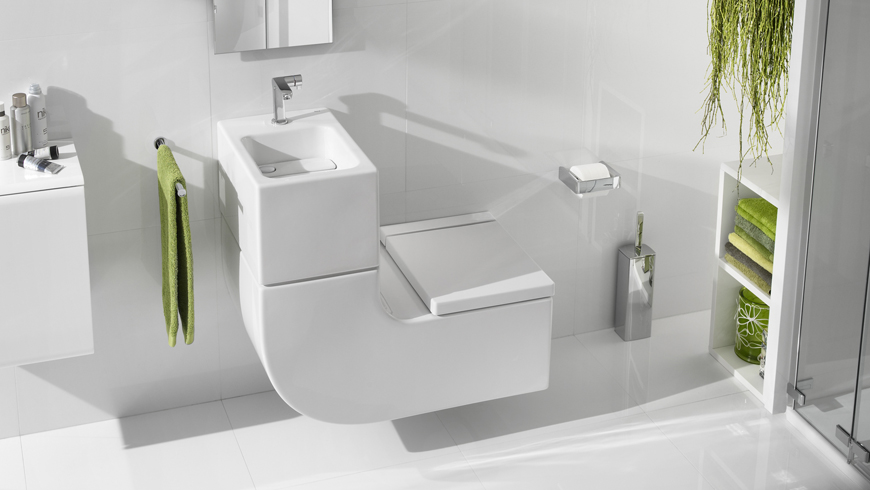 With more of us crammed into small flats and houses, the bathroom is often necessarily diminutive in size. Thanks to innovative new products and some clever tricks of the trade, however, even the tiniest of cloakrooms can be transformed into a bathroom space that is both practical and stylish. Georgina Spencer, Marketing Manager for Roca, explains how to turn a 'box room' into a beautiful bathroom. 
"I'm a plumber, not a bathroom designer." That might be your first thought when faced with a client clueless as to what to do with their tiny bathroom. Armed with a few bits of design knowhow and knowledge of the latest in space saving sanitaryware, however, you can help your customers realise their dreams and earn brownie points to boot—in a competitive marketplace, going that extra mile is essential to win repeat business and recommendations. 
With the average bathroom measuring just 1.8 by 1.8m, manufacturers have created a raft of products designed specifically to tackle the need to cram essentials in, without end users feeling squashed. When it comes to sanitaryware, there are short projection basins and WCs which don't compromise on usability but free-up a few inches – essential in an area where every centimetre counts.
Wall-hung WCs and basins, fixed to the wall using specialist frames, create a sleek finish and negate the need for pedestals, freeing up floor space and giving the illusion of bigger square footage. Roca's W+W (washbasin and water closet), for example, is wall-hung and L-shaped, fitting snugly in the tightest of areas. The space saving doesn't end there either, W+W houses the washbasin above the cistern – so no need for a separate basin – and flushes using recycled hand washing water, saving 25% more than a dual flush cistern.
Combining products is a key trick for bijou bathrooms. Our newest WC, In-Tank Meridian, includes the cistern in the toilet bowl, which not only saves space – as a boxing for a wall-hung frame isn't required – but also makes for easier installation. More traditional examples of space saving sanitaryware include storage below the sink with modular vanity units, or in the gap under the bath.
There are a few tricks that can make a space seem bigger and these mainly centre round storage. Don't be tempted to forgo furniture – it's an essential element in any bathroom for tidying away clutter and maintaining that high-end look. After all, there's no way a bathroom is going to look like a stylish sanctuary if every surface is covered with toiletries and cosmetics. Think short projection vanity units in light and gloss finishes and mirrored wall cabinets to bounce light around the room. As mentioned above, when combined with another bathroom essential, this storage can be shoehorned in without taking up too much additional space.
Small bathrooms are a reality of modern life, but rather than being put off by their diminutive dimensions, relish the challenge of a bijou bathroom—they provide a great opportunity to try out some clever new products.