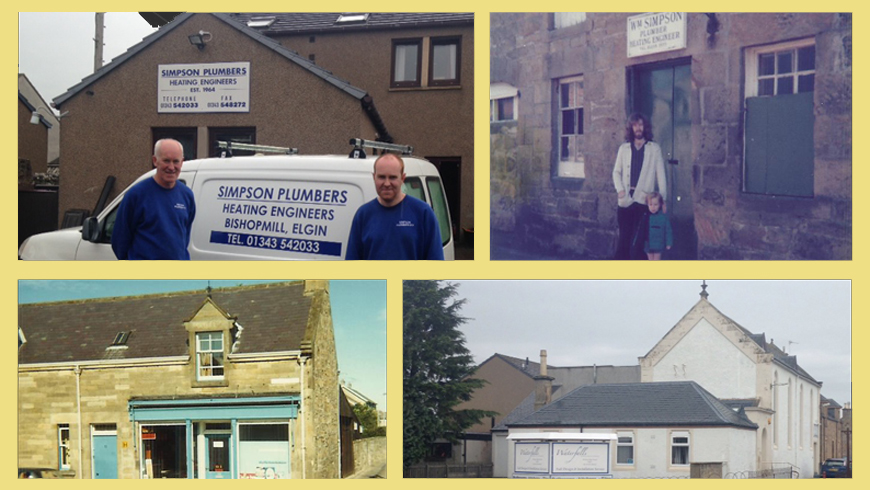 With Fernox celebrating 50 years of innovation within the chemical water treatment industry, we've been on the hunt for all hardworking plumbers and companies also marking a half century this year. We spoke to Iain Simpson at Simpson Plumbers Ltd, a company founded in 1964 by William Alexander Simpson, Iain's grandfather.
Original founder William Alexander Simpson trained as a plumber after leaving school, serving a five-year apprenticeship with a local Elgin plumbing firm. He honed his plumbing skills working for two more local plumbing businesses before deciding to go it alone, establishing W. Simpson Plumbers in 1964.
Located in an old stable building set in the grounds of the 17th century Tower Hotel, William Simpson started out as a one-man-band and remained so for three years. Then over a five-year period, he employed three plumbers, one labourer and one apprentice.
A true family business, the apprentice who joined the business in 1967 is the now the current owner: Iain's father, Alex Simpson with Iain's Uncle John eventually coming on board as an apprentice in 1970.
The company's original building was demolished to make way for a new road so William purchased new premises – a former post office shop with house and yard attached. At the same time, the business changed its name from W. Simpson Plumbers to WM Simpson and Son, before changing again to become Simpson Plumbers, the name by which the company is now known.
Sadly, Iain's grandfather William passed away and this site was sold as the business had outgrown the premises. Instead a new purpose-built office and yard was constructed and this is where the business is based today.
Current owner Iain Simpson explains: "I started my apprenticeship in 1992 and became a partner in 2001, the very same year as the business became a limited company. The business expanded and we bought an old church building directly behind our present site. This was converted into a plumbing showroom and we set up a new business with links to Simpson Plumbers called Waterfalls."
Today, the company employs 12 plumbers, three apprentices and two office staff, and Waterfalls has four employees.
With a large customer base, the company is performing well in the present market, Iain believes: "There is no magic formula to staying in business for 50 years but it is important to work hard, grow the business and take nothing for granted. Our aim at all times is to give a good service and value for money. A number of our customers have been loyal to us for all of the 50 years, for which we are forever grateful."
Simpson Plumbers started using Fernox products very early on, as Iain explains: "Over the years, Fernox has never let us down. We use its products mainly to treat and clean central heating systems – even more important today thanks to the make-up of modern central heating boilers and this will no doubt remain so for the foreseeable future… Business is all about building relationships – so here's to the next 50 years!"