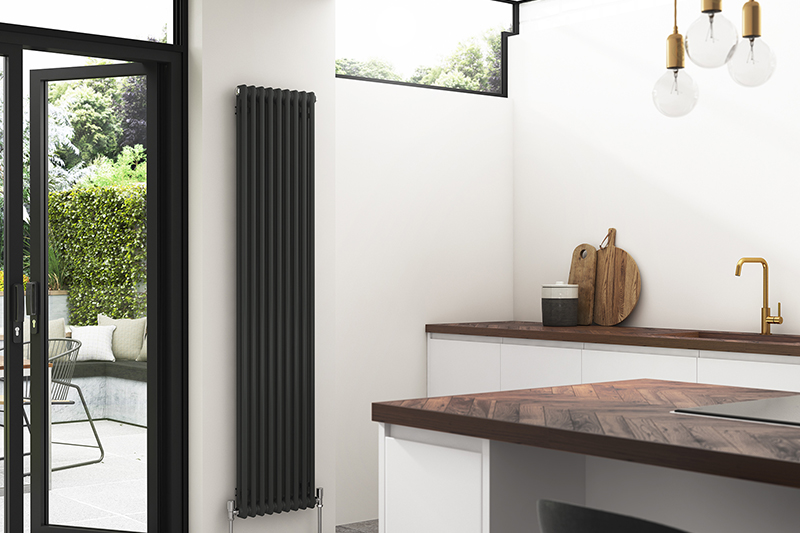 With more sizes, shapes and colours than ever, Chris Harvey, Head of Marketing at Stelrad Radiator Group, explores the range of radiators that can be used on domestic heating systems.
Installers have more options than ever when it comes to selecting radiators to go with their new boiler installations these days. Stelrad has a wide range of radiators with a huge selection of styles, and a significant range of sizes, most from stock and now, most are available in up to 36 colours – with a number of coloured radiators available from stock, with delivery within 72 hours.
Whilst the good old standards, the Compact and the Elite, are the best-selling radiators, there has been a marked increase in the number of premium panel radiators and decorative and designer radiators being specified and ordered through the merchants in the past twelve months.
Consumer demand
This is in part due to the growing popularity of the Vita and Softline series with a full range of designs, but it's also got a lot to do with customers wanting an input to the radiator designs they have in their homes – and a growing interest in the TV programmes that allow the man and woman in the street inside celebrities homes – and they like what they see!
In addition there are a number of trends that are growing in the UK heating sector including the awareness of special application radiators that offer specific options for particular situations – for example the growing range of heavy duty radiators for situations where a more robust radiator is required.
Stelrad has extended its range to include Deco HD as well as Planar flat fronted HD options – and the huge increase in vertical radiators now available – ideal for including larger radiators on smaller wall footprints, in corridors and on landings, as well as in kitchens and bathrooms where wall space is at a premium.
Low temperature
Sales of our low surface temperature – LST – range of radiators is also on the rise. The 'safe to touch' options of attractive radiators, in equally attractive casings, ensure the outside of the casing never exceeds 43 degrees Celsius to the touch. These are popular especially where the very young, the elderly or the vulnerable are living or coming into contact with them in their homes or buildings where they congregate.
The Stelrad LST casings cover the emitter and all the pipework to ensure that people are safe should they fall close to the radiator or become wedged up against one.
Full colour
Coloured radiators are proving very popular, with Stelrad increasing the number of coloured radiators available from stock – particularly for radiators heading for bathrooms and kitchens, but far more for the rest of the home too. Traditionally, radiators have been available in any colour so long as they were white! Now there are a number of radiators available in anthracite grey from stock, which are proving hugely popular.
If you want a radiator in bright yellow, or orange, you can have them, but you will have to wait a little while longer for those. But the more brightly coloured radiators are proving popular with interior designers and for corporate buildings, where the radiators are being selected to match or contrast with corporate colour schemes for example.
We're seeing a sizeable switch away from the standard panel radiator options towards the designer and decorative options. The trend started quite slowly a few years ago, but in the past twelve months has accelerated, with installers offering their customers a selection of radiators in the home – perhaps sticking with the Compact designs for the spare rooms and the rooms that you don't see so much, but stepping up the design content in the main rooms that visitors see – the main living room, the kitchen, bathrooms and cloakrooms and hallways, and of course the master bedroom and en-suite if there is one in the home.
Three panels
We've seen a major increase in sales of K3 radiators in the UK too this year – preparing for the arrival of renewable heating systems. A K3 has three panels and three sets of fins to allow 50% more heat output than from a K2 of the same size. These have also been popular for homes with poorer levels of insulation or rooms that are difficult to heat or which suffer from condensation.
These are exciting times for radiators and whilst we see a lot of information about underfloor heating, radiators still take over 90% of the heat emitting options in the UK and are still very popular with installers and homeowners alike. Even with the renewable heating options that are coming on stream we see radiators taking the lions share of that market – we're offering a range of larger radiators to meet the specific demands of heat pump driven systems, but we anticipate a high demand for replacement radiators with traditional boiler driven heating systems for the next fifteen to twenty years at least.
The success of radiators continues to reflect five key drivers – availability, reliability, ease of installation, breadth of choice and reasonable pricing – and installers are used to working with radiators and feel comfortable with them. As importantly, homeowners and tenants feel comfortable with radiators – they understand them and recognise the reliability factor with them.