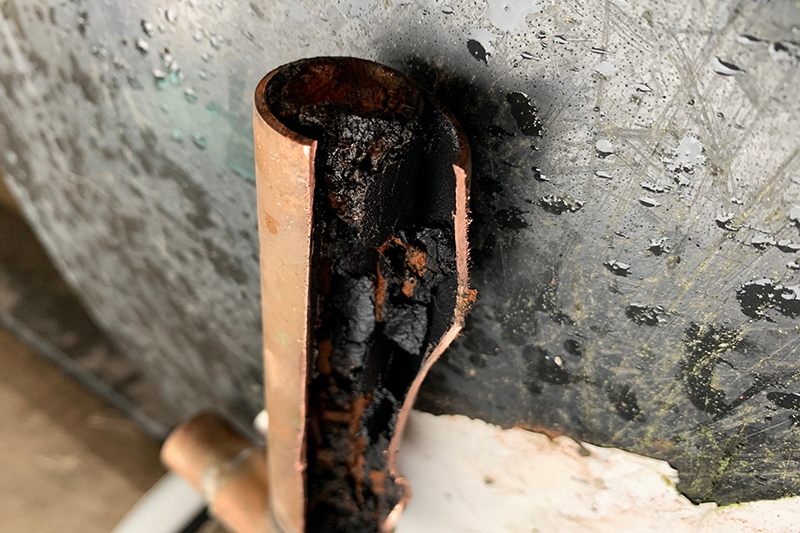 A full system flush will help ensure a heating system is totally free from magnetite and other sludge. However, given that it can be a significant expense for homeowners, it's important to help them understand why it's a worthwhile procedure. Colin Yearp from ADEY addresses some of the common questions installers get asked and looks at how information from manufacturers can help to back up your case to customers.
Q The customer is having a filter fitted to the system. Why should I also carry out a flush?
A magnetic filter like MagnaClean helps to maintain a clean system by capturing the sludge within the filter as water passes through. However, a filter will only collect mobile debris which is moving within the system. In a heavily sludged up heating system, there could be a great deal of corrosion settled in the radiators and pipework which can't be removed by filters alone. To shift heavily settled magnetite and rust, a cleaner will need to be added to the system so that it can circulate and lift the sludge inside the pipework and radiators.
Q The customer's system is quite old and they are concerned that flushing it could cause more damage than good. Is this true?
Powerflushing can be a harsh process, which can put older systems at risk of leaks if the pressure is higher than it can tolerate so we understand why some customers might be concerned. The ADEY MagnaCleanse system uses the heat and flow from the boiler to deliver a fast and effective, yet gentle flushing process, making it ideal for all systems, including older ones. The MagnaCleanse flushing process also includes the Vibraclean agitator to dislodge more stubborn sludge build-up from the base of the radiators without needing to remove them.
Q The customer is having a new boiler installed. Do I still need to flush the system?
Although the old boiler is taken out of use, sludge will remain in existing pipework and radiators and damage the new boiler from day one. In fact, for 60% of new boilers which break down within their first year of operation, the cause is sludge*. Think of it like a new car… you wouldn't put old oil in a new car and expect it to work to its full efficiency. So flushing a heating system with a new boiler installed will help ensure that it will perform at its very best and reduce future issues.
Q Considering that a system flush is a significant expense for customers, how can installers convince them that it's a worthwhile procedure?
Independent research carried out by ADEY revealed that sludge is the number one cause of boiler breakdowns in the UK*. A proper system flush to fully remove sludge will reduce the chances of the customer's boiler breaking down, which can be costly to repair or even replace. Their radiators can gain up to 47% more heat* without using more energy because the system will work more efficiently. As a result, they could save up to £80 a year in their energy bill and lower their carbon emissions by 7%*.
If the homeowner would like reassurance from a third party that the recommendations you are giving to them is correct, it's a good idea to use resources from manufacturers and suppliers to back up your proposals. Having a water testing solution such as ADEY ProCheck up your sleeve can open the door to discussing remedial actions, such as system flushing or inhibitor dosing by showing customers visually what is going on, on-the-spot. Providing access to key data connected to the main causes of poor water quality in a system is crucial and its instant lab-style results check for indications of corrosion, turbidity and pH levels, and means that action can be agreed without delay, reducing the need for return visits, and keeping costs down for homeowners.
To further bring the effect that poor water quality can have to life, ADEY has produced a useful video for homeowners to help them understand the damage sludge can do to their heating systems, and how it can be removed and kept at bay. Ideal for convincing those unsure why this treatment is being suggested.
www.adey.com/category/magnacleanse
www.adey.com/homeowner
*Based on independent research commissioned by ADEY