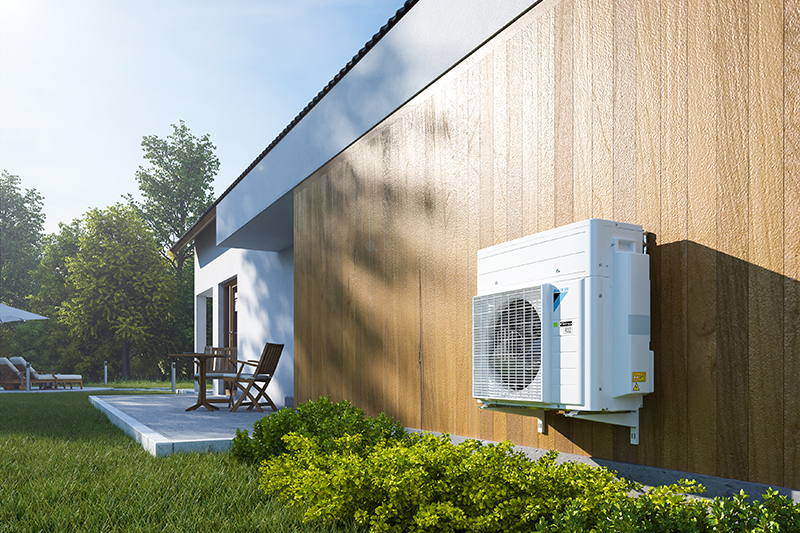 Combining renewable heating technology with a traditional gas boiler can be beneficial for many customers. Robert Stiby, Heating Champion at Daikin, looks at the factors to consider when recommending and installing a hybrid heat pump system.
Heat pumps offer a low carbon, renewable solution for domestic heating and hot water, however this technology is not right for every customer and property. For example, heat pumps may not be suitable for older homes with poor levels of insulation that cannot be improved. Also, some customers may want to reduce their carbon footprint and energy usage but are reluctant to switch to a fully renewable heating system. In these cases, hybrid heating can provide the solution.
A hybrid heat pump combines air-to-water heat pump technology with a gas condensing boiler, to deliver the highest efficiency. The system can be run in heat pump only, gas boiler only or hybrid modes depending on the conditions. For ease of use by the homeowners, the system can automatically switch between the operating modes to ensure high efficiency and guaranteed comfort. Products such as Daikin Altherma hybrid heat pumps can also factor in energy prices for electricity and gas to utilise the most economical combination of technologies.
There is also the option to install a heat pump alongside an existing gas boiler in a 'bi-valent' system. This differs from a hybrid system in that it allows switching between the heat-pump and boiler but does not offer the option of running the two simultaneously.
Energy saving
When in heat pump mode, a hybrid system can achieve up to A++ energy rating and as much as 160% efficiency. In other words, it produces 60% more energy than the input energy source. Typically, the hybrid system will operate mainly in heat pump mode during the warmer months to deliver high levels of energy efficiency, with the gas boiler used to boost the system output when the temperature drops.
While heat pumps can operate in temperatures as low as -25°C, the insulation standard of the property can be the factor that decides if a hybrid system is more suitable. Therefore, the first step when recommending a new heating system of any kind should be to establish the current levels of insulation. This can be done easily and inexpensively with an Energy Performance Certificate (EPC) survey. The certificate will include recommendations on improving the insulation and energy efficiency, and it is always worth advising customers to make improvements where possible.
Heat loss calculations can then be made alongside output calculations for the existing heat emitters. This will firstly indicate if the property is suitable for a heat pump or hybrid system and allow the installer to give the homeowners an idea of costs and benefits. It also ensures the proper sizing of the heat pump and heat emitters.
The conventional wisdom is that heat pumps are most suitable for underfloor heating or require larger radiators to be installed due to the lower flow temperature. However, if insulation improvements have been made it may be that existing radiators are still capable of producing the required output.
Accurate calculations
The Microgeneration Certification Scheme (MCS) guidance notes that the 'rules of thumb' commonly used for standard boiler installations, such as watts per square metre or watts per cubic meter (W/m2 or W/m3), are not suitable for heat pump installations. While these whole house calculations can be used to establish the feasibility and approximate costs, they should not be used for the final design, including the sizing of the heat generator and emitters.
Instead, installers should adopt a room-by-room elemental approach to calculations, aggregating the heat losses from individual elements such as windows, walls, roof, floor and from ventilation and infiltration. There are various tools available to help installers correctly calculate heat loss and design the system, such as Daikin's Heating Solutions Navigator and Altherma selection software.
Renewable heating options are becoming increasingly popular among customers wishing to reduce energy costs and their environmental impact. Hybrid heat pump systems offer an ideal option for combining the benefits of heat pumps and traditional gas boilers. However, it is important that the system is designed correctly to ensure it operates as intended.