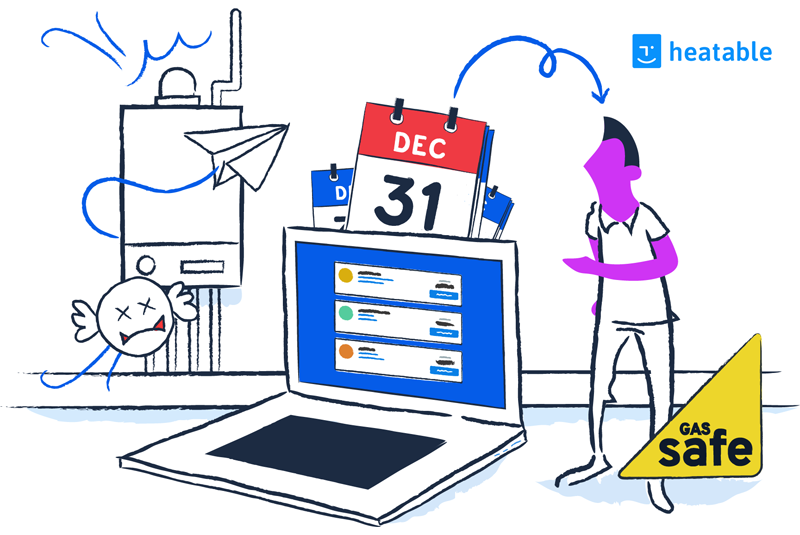 PHPI puts the questions to Sam Price from Heatable to find out why the company has changed its business model.
You may remember a Q&A we ran with Heatable back in the summer of 2017 – for those who don't, the article can be found here. Back then, the business was designed to be a "price comparison website for the industry", so that consumers were able to view a range of different quotes for heating services in their area.
The business model has drastically changed since then, so we put the questions to Heatable's Sam Price to find out more.
Why has your business model changed so dramatically from when you launched in 2017?
How our model changed might appear dramatic, but the why is much more straightforward. In 2017, we set out to make Heatable a go-between to put consumers in touch with the best local boiler installers and companies in their region.
Put plainly, we changed because we were being let down by the majority of the installers we were working with, and more specifically, their poor levels of customer service.
Whilst never having received an installation-based complaint from a Heatable customer, a staggering number of customers returned to us informing us that the engineer we referred them to was never in touch, contacted them too late or, worst of all, failed to show up to an appointment. Not only was the customer service a million miles short of the standard we strive to deliver, but it was also a very fractured journey for customers, with almost every one receiving a different service level and experiencing a different consumer journey.
Onlooking cynics will have all too quickly declared us 'just a lead generator' (with some fruitier language, I'm sure) and questioned not only our approach and involvement within the industry, but also whether we have any real commitment to our customers – which we sincerely and proudly do.
Another issue was installers using our platform to list prices lower than that of which they were actually willing to provide their service for – essentially using Heatable to get a virtual foot in the door – something which we designed Heatable in order to help make extinct.
After months of tweaks, gathered feedback and alternative avenue explorations, it became very clear to us that the one solution to all of our problems was to take onboard full responsibility of the boiler installations ourselves – from sales to fitting and the all-important customer service in-between. So far, so good!
It wouldn't be right for us not to mention the small percentage of installers and companies than we have worked with on Heatable that delivered outstanding installations and customer service, always. We're certain these guys know who they are and without them, Heatable wouldn't have been able to evolve in to what it is now. There are obviously many superb installers of all sizes up and down the UK – finding them though can be tricky!
The new model sounds quite similar to companies such as BOXT. How do you differ from them?
BOXT has a great website and have certainly led the way up until now, but whilst we're similar in many aspects we do have some important points of difference…
We're cheaper on every comparable package
Our boiler warranties have a minimum of five years, with most at 10 years
We also fit Viessmann, "the UK's most reliable boiler" (a statement taken from the company's website based on Which? survey results), always with a 10-year warranty
We offer 0% finance
And biased as we may be, we have a much cooler website
*All of these statements were accurate at the time of writing – 20/02/2019
We understand you offer a variety of options to consumers once they've entered their details into the website. Is there a concern that boilers are being over-specified?
Our platform calculates the minimum requirements for kW sizes (based on what the user has entered). By nature, the lower the kW, the lower the price. That's what users always pick. We also have an in-house technical team so if, for whatever reason, the user selects an oversized boiler, or something which just isn't practical for their home, it will always get pulled up before installation.
Your website states that you can install a boiler within 24 hours. How often is this really viable?
We have a network of heating engineers throughout the UK which is growing by the day. Our installation availability is directly linked to their diaries and our excellent installer rates of pay means they're eager to fit for Heatable as much as possible, therefore expanding our next day installation spots.
Throughout the most populated towns and cities of the UK we have achieved a next day option for the customer over 70% of the time to date – a number we aim and expect to improve every week.
You have declared that you are "so much cheaper" than local engineers. How is this possible, and does it mean that you're cutting them out of the loop?
We're able to deliver unrivalled pricing for boiler installations due to our close relationships with manufacturers and merchants, combined with our industry experience of online traffic generation. However, we're not cutting local engineers out, but working with them – they're providing us with what they excel at – top notch boiler installations for which we're paying industry leading rates and we take care of everything else.
Due to the rates we're paying on weekly payment runs and the ease of installing boilers through Heatable, we have even found a number of engineers bringing customers to us in order for them to then carry out the work on our behalf.
Heatable looks after all of the marketing, customer service, finance, materials etc, and leaves the installers to do what they do best – fit boilers. Provided they do a great job, that customer will more than likely come back to them for future work (servicing etc). We've actually carried many of the installers over from our previous platform in to the new sub-contracting model. They're doing great and prefer it.
How does an installer join the 'app-connected network' of installers? And what are the benefits for them of doing so?
Installers can join through the online onboarding platform here – https://heatable.co.uk/onboarding. They'll need to provide us with copies of a number of industry credentials as part of our vetting process and run through some questions over the phone with our in-house installer management team.
Outside of the excellent rates of pay, other benefits include:
Access to a pool of otherwise inaccessible customers who want a pay monthly plan
Customer retention: Our installer partners are encouraged to treat all Heatable customers like their own for future business
Weekly pay-outs
Diary filling: Installers tell us when they're available and we'll only ever offer them installation work on those dates
It's as simple as picking up the pre-ordered boiler from the local merchant, fit the boiler to their usual high standards and on to the next one