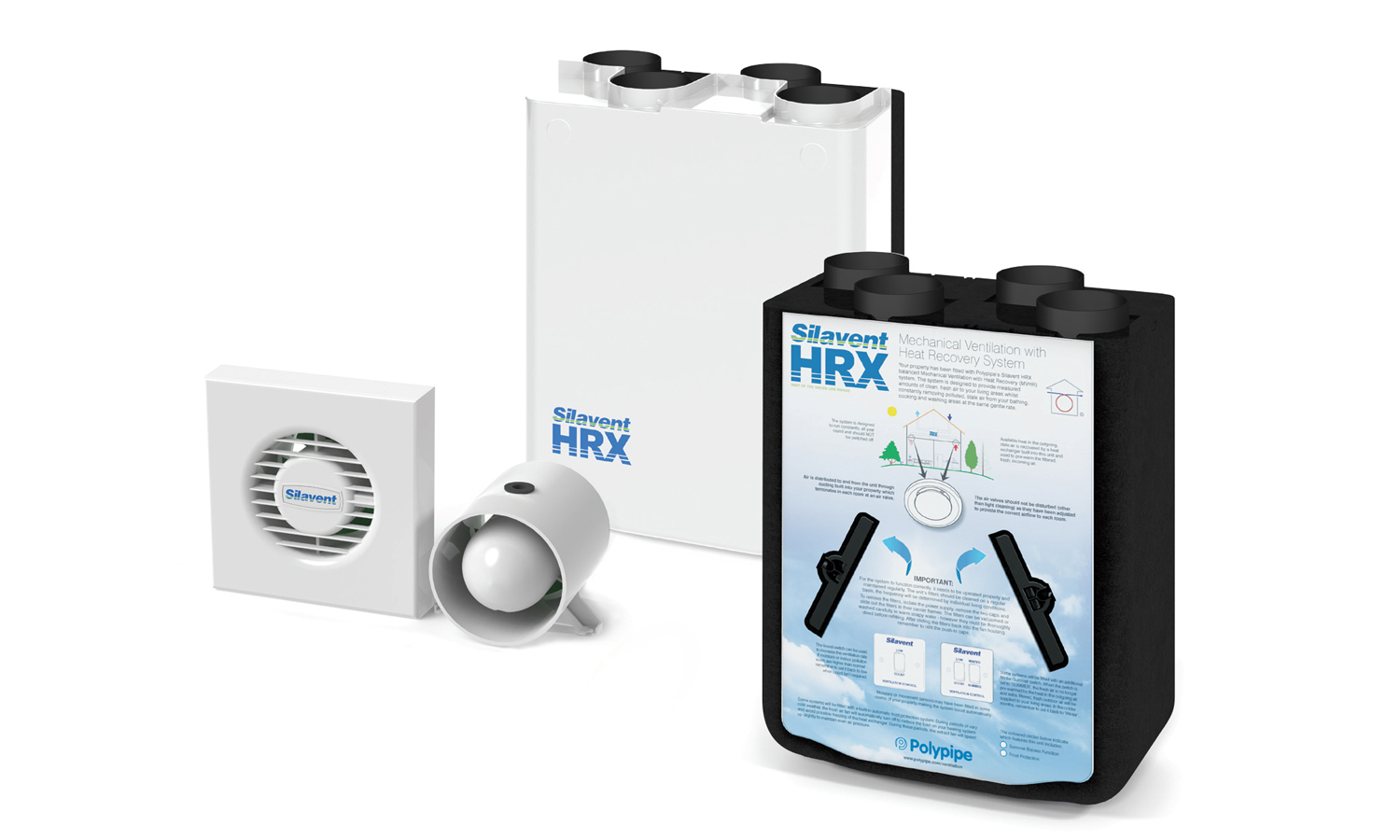 MVHR units continue to grow in popularity as building owners increasingly look towards low carbon heating technologies. However, as John Kelly of Airflow Developments explains, it makes no sense to invest in energy efficient products if the potential savings are lost through leaking, poor quality or badly fitted ductwork system. 
The increasing need for installers to design to higher standards than the requirements first set out in the 2010 Building Regulations and to maximise SAP eligible technologies has led to a greater awareness of the benefits of systems such as mechanical ventilation with heat recovery. Air that would normally be lost becomes a valuable resource to warm the fresh, filtered incoming air from outside, which is then distributed to the occupied areas of a building.
In modern homes particularly, there is a real challenge to make the building as airtight as possible to reduce energy consumption yet still maintain a high level of air quality throughout. The average adult consumes 15,000 litres of air every day therefore a balanced, constant supply of fresh air is needed in the home. This air then needs to be filtered, heated or cooled accordingly, to retain a comfortable and healthy indoor environment.
However, a key area that impacts on the efficiency of any MVHR unit is the installation of poor quality and badly fitted ductwork. Unfortunately, traditional methods such as flexible ducting are easily torn and are often squeezed around bends and between joists, reducing vital airflow. Likewise, plastic flat ducting is often ill fitting with sharp bends causing dust traps and noise issues due to too many joints.
The good news is there are now products on the market that eliminate these traditional ducting problems. For example, Semi-rigid ducting such as Airflow's Airflex Pro has an extremely high crushability rate of 16 kN/m2 – over double the minimum requirement of 8 kN/m2. Such small bore ducting systems are zero-leakage and this is why specifying this type of ducting can contribute greatly towards a lower SAP calculation for Dwelling Emission Rate.
By incorporating semi-rigid ductwork at an early stage of design, it can be included in the overall SAP calculation. When such efficient ductwork is then coupled with a highly efficient MVHR system, such as the Duplexvent DV145 Passive House institute approved unit, the combined efficiencies are maximised.
Plus, Airflex Pro has been shown to save installation time by up to 70% due to a smaller number of parts eradicating the need for cutting and taping plastic ducting systems. Being just 75mm in diameter it can be run both between and through joists.
Furthermore, with refurbishment and retrofitting on the rise, semi-rigid ducting offers an effective way to employ modern, energy saving systems in much older or complex builds such as barn conversions or period properties. Faced with obstacles such as beams, vaulted ceilings and tight spaces, it is essential for specifiers to choose the right ductwork in order to complete the job to the increasingly high standards required.
Further benefits of semi-rigid ducting are greater control of ventilation, heat distribution and reduced noise transmission as each room can be connected individually to the ventilation unit, with ducting travelling vertically down walls or manoeuvred between joists with ease. With improving indoor air quality a key driver of the revisions to Part F and Part L, semi-rigid ducting systems can also add to this through the inclusion of a smooth bore, non-absorbent, low resistance lining. Anti-static coatings limit pollutants settling in the ductwork reducing the likelihood of dust traps in the system.
Fundamentally, as the demand for MVHR continues to increase, it is vital that installers are aware of the importance of delivering a sufficient ducting solution. As ultimately, this will ensure that a building owner's investment is safeguarded and the building's energy efficiency is maximised.