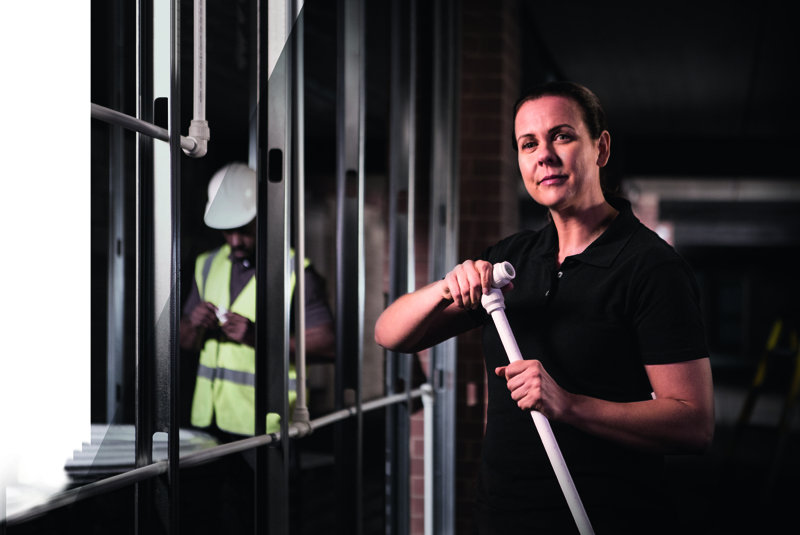 As innovations in plumbing and heating continue, installers must not rest on their laurels if they are to keep pace with changes in the industry, explains Nigel Sanger, Divisional Director Technical Support at RWC.
If you were to look back at plumbing and heating practices over the years, you'll see that the industry has changed tremendously. Exposed pipework was accepted as the standard 40 years ago, copper was the go-to material for pipework, and underfloor heating (UFH) was near non-existent.
Now though, pipework needs to be hidden behind the wall, copper is being challenged by push-fit plumbing solutions and UFH is also increasingly gaining popularity.
There are other changes too, especially with the use of valve technology to meet different building and occupant needs. The Internet of Things (IOT) and smart technologies are impacting the way people are managing domestic heating, while sustainability agendas and legislation look to change the boiler market in the near future.
With so much changing, installers must be ready to adapt, and have the right tools, materials and know-how to meet the market needs. With that in mind, it's important to look at the leading trends and how these could affect the way installers go about their jobs.
Looking up
One of the biggest trends in construction is high-rise buildings – cities like Birmingham, Manchester and London are booming with smart new high-rise apartments, office blocks and multi-use spaces.
With 510 high-rise towers in London's pipeline alone, installers must be able to plumb these buildings in efficient and cost-effective ways, especially as these large, commercially orientated projects run to tight deadlines.
For example, ensuring a safe, sustainable and metered water supply for every apartment is a key requisite of high-rise buildings. Ideally a number of valves such as a stop valve, pressure reducing valve (PRV), double check valve, and a water meter are often plumbed into airing cupboards on each floor.
However, with more apartments squeezed into tighter footprints, installers are being asked to install these products in smaller spaces. Naturally, this increases the complexity of the job, especially when having to connect all the different products in such confined spaces.
This is where innovative products such as Reliance Valves' Tenant Valve Plus is highly beneficial to the installer. This valve combines all the above functions into one compact, self-contained unit.
The valve also comes with a dual reading pressure gauge/test point and a connection point for the optional addition of a Class 'A' water meter. Alternatively, an adaptor is available to fit a Class 'D' water meter. Keeping in mind future maintenance and servicing, all components of Tenant Valves can also be easily accessed from one side and they come with an insulating cover to prevent condensation.
UFH on the rise
With gas boilers set to be phased out and banned from use in new build homes from 2025, low carbon heat pumps are in the pipeline as a solution to replace them.
Both GSHPs and ASHPs don't always work well with traditional convection radiators. Traditional radiators need to run at temperatures between 70-80°C to effectively heat a room. To get this level of heat from heat pumps, the compressor would need to work at a rate that will no longer allow efficient energy production.
Heat pumps are most efficient with heating water up to around 35-40°C. To make these pumps compatible with radiators sustainably, the radiators would need to be much larger – around roughly six times their standard size.
You may be thinking, "why can't the radiator just be double the size, to account for the halved temperature?" The answer is that when a radiator's average surface temperature is 70°C in a room heated to 20°C, there is a 50°C difference. However, if you drop the average surface temperature of the radiator to 35°C, you only have a 15°C difference. The heat then becomes reluctant to leave the radiator, and the room does not heat up.
Having radiators six times their typical size is also not realistic or practical, so the most effective alternative is to pair heat pumps with UFH.
UFH, in effect, is a great alternative for radiators, especially as it is hidden beneath the floor, offering much more living space. With wet UFH, the system only needs to run between 35-40°C to heat up the water in the pipework and transfer the heat into the room. As we move into a low carbon future, UFH projects are likely to gain popularity and installers should look to embrace this technology to meet the expected demand.
RWC's John Guest Underfloor heating brand offers a whole suite of UFH solutions to complete any new build or retro-fit installation efficiently. We also offer a free CAD design and estimation service to assist installers with selecting the best system for their project.
Flexible in mindset
Joining pipework using push-fit fittings is becoming more and more popular, especially in new build construction. This is partly due to education around the health risks associated with fumes from soldering and hot works.
Not just this, but developers and building owners are in some cases banning hot works altogether, as naked flames from blowtorches in tight spaces is a fire hazard.
However, that's not to say copper is on its way out altogether. Joining copper pipework together can still be done just as effectively through push-fit fittings, such as those offered by RWC's JG Speedfit and SharkBite brands. With fittings available in all conventional sizes, a leak-free seal can be created in a fraction of time.
We offer all-round push-fit solutions compatible with both plastic and copper pipes. Our SharkBite brass push-fit fittings can help with connecting pipework to the boiler in airing cupboards, and JG Speedfit plastic push-fit fittings and pipe are highly efficient for flexible behind the wall and UFH installations. Our complementary range of push-fit fittings, water control valves and pipes offer a safe, easy and efficient system to complete any installation from boiler to the point of use, all with the same RWC quality guaranteed.
With fast changing innovative technologies, installers should be more open to adapt and adopt new practices. This can help open doors for new commercial avenues and revenue streams, while also offering a futureproofed solution to their customers.