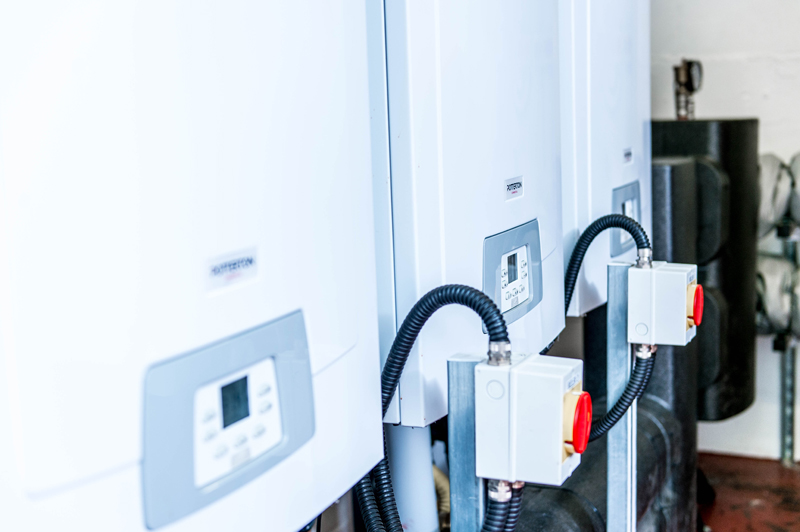 Commercial heating engineers are facing a growing number of challenges, including shrinking plant rooms, stricter legislation and an increased focus on energy efficiency. When it comes to commercial retrofits, overcoming issues centred around accessibility, system design and maintenance is critical to success. Steven Evans, Sales Director at Potterton Commercial, explains why.
In the last few years, legislation for space heaters in commercial premises has drastically changed the market for boilers. Since September 2015, if a non-condensing commercial boiler under 400kW needs to be replaced, a high-efficiency condensing boiler needs to be installed.
Further regulations came into force in September which state that all gas-fired appliances must have NOx emissions under 56mg/kWh. As a result, older units are gradually being phased out and manufacturers are being forced to innovate with new products that meet the new requirements.
Commercial properties also appear to be getting smaller. Between 2012 and 2016, the average size of office floor space in London fell by 23.9%. With space at a premium, the need for compact, yet powerful heating products is stronger than ever.
So how can engineers ensure they choose a heating system that overcomes these challenges and is fit for purpose?
Building requirements
The first step in heating system design is to conduct a detailed heating survey of the building that will assess current energy consumption and efficiency and areas of waste. It will need to consider any special features or artefacts that could be affected, particularly in period buildings.
The objective is to define the current and planned use of the building and it is recommended that current and potential users are consulted about their needs. Commercial buildings will have different needs and resources, but a good guiding principle is to try to warm the people, not the building.
Size matters
A growing challenge for installers is that as commercial properties become smaller, so too have plant rooms. In retrofits, this means that a significant amount of planning must go into projects to make sure the heating system is installed correctly.
Increasingly, appliances are needed that are flexible enough to fit into tight spaces. For example, the new Sirius three range is designed to be compact, with the 130 and 150kW models available in the same footprint as the 90 and 110kW products. This gives engineers the choice of more power without additional bulk.
These boilers are lightweight, making them easier to move and install in the desired location. What's more, the larger floor standing models have castors, so they require less effort to manoeuvre. They are also slim enough to fit through service doors and lifts, making them easier to position in the basement or even on higher floors of a building.
Choosing the right system
The commercial sector is under increasing pressure to tackle new energy efficiency targets for buildings and one of the first areas that comes under scrutiny is heating. And justifiably so, when we consider that many buildings still rely on non-condensing boilers. These are only 70 to 80% efficient compared to modern, condensing boilers which can achieve more than 90% thermal efficiency.
It's therefore a no brainer that replacing a non-condensing boiler and updating controls will also save customers money on their annual heating bills. In fact, you can save up to 25% of energy costs, depending on consumption.
However, product replacement is just one part of the solution. Alternative approaches to boiler system design, such as cascades, should also be considered to provide even greater efficiency and long-term cost savings.
A cascade system is two or more boilers electronically controlled on a common hydraulic header. The 'master' boiler is the primary appliance, sending commands to each of its subsidiary boilers according to the demand for heating and/or hot water.
Boiler cascades offer greater efficiency as they have a high turndown rate, with a substantial difference between the highest and lowest output available. For example, six 90kW Sirius three boilers on a cascade set-up have a maximum output of 540kW, but an individual boiler can also modulate down to 10kW to save energy when the demand is not present.
Multiple, linked boilers can respond more effectively to varying heat loads, making a cascade the perfect solution for buildings with changeable demand schedules. This is particularly relevant for buildings in the public sector, which might be operational at different times of the day and through the night.
Ongoing maintenance
As the reliability of any building's heating system is largely dependent on the quality of feedwater circulating through it, chemical water treatment should be an essential element of any maintenance schedule. Best practice is to incorporate chemical water treatment into both the commissioning and ongoing maintenance of a heating system, including a system clean/flush and regular doses of inhibitor as required.
This is critical to ensure boiler efficiency and longevity in any commercial heating system, large or small. Even completely new heating systems with new boilers and pipework need to be chemically treated, as failing to invest in appropriate water treatment can result in corrosion and the build-up of limescale.
Systems that are corroded become blocked with sludge and debris, which means the boiler must work harder and for longer, as the circulating water is unable to transfer the heat efficiently throughout the system. Meanwhile, limescale deposits on heat transfer surfaces will cause the boiler to run at higher temperatures for longer which – according to British Standards, BS 8558 – reduces efficiency by up to 30%.
Retrofit projects can often be more challenging for heating engineers than new builds, where they are working from a blank canvass. But despite the complexities, successful retrofitting of new modern heating equipment into a period construction is possible with advance planning, careful consideration of system design and adoption of space-saving appliances.