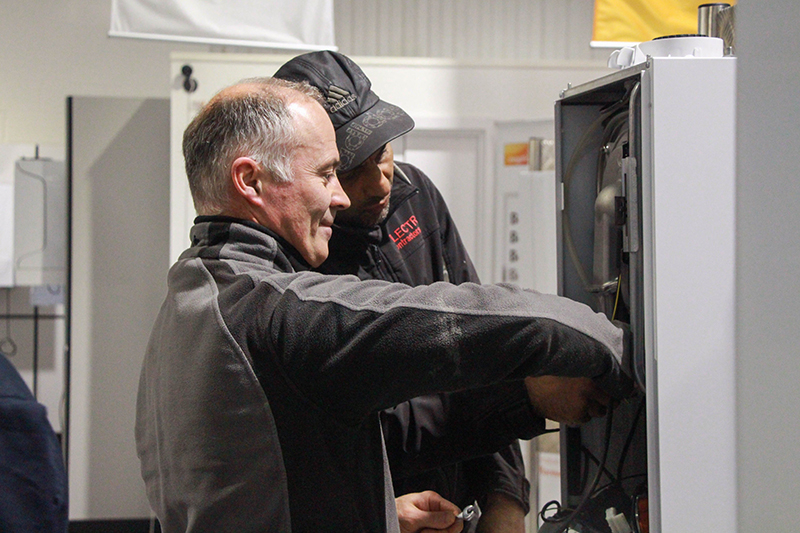 Hiring an apprentice and investing in ongoing training for already qualified engineers in your team is a great way to help futureproof your business, says Steve Owen, National Training Manager at Baxi.
Preparing your business for what lies ahead relies on having a skilled workforce, which means continually investing in yourself and your team. To do this, ongoing training for already qualified engineers and developing new apprentice talent is vital. This is not only important in the short term, but will need to happen if the UK is to successfully transition to a low carbon future.
The training challenge
Growing the numbers of skilled professionals to close the skills gap, no matter where in your career journey you are, is key. As an experienced installer, you can do this by hiring an apprentice and passing on valuable skills and knowledge.
It is well worth considering an apprentice as with a little investment, you will have an extra pair of hands to support you while they are training. Over time, you can also help to grow them to assist your individual business needs.
As part of the Baxi Apprentice scheme, three apprentices have recently been chosen to have their college fees paid in full, as well as receive added extras such as branded workwear, personal protective equipment (PPE), product and specialist training, work experience with a Baxi engineer and a Baxi factory tour.
Although the Baxi Apprentice scheme is now closed, for installers who are interested in hiring an apprentice there is plenty of support and funding available. In fact, you may only need to pay 5% towards the cost of upskilling and assessing your apprentice, and the government will pay the rest (95%) up to the funding band maximum. They'll pay it directly to the training provider. You could also be eligible for extra funding depending on both you and your apprentice's circumstances.
It isn't just apprentices who stand to gain from training; as a qualified installer you can also take advantage of manufacturer led sessions. At Baxi, we offer a variety of different courses designed to increase confidence and skill across our products and also covering specialist areas including multimeter training, boiler diagnostics, combi boiler appreciation and system wiring and controls.
Sustainable future
As different technologies like Air Source Heat Pumps (ASHPs) start to become more prevalent and future fuels such as hydrogen continue to be explored as an alternative to natural gas, training to be able to work with these solutions is important. Baxi is committed to driving product development and training across these fields.
It is expected that the switch to hydrogen will require extra modules to be added on to the existing gas engineering courses. However, the good news is that testing and development surrounding hydrogen boilers shows how a hydrogen boiler should work in a similar way to existing gas boilers, with comparable installation and maintenance.
ASHPs will likely be installed more in new build housing from 2025 due to the Future Homes Standard. However, for well insulated properties an ASHP or a hybrid ASHP and gas boiler combined, could also be explored by homeowners looking to upgrade their heating systems. This shows potential for installers and their apprentices to be aware of these options and how they could be an area of business expansion in the future.
By providing added-value information, help and resources to heating engineers, Baxi endeavours to keep installers up to date with all of the latest industry news, legislation and product insights. This includes providing training and support to installers and their apprentices to promote best practice and competency for now and the future.