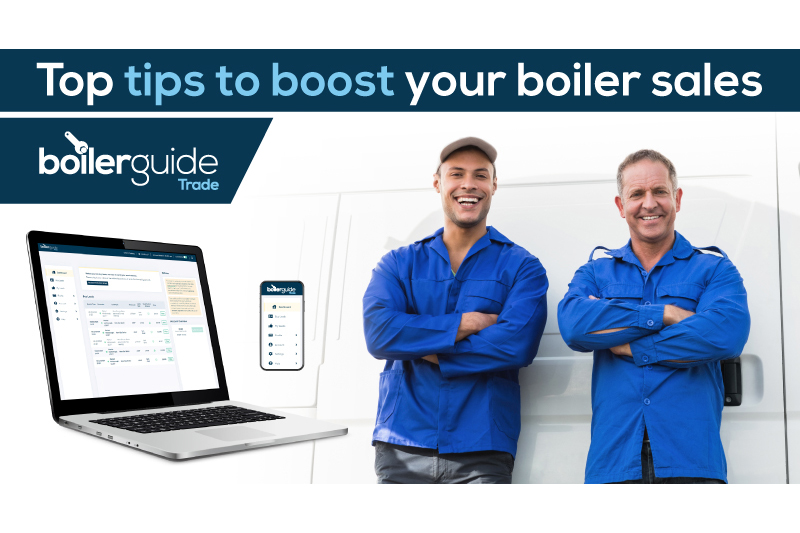 Boiler Guide's Sales Director Mike Mayfield provides some tips to help boost new boiler sales.
A successful heating engineer needs to be a multitasker, especially when it comes to running your own business. One essential aspect of any business is selling your service to your customers, showing the value that you offer will win you more work and help grow your business.
So let's take a look at some of the essential components of a successful sales process in the heating industry.
Be quick
Things happen fast in this industry – if someone needs a boiler replacement, they do not have the luxury of time – they need heat and hot water asap. Whether someone has contacted you directly, you've been given a referral or purchased a lead, you need to speak to them as fast as you can. If you don't you can be sure that someone else will, reducing your chances of winning the work.
What can you do to improve?
Make time during the day to make calls to prospective customers, set aside an amount of time when you can be alone and make those calls.
Where possible, react to a new enquiry straight away, even if it is just a very quick conversation to arrange a full call at a more convenient time.
If you don't get through the first time, leave a voicemail leaving your details. If it's a mobile number, send a text message introducing yourself and letting them know a time you are available for them to call them back. This shows that you have tried to contact them quickly and understand the severity of their situation.
Follow up
Don't be shy, it will often take more than one phone call. People are busy and might not be able to take your call. Follow the advice on voicemails and text messages from the previous step and plan your follow up from there.
What can you do to improve?
Be flexible – Try calling at different times of the day. If you can't get them in the morning, try the afternoon or the evening. Keep trying.
Send an email – A friendly email introducing yourself and your company will boost the customer's confidence. A lot of people prefer to communicate this way and it's a great way to find out what the customer needs. You can also send a quote giving you further opportunities to win the job.
Leave a great impression – Even if you don't win this job, you may get the next one or a recommendation. A proactive response will not be forgotten by the customer.
Improve your online presence
As more and more customers search online for the best installers, it's vital that your business does everything it can to show off what you can do. The best way to do that is by asking customers to leave you a review. While word of mouth is still important, the pandemic has proven that a strong online presence is a must for any ambitious business.
A positive review is essentially free advertising for your business and provides added opportunity to get more work. They also give new customers confidence. Being able to read the happy experience of someone with a similar requirement goes a long way to getting you that job.
When a customer in your area Googles a service that you offer, being high up the rankings gives you a great chance at earning the work. Customer reviews help with this and keeps your business relevant in the eyes of search engines.