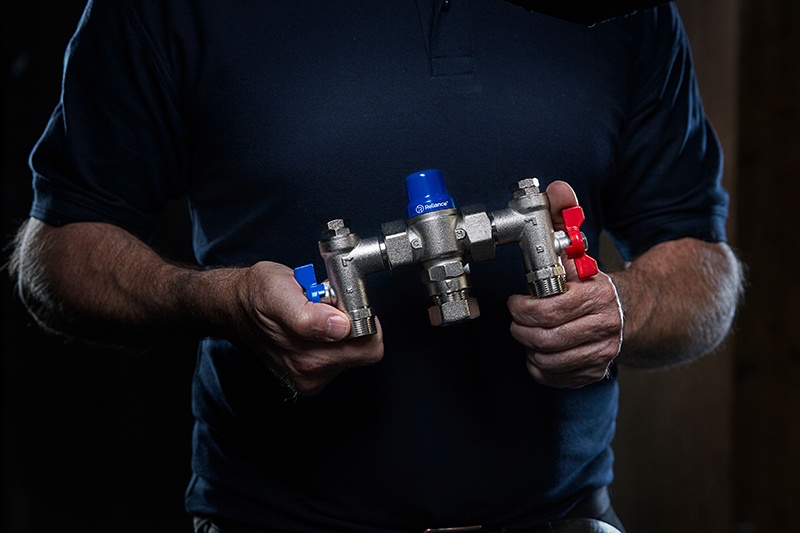 Richard Bateman, UK Product Marketing Manager at RWC, discusses best practice on how installers can futureproof systems for retrofit projects.
Saving costs, quick installations, safety and energy efficiency seem to be hot topics within the plumbing and heating industry at the moment. With UK regulations such as Part G of the Building Regulations and TMV2/TMV3 schemes requiring a certain level of safety and energy efficiency throughout buildings across the country, dated heating and plumbing systems are now requiring renovation.
The current economic environment has led to pressure to make existing buildings work harder by retrofitting energy-saving measures, rather than simply rebuilding. This includes plumbing and heating systems, ensuring all futureproofing considerations are taken into account before installation.
Planning pipework
A large part of futureproofing your retrofit project is space saving. As we squeeze more housing units into our cities, the footprints of these living spaces grow smaller and smaller, with residents wanting to make the most of their living space. This leads to increasingly difficult installation environments. Although the current plumbing and heating system is already in place, it may be that the system size needs reducing.
Best practice before tackling a retrofit project is to plan and assess the current pipework system. Depending on when the system was originally installed, new pipes, valves and fittings (PVF) may need to be added in order to make the system as efficient as possible. Therefore, installers need to seek products that are designed for compact spaces, while providing the same level of quality and efficiency.
Using flexible solutions is an easy way to fit pipework into compact spaces, allowing installers to bend the pipes in any direction, knowing the water flow won't be affected. The range of stainless steel hoses with an EPDM liner from RWC's Reliance Valves is designed for drinking water applications, primarily for flexible connections between the system and the expansion vessel. Meanwhile RWC's JG Speedfit offers a wide range of flexi hoses suitable for cold and hot water applications, offering both push-fit and hand-tighten connectivity.
Not only does space and efficiency need to be kept in mind, but weatherproofing pipes is a crucial part of futureproofing plumbing and heating systems. Best practice is to avoid putting pipes in rooms that are prone to cold, such as lofts or basements. If pipework needs to be placed in or outside these areas, it should be properly protected and insulated. Without lagging, the water in the pipes can freeze, creating internal pressure that can cause them to burst.
Futureproofing safely
When taking on a retrofit project, guidelines and regulations need to be at the forefront of your mind. With several industry regulations to consider, there's also the energy requirements that need to be met.
Water Regulation Schedule 2.7 is a key regulation that needs to be considered when working on any plumbing and heating system. In a nutshell, this regulation covers where and how you should run pipes in any building with a mains water supply. It states that there should be no inaccessible fittings within the concealed floor, as the regulation does not allow for it. Secondly, the entire length of pipe carrying the water should be within a conduit (a protective sleeve for the pipe) and is therefore easily removable.
To make a retrofit system more efficient and safer for the end user, a thermostatic tap or thermostatic mixing valve (TMV) would also need to be installed if there isn't one to the bath as regulated by law. The Building Regulations 2000, Approved Document G – Sanitation, hot water safety and water efficiency came into effect in 2010, in order to deliver water at safe temperatures and fight off harmful Legionella bacteria.
Whether it's servicing current valves within a system or completely replacing them, health and safety regulations always need to be followed. Futureproofing means built to last, and by aligning to all recommended guidelines, the retrofitted plumbing and heating system should be durable and safe.
Let's get smart
From safer systems to smarter systems – in a retrofit project, installers have the opportunity to get smart with the products they choose to install. Smart controls are becoming increasingly popular as they provide an accurate reading as well as showing convenience for the user. Around 60% of a home's energy costs are spent on heating, so there are long-term gains to be made by using smart controls.
Smart controls should be chosen on their performance and features, including the ability for customisation. For instance, JG Underfloor's Aura smart controls can combine underfloor heating and radiators to a single controlling system through its wireless thermostats and TRVs (Thermostatic Radiator Valves). These can be programmed to deliver desired temperatures, in specified zones/individual rooms, at specific times throughout the day, helping cut fuel bills by up to 30%.
Installing smart controls also allows easy future maintenance, as a backlog of data can be accessed, and settings can be changed. As the world moves more towards connected technology, approaching retrofit projects with this in mind will result in a more sustainable and efficient industry future.
Navigating retrofit projects can be tricky, as each installation may require new products or a complete system re-arrangement. From space, safety and smarter solutions, transforming a home's plumbing and heating system needs due care and diligence.