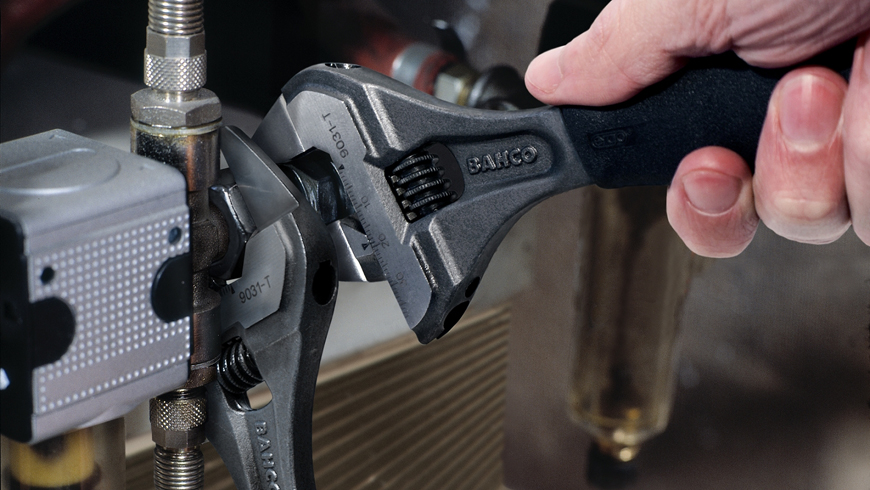 How often do you use an adjustable wrench, screwdriver, pliers or another hand tool in a typical working day? It's an essential part of the job, so who's counting? But every time you do, writes Mark Haywood, Managing Director of SNA Europe(UK) – designer and manufacturer of Bahco professional hand tools – you put 42 different hand muscles to work.
Eventually, even the toughest hands can begin to show the symptoms of Repetitive Strain Injury or similar conditions. These include pain or tenderness, stiffness, cramp, tingling or numbness in the hand.
Working in awkward, hard to reach locations or in cold temperatures can exacerbate RSI, which mostly affects parts of the upper body such as hands, elbows, forearms, the neck and shoulders. Hand movements are controlled by muscles and tendons, while sense of touch is supplied by two main nerves.
Over the past 30 years, huge improvements in the design and manufacture of 'ergonomic' hand tools, including adjustable wrenches, pliers and screwdrivers, have produced significant benefits for trade professionals.
Today's hand tools are:
safer to use, especially when working in hard-to-reach locations;
designed to reduce the risk of hand muscle strain or injury;
more comfortable to use in all temperatures and weather;
made with high-tech materials to improve grip and performance;
colour coded to make it easier to find the one you want;
manufactured to take the knocks over a long working lifespan.
These practical features, along with advanced manufacturing materials and components, have evolved through many years of R&D by designers and manufacturers.
To be defined as 'ergonomic,' hand tools must be suitable to the task, the user and the environment. They are designed to fit the human hand, minimising grip strength demands and allowing muscles to relax periodically, reducing the risk of static muscle fatigue.
Stress and slippage are managed through the right choice of materials and handle design. The handle provides users with the sensory feedback on which accuracy, precision and the best possible control of the tool depend, as well as reducing vibration to the hand and arm.
Putting the right tools in the hands of professional users makes their work more efficient, effective and less tiring, while cutting the risk of muscle strain or injury. Designers study what task a tool is going to be used for, how often it's likely to be used and in what sort of location: on a workbench, indoors with good lighting? Or out in all weathers and challenging workplaces? How often and for how long will the hand tool generally be used? Every working day, just now and then or for almost every job? Will both men and women use it and what skills or habits are they likely to have?
Recognising the risks of hand muscle or tendon strain or injury led a group of Swedish hand tool designers at Bahco to create the first ergonomic hand tool in 1983. Since then, an 11-point scientific programme, with input from industrial designers, ergonomists and tool users, has led to over 500 ERGO tools being designed and manufactured in UK and European factories.
The company's record of innovation began when its Swedish founder, J. P. Johansson, invented the first adjustable spanner more than 127 years ago. This evolved into the adjustable wrench and Bahco has sold over 100 million of these toolbox essentials.