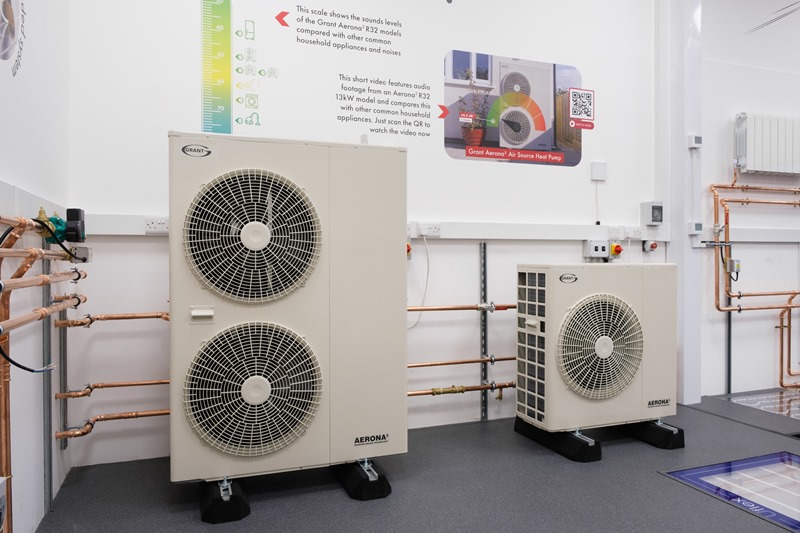 With interest in heat pumps likely to grow Phil Stanley, Training Manager at Grant UK, explains how the company can  help installers unlock new business with its heat pump training. 
As the market for heat pumps continues to flourish, so does the demand for skilled professionals who can install and maintain them effectively. Not only is training incredibly important but it is also the key to unlocking this burgeoning market, equipping installers and engineers with the specialist knowledge and skills required to offer clients a reliable and efficient greener heating solution.  
Manufacturers such as Grant UK are at the forefront of providing professional training. The team at the Grant UK Academy, located at our new headquarters in Swindon, have decades of experience between them in the heating sector, with a vast technical knowledge of both traditional and renewable heating systems.  
The Grant Aerona³ Air Source Heat Pump (ASHP) Installer Course offered at the Academy in Swindon, is a two-day event and is intended for domestic heating and renewable installers who wish to know more about the Grant Aerona³ range, as well as learning the principles of air source heat pump installation and heat pump system requirements.  
The training covers both the Grant Aerona³ heat pump and Grant VortexAir Hybrid, including construction, principles of operation, electrical wiring, controller settings, sizing and selection of the correct unit to suit the property concerned, installation considerations and requirements, and commissioning the complete system.  
Grant UK provides a complete learning experience, including lunch and refreshments for on-site training. It is always important to choose a training course with the right facilities, and our Swindon Training Centre has been fitted with state-of-the-art training rooms, rigs for practical work and all the comfortable amenities to help you learn in a modern and comfortable environment.  
On the practical element of the course, you will have the chance to get 'hands on' with a Grant Aerona³ air source heat pump. These units are MCS approved, highly efficient, and reliable. Designed with the installer in mind, Grant heat pumps are straightforward to install and maintain, while also delivering exceptional performance for homeowners.  
For those installers who are unable to attend the new Training Academy in Swindon, Grant UK can organise and deliver off-site heat pump training both in Hawes, North Yorkshire and Livingston, Scotland. 
Remote learning
In addition to in-person courses, Grant UK offers online air source heat pump training via the Grant eLearning Academy. This digital platform offers on-demand advanced installer and introduction courses as well as instructor-led tuition, allowing professionals to learn at their own pace in a place that suits them. 
As well as delivering renewable product courses, Grant UK's Training Academy also provide the training and assessment programmes for the installation, commissioning and servicing of air source heat pumps and heat pump system design for technicians seeking their OFTEC registration and MCS certification. At the Academy in Swindon, we deliver both of the new OFTEC heat pump qualification courses – OFT21-504A: Installation, commissioning and servicing of Air Source Heat Pumps and OFT21-504D: Design of Heat Pump systems. 
With the growth the heat pump industry is experiencing, providing a complete air source heat pump learning experience for heating engineers is a priority for us. For installers who want to develop the necessary knowledge and skills to install and maintain heat pumps, training is the first step on their journey to offering their customers an efficient and reliable renewable heating solution.