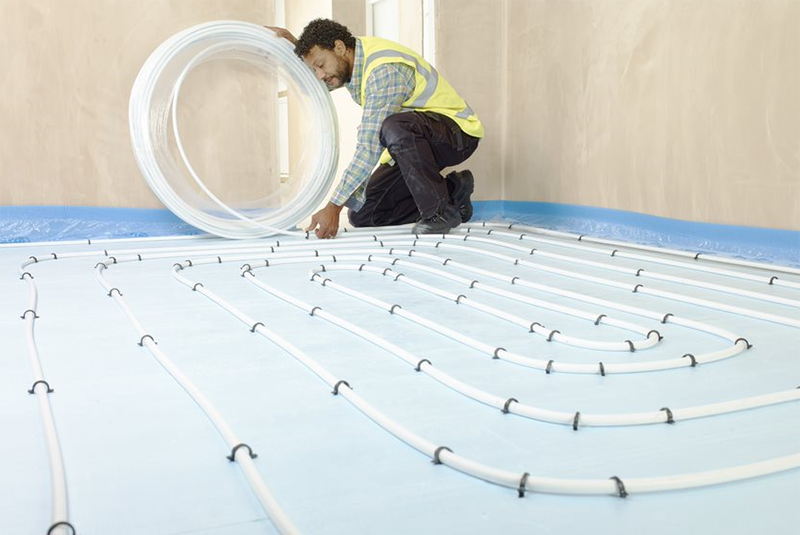 Heat pumps can offer energy-saving benefits for customers, especially when used to power underfloor heating (UFH). Steve Harris, Technical Support Engineer at Wavin Hep2O, looks at the benefits of bringing the two together and provides his top tips on installation.
UFH systems already come with plenty of benefits, one of the biggest being that they save your customer money on their bills in the long run. This is because UFH operates at a lower temperature, as the pipework evenly distributes heat throughout an entire space. By using UFH, homeowners can lower their energy consumption while also reducing their energy bills by up to 20 per cent when compared to traditional heating methods.
But if your customer wants to be even more energy efficient, then you might want to suggest they power their UFH with a ground source or air source heat pump.
Why use heat pumps?
Heat pumps are quickly becoming a popular, sustainable alternative to traditional gas or oil systems. Demand is expected to keep on growing, especially given the Government's numerous green initiatives to reach net zero carbon, like the expected ban on gas boilers in new builds, and the Future Homes Standard, which aims to reduce household carbon emissions by up to 80 per cent. By suggesting the use of renewable energy solutions like heat pumps to customers, you can ensure their heating system is future-proofed.
So, how do they work? In a nutshell, heat pumps warm up the water though a compressor from natural heat sources – the air or the ground – reducing the amount of carbon emissions created as they transfer, rather than create, heat. Converting this low energy into a higher energy source, the pump will operate at a consistent temperature, saving more energy compared to traditional systems that require the tank to heat up fully. Because of this, their energy to heat conversion rate is incredibly efficient, with a seasonal Coefficient of Performance (COP) between three to five
Installation tips
When you come to install an UFH system with a heat pump, it's pretty much the same process as usual. However, there are some key differences you should bear in mind before you get started.
1 Spacing between pipes
It's expected that UFH pipes are installed with a 200mm spacing between them. However, heat pumps tend to operate at a lower temperature – they work best at 35 degrees – which means that the UFH pipes need to be closer together to distribute heat just as effectively, so they need to be spaced at 100mm-150mm. You could lay the pipework as you normally would, but that would mean the heat pump would need to operate at a higher temperature, and this would reduce its efficiency.
Your customer needs to consider their heat source before you lay the pipework for UFH. So, it's worth having a discussion with them about this, even when laying standard UFH, so they understand their options and what's involved.
2 Be careful with wooden joists
You need to be careful when installing UFH systems within a structural wooden joisted floor. The piping can't be laid directly over these supports, unless the entire floor area is over battened, and due to building regulations an area along the joist cannot be notched or drilled during installation. This reduces the amount of space you have to work with, but also the output of the UFH system. To compensate for this, the heat pump may need to work at a higher temperature, again reducing its efficiency.
One solution is to lay the UFH over the top of the existing floorboards. The Hep2O Above the Floor UFH solution can be laid over any type of flooring without noticeably reducing the ceiling height.
3 Install a buffer tank
Heat pumps work best when left to run continually, rather than switching them off and on. As customers may not want them running in the warmer months, it's a good idea to install a buffer tank for these systems, which can store any excess heat that's generated when the temperature of the UFH is lowered. Then, when the temperature is increased again, the heat can be drawn from the buffer tank without the need to heat the whole system from scratch. This keeps energy waste to a minimum, helping make the system as efficient as possible.
If you're in the process of installing UFH with heat pumps or just generally, and need some guidance, head over to our underfloor heating estimator, www.hepcalc.co.uk. Here, you can get bespoke quotations and lists of materials you'll need. The latest updates will also allow you to choose between different pipes, including Hep2O or Tigris K1, as well as which products are needed to connect the system to different heat sources, including heat pumps.