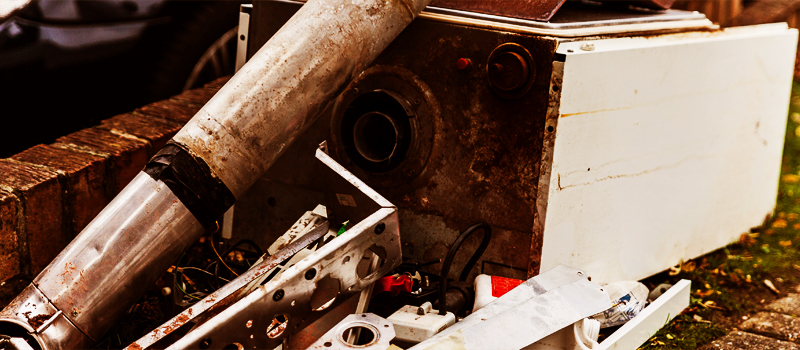 Changes to Part L of the Building Regulations on April 1st 2005 transformed boiler installation. Does the market of 2015 bear any resemblance to that of a decade ago? And where do we go from here?
The world is a dramatically different place from that of 10 years ago – there were no iPhones, Twitter hadn't been dreamed up yet and the undiscovered Lady Gaga was still plain old Stefani Joanne Angelina Germanotta. The heating sector, too, is unrecognisable in many ways. Renewables are making their mark (albeit not with the force that many expected), magnetic filtration has emerged as a mainstream technology and smart heating controls are leading the way in home automation. We asked key personnel from some of the leading boiler manufacturers – many of whom witnessed the 2005 changes first hand – to give us their views on how the market has developed.
Paul Hardy, Baxi
"The changes to Part L of the Building Regulations in 2005 catapulted the condensing boiler into the mainstream. The heating industry hadn't experienced anything like it before, and in terms of increasing the energy efficiency of UK homes, it could be said that no other Government policy has matched it.
"The progress that's been made is remarkable. According to a 2012 report, 44% of households use an energy efficient condensing boiler – a figure which could now be well over 50%.
"Controls have moved on too. 10 years ago, it was fairly unusual to see even basic controls like TRVs being fitted, but changes to Part L have helped to ensure controls are front of mind. Alongside the controls required in accordance with the Building Regulations, more sophisticated technologies have become available too – and there's certainly more to come.
"We have seen some huge achievements over the last 10 years, but there is still a lot of work to be done. Climate change and fuel poverty remain serious issues which must be tackled, and upgrading inefficient boilers and controls is still very much part of the solution. According to the HHIC, there are over 12 million inefficient boilers fitted in UK homes, and English Housing Survey data indicates that while 95% of homes have a boiler, over 70% lack the minimum levels of controls specified in the 2010 Building Regulations. A significant proportion of homes have no room thermostat, and 800,000 have no controls at all.
"Baxi recently conducted a survey which showed that a third of homeowners have had their boiler for over 10 years but are reluctant to replace it. This is even though a new, high efficiency model could save them over £300 a year.
"Boilers and controls will undoubtedly continue to become more efficient, especially with the introduction of Ecodesign and Energy Labelling (commonly referred to as the ErP Directive) in September this year – but ultimately it is the homeowner that needs incentivising, which is an issue that Baxi continues to discuss with government."
Martyn Bridges, Worcester
"When talks to make condensing boilers mandatory began in 2003/2004, whilst many knew it was a step in the right direction, it was also a particularly daunting prospect. That said, it's now clear that the 2005 decision was one of the industry's most significant milestones to date and was embraced almost immediately, despite the challenges it initially posed.
"The ability for the industry to adapt to change demonstrates its dynamic nature and is a real credit to all the professionals who made it happen so smoothly. From installers to manufacturers, the changeover was a wide group effort. Never before had the way the country chose to heat its properties been given such a major ruling to adhere to and changing the installation practises of over 100,000 domestic heating engineers was something many had reservations over.
"The move required collaboration between installers and manufacturers of gas and oil-fired boilers through training schemes, such as the Energy Efficiency installer programme. This national programme was also bolstered by manufacturer's own training courses. This played a huge part in equipping installers with the knowledge and skillset required to bring condensing boilers into homes nationwide. As a result, this combination was particularly successful because every installer in the country was required to complete the programme.
"Thanks to such a dedicated effort from all concerned, today there is as little as a few hundred non-condensing boilers sold annually out of a total that regularly exceeds 1.5 million units; and this is an achievement that should be celebrated. This large scale shift enabled the UK to focus on heating its homes more efficiently and taking greater responsibility for the vital role the HVAC industry plays in the UK's environmental performance."
Neil Mattock, Vokèra
"Over the last 10 years, the boiler industry has changed dramatically and the transformation can be pinpointed to one piece of legislation – the updated Building Regulations. In April 2005, the Building Regulations set down in legislation that when installing a new boiler or replacing an old boiler it always, saving special exemptions, had to be a condensing boiler.
"This single change had a massive effect on the industry, with sales of condensing boilers in the UK going from approximately 40% to 90% in just 18 months. The quick adaption was great for the industry and provided homeowners and end users with renewed confidence in the boiler market. There were concerns that the price of boilers would rocket and damage the industry but in fact the reverse was true and, with the economy of scale and technological developments, market prices have come to reflect the equivalent of the pre Building Regulations change.
"The pace at which the market changed goes to show what can be achieved with robust legislation in place. It is a lesson the Government should take note of when it comes to their goals for its green initiatives such as the Green Deal and RHI. The Energy Related Products Directive (ErP) will have a similarly forceful effect on the boiler industry when it comes into force in September. It is a mandatory piece of EU legislation creating minimum efficiency standards for heating and hot water systems, by ensuring that manufacturers meet energy labelling and eco-design requirements.
"Concentrating our efforts on energy efficient condensing boilers has also created a mature boiler market with a variety of product options and extras available. The advances in technology have also made boilers even more efficient and the growth of controls is set to help even further. Intuitive controls that interact with the boiler can have a big impact of saving energy and costs for homeowners.
"There is no doubt that the boiler industry has grown and developed over the last decade, with it becoming more sophisticated all the time. The improvements in technology will continue to have a big impact and the next 10 years looks set to be an exciting time."
Alan Hayes, Ariston
"The domestic boiler market has certainly come a long way over the past 10 years, benefitting from more stringent legislation and sustainability measures, which began with the updated Building Regulations. This saw high efficiency, condensing boilers become mandatory in England & Wales, following the introduction of the now familiar SEDBUK (seasonal efficiency of domestic boilers in the UK) rating system within Part L.
"Last year's figures indicated around 92% of UK homes have central heating installed – so the market is certainly mature and healthy, having survived the volatile economic period between 2009 and 2012. Indeed, the boiler sector dominates the heating industry's sales. This can be attributed to many factors – particularly refurbishment projects, plus an increased awareness among homeowners of the energy efficiency and environmental impact of domestic central heating systems and boilers.
"However, there is still further growth potential, especially through product innovations, new advances in energy efficiency and ongoing developments in heating controls. The next major development is undoubtedly the Ecodesign and energy labelling requirements of the Energy-related Products (ErP) Directive, which comes into play in September 2015. Not only will this enable heating engineers and their customers to choose the most energy efficient products available, it will also improve the quality of installations as a whole."
John Binney, Alpha
"Since the introduction of Part L of the Building Regulations, and particularly its amendments in the spring of 2005, the area of energy efficiency has of course become a top priority. Initial reaction to the changes was one of concern with condensing boilers having a reputation for being unreliable. However, as the years have gone on, development in boiler technology has seen the products on offer really step up a gear. With this, each manufacturer is keen to prove how their boiler is the most efficient, as a result, considering much more than just the boiler itself; innovative add-ons which take efficiency to the next level have become key. Alongside this, items such as controls, which play a fundamental part in improving overall system efficiency, have also seen much improvement.
"Product development has also focused on the ease of installation. Ultimately, the quality of installation will have an effect on the boiler's performance. Prior to the introduction of Part L, the quality of installation could be incredibly varied and improvements were certainly needed. The combination of higher performing products and installation quality has seen the failure rate of condensing boilers drop considerably. As a result, when compared to 10 years ago, the reputation of condensing boilers has completely turned around. This, combined with innovative add-ons, really gives installers and their customers the opportunity to ensure that the best heating system is installed."
Dr Elaine Lancaster, Ideal Boilers
"There is no doubt that the domestic boiler market has been transformed in the 10 years since the changes to the Building Regulations Part L made it mandatory for the installation of high efficiency condensing boilers.
"Among the benefits has been a greater focus among manufacturers, installers and householders on energy efficiency, of boilers, heating systems and their control, and also of the houses themselves. Manufacturers have continued to invest in R&D to improve the performance and quality of boilers, pushing the boundaries of potential efficiency gains, with greater domestic hot water efficiencies and the additional of new technologies such as passive flue gas heat recovery.
"Manufacturers have also invested in extensive training programmes for installers, educating them on the benefits of latest generation of condensing boilers, their ease of installation and the best ways to control them in the home. This in turn has enabled installers to communicate effectively the positive aspects of the changes, to initially uninformed consumers.
"Indeed it is arguable that, as a result of the heavy investment in training, education and communications, the changes to the Building Regulations have led to increasingly energy efficiency savvy consumers, to the benefit of the industry and the UK as a whole. Figures from DEFRA released in November 2013 indicate that the UK's total carbon footprint, including other greenhouse gases, fell by 14% between 1997 and 2011.
"There is a lot more work that manufacturers and installers can do to continue this trend and stay on track to meet the UK's 20-20-20 targets. Energy efficient condensing boilers are now in 44% of UK households, but with 91% of all homes having central heating systems, there is still plenty of room for further uptake. Manufacturers and installers can continue to educate consumers on continuing to gain greater efficiency from their heating and hot water systems via improved controls, including load and weather compensation devices, and the use of TRVs."
Stephen Zouch, Intergas
"It's been quite a decade, and it's understandable that the mandatory installation of high efficiency boilers hardly made a dent on consumer consciousness. What did make its mark was the inexorable rise in the cost of energy. Anything that could make a difference to consumption, both business and domestic, was welcomed – and condensing boilers did just that. They continue to play their part but the key difference now is that these boilers operate as a vital component in a building's energy conservation system. From solar panels and solid wall insulation to intuitive thermostats and smart meters, these boilers help to improve overall performance. For a decade there's been a general acknowledgement that all condensing boilers are efficient, but some really are more efficient than others. There are boilers which only operate in condensing mode for 10 to 15 seconds and that's when the boiler fires up – after that they are just regular boilers. There are boilers which condense 100% of the time, in both heating and hot water modes, and these are the only ones that can make a positive contribution to overall energy efficiency."
Louis Pickersgill, Ravenheat/The White Boiler Company
"Having been heavily involved in preparing the backdrop for the Government's 2005 regulations, it's pleasing to see that, 10 years on, installers have embraced the changes wholeheartedly. It was estimated that more than 16% of the world's annual CO2 emissions came from non-condensing boilers, so the regulations were borne out of a need to raise the energy performance standards for new and replacement boilers. These regulations provided the real impetus for change. Now try finding a plumbing today who can fit a non-condensing boiler.
"10 years on, installers are fitting far more sophisticated boilers than ever before. The complexity of today's boilers makes them more efficient and in most cases easier to service. Maintaining performance lies with end users and their service companies, so it is necessary for the installer/service engineer to keep abreast of new boiler technologies.
"Premium boilers of some brands can command high prices and many installers are misled into thinking that only these boilers are constructed from some superior materials and therefore provide the ultimate solution. This is not necessarily the case.
"As home energy savings remain high on the agenda, it's also encouraging to see the growing popularity of Passive Flue Heat Recovery Devices over the last 10 years. When coupled with a boiler, these devices can help make significant and meaningful savings on energy consumption, contributing to both carbon emission savings and cold water wastage.
"With consumer confidence returning, it will be interesting to see what happens to gas boilers in the next 10 years."