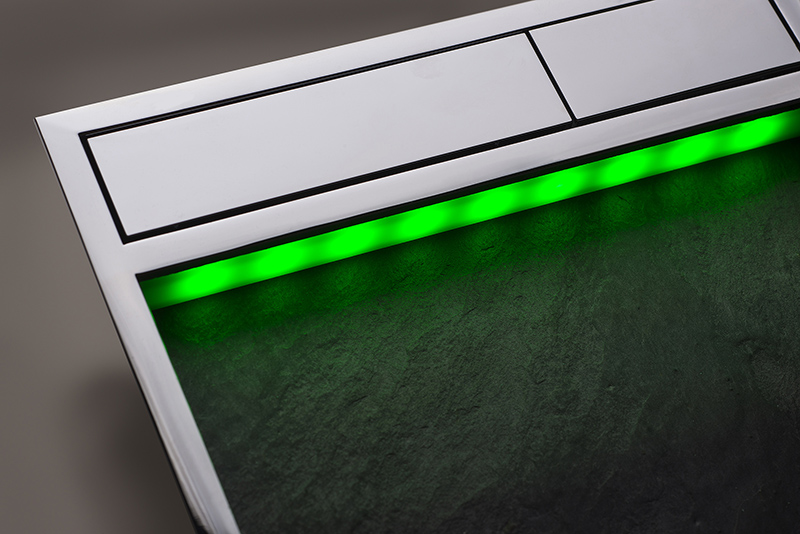 From humble beginnings as a functional device to its current status as a design feature, the flush plate has undergone a transformative journey. Scott Clark, Category Manager – Waste and Plumbing at Multikwik, explores the wide range of options now available.
Flush plates were perhaps first introduced to the plumbing sector back in the 1980s, alongside wall-hung toilets and concealed cisterns, which were favoured for their functionality and space-saving qualities. Since this initial introduction there has been a significant shift within the flush plate market, with the mechanism becoming a stylish, 'must-have' design feature in its own right.
For customers who are still after the simple design aesthetic of the past, there remains a wide range of classic two-button flush plates available, but often with a contemporary twist. The modern plates tend to feature dual-flush buttons in an array of different shapes and colours, as well as being manufactured in a variety of finishes, including chrome, satin and stainless steel. However, should you have a customer who is looking for a more stand-out bathroom space or has a larger budget available, this is where the newly expanded flush plate market really comes into its own.
Whether you're working on a domestic project where the homeowner wishes to express their individual style, or a commercial building, with the need to create an on-brand appearance throughout, consider recommending a flush plate that offers greater design freedom. Indeed, customisation is becoming a key aspect of the general customer experience, whether as part of the purchasing process or continuing throughout a product's lifespan, with people increasingly looking for a product or service that they can tailor and make their own.
Light and colour
With this in mind, there are flush plates available that enable the customer to customise the bathroom space through both light and colour – two crucial aspects of interior design. For example, the Hydra Glow flush plate from Multikwik is manufactured with a built-in illumination strip and a choice of seven interchangeable colours, allowing your customers to add a playful and colourful edge to their toilet or bathroom space.
Staying with this theme of customisation, some manufacturers also produce flush plates with a 'frame only' option, allowing the customer to insert their chosen bathroom wall tile into the plate. Not only is this a great way to truly make a flush plate the customer's own but it also helps to create a sleek, seamless and minimalistic look – currently a very popular design trend – with the flush plate blending seamlessly with the existing wall.
Hygiene considerations
As well as the wide array of stunning design opportunities presented by the new, comprehensive flush plate market, it is also worthwhile considering the solutions it offers from a practical and hygiene perspective.
Public bathrooms, such as those within hotels, offices, education buildings and retail outlets, present a particularly challenging and high-risk setting when it comes to the issue of hygiene. When you consider that flushing the toilet is an almost unavoidable situation, it stands to reason that the flush plate will likely contain a large number of germs and bacteria, which can then be easily passed on to the next user.
It is therefore easy to see why contactless operated toilets are becoming a common feature within commercial and public bathrooms across the country. The IO Infra-Red flush plate by Multikwik is a particularly technologically advanced version. With its two short-range infra-red sensors, the IO offers dual-flush contactless operation, meaning that your customer can benefit from improved hygiene levels without having to compromise on water efficiency.
Nor is the theme of customisation ever too far away, for the IO also comes with a bespoke option, whereby a company logo or name can be added to the illuminating flush plate.
Design feature
With such a wide array of styles, finishes, customisable effects and technologically advanced options available, it is clear that the modern flush plate is a far cry from its humble predecessor. Now a design feature in its own right, and the perfect finishing touch for any sleek, striking or contemporary bathroom space, not only does the comprehensive flush plate market provide customers and homeowners with even greater design freedom but it also presents you as the installer with a great up-selling opportunity.
It is, therefore, important that you liaise with a manufacturer that offers a wide selection of high-quality plates for all budgets and applications, so that you can then pass this extensive design choice on to your customers.