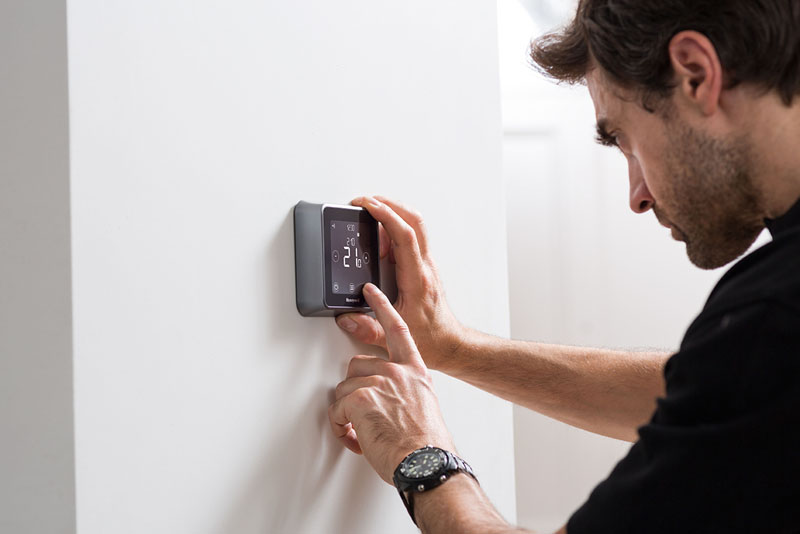 While connected thermostats can legally be installed by anyone, their popularity offers a lucrative prospect for engineers, with a strong argument for these products to be installed professionally. Martin Wilson, Sales Director at Resideo, maker of Honeywell Home branded heating control products, explains.
According to a recent study, by 2040, 85% of people expect most homes in the UK to be fully 'smart'. More than one-quarter of UK homes now have some form of smart technology, with an increasing number of homeowners fully embracing the benefits of connected devices of various kinds.
Combined with an increasingly saturated mobile device market, which is considered the cornerstone of smart technology, the concept of the fully connected home is becoming a reality.
The same research also found that 43% of consumers want a thermostat that can be controlled via a smart phone. Connected thermostats are one of the most popular smart devices being adopted by households throughout the country. By reducing household energy costs and being simple to use, they are often seen as an entry point for consumers to begin integrating smart technology into their homes.
Educating consumers
Unlike a gas boiler, a thermostat can legally be bought and installed by anyone, but that doesn't mean it should be. As a device that controls the entire heating system, incorrect installation can lead to a multitude of problems.
Installers play an instrumental role in product selection and without this expert input, homeowners risk wasting their money on a product that doesn't meet their needs, or isn't compatible with their system.
For example, wireless thermostats are an increasingly popular choice due to their flexibility and convenience, but they must be installed carefully to work at their full potential. A room thermostat can be mounted on a wall or on an optional table stand, but the preferred height from the floor is at least 1.2m and it should not be mounted on a metal wall box. Ideally, there should also be a 30cm distance from any metal objects and at least one metre from any other piece of electrical equipment. This is elementary stuff for a seasoned installer, but a homeowner is unlikely to possess this knowledge.
Another consideration is the installation of multiple heat zones, or heating plus stored hot water control with an S Plan Plus with certain thermostats, such as the Honeywell Home T6R-HW. This is a more advanced installation, as it requires fitting a two-channel wireless receiver, as well as multiple devices. However, as many installers can attest, lots of homeowners do not know where to locate their storage cylinder.
The process of wiring in a thermostat is also risky if done incorrectly and can cause damage to décor, electrocution and fires. Sometimes even the most experienced installers defer to a Part P registered electrician for peace of mind over the more complex jobs, so the thought of an unqualified person attempting it themselves is troubling.
A rising concern
This current state of play is a real cause for concern, and it begs the question: how far will DIY culture escalate? If a homeowner manages to install a couple of thermostats correctly, what's stopping them from going one step further and tinkering with the rest of their heating system? It's illegal for anybody except a Gas Safe Registered installer to work on a boiler, but violations of the law are all too common.
The perils of illegal gas work are grave: statistics from the Gas Safe Register show that around one-fifth of all illegal gas work investigated by the organisation is found to be immediately dangerous, and therefore poses a serious risk to the health and safety of homeowners and the public.
There will always be people who insist on installing their own thermostat. However, it is possible to convince much of the population that a professional installation is the way to go, by keeping the lines of communication open and educating consumers on the dangers of a bad job.
www.heatingcontrols.honeywellhome.com
The installer's view – Ryan Mills
Ryan Mills of G.D. Mills Plumbing & Heating offers his opinion on the DIY phenomenon: "I've seen loads of thermostats that have been wired poorly. One instance that springs to mind was where the homeowner had removed too much of the insulated coating, causing the wiring to arc and heat up the plastic, posing a serious fire risk. Thankfully, I repaired it before anything bad happened, but it just goes to show you should always use a professional."