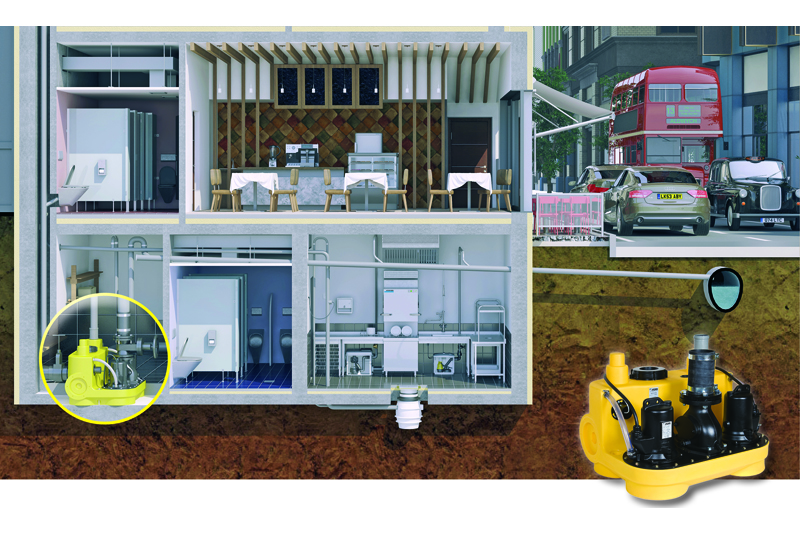 PHPI looks at the COMPLI range of sewage lifting stations for domestic and commercial applications from Jung Pumpen.
For over 90 years, Jung Pumpen has been producing pumps and lifting stations. The company is headquartered in Germany and is one of the leading European brands for water disposal.
COMPLI sewage lifting stations
An extensive range of sewage lifting stations (the COMPLI series) is designed to provide a reliable sewage and wastewater system matched to user requirements. From domestic basements to entire commercial buildings such as dining outlets to industrial applications – hospitals, for example – different kinds of pumps and lifting stations are available. The COMPLI design comprises a sturdy polyethylene container that collects the sewage and waste water, which is then automatically pumped to the nearest sewer. Many UK water companies rely on COMPLI lifting stations and have adopted them for protection from flooding from the public sewer.
Domestic
The COMPLI 400, with an integrated swing-type check valve, is for the drainage of domestic applications in a one-family house – such as bathrooms (toilets, urinals, bidets, sinks, showers, bathtubs), kitchens (sink, dishwasher), utility rooms (washing machine), private pool or gym changing facilities.
Thanks to the height-adjustable clamp flange (180/250mm) it is possible to provide drainage without excavating the floor. The powerful AC motor is based on a rugged grey cast iron volute housing, which is said to result in extreme reliability and quiet operation. The non-clogging vortex impeller hydraulic with a free passage of 70mm provides a transport flow of up to 48m3/h and is claimed to ensure reliable operation.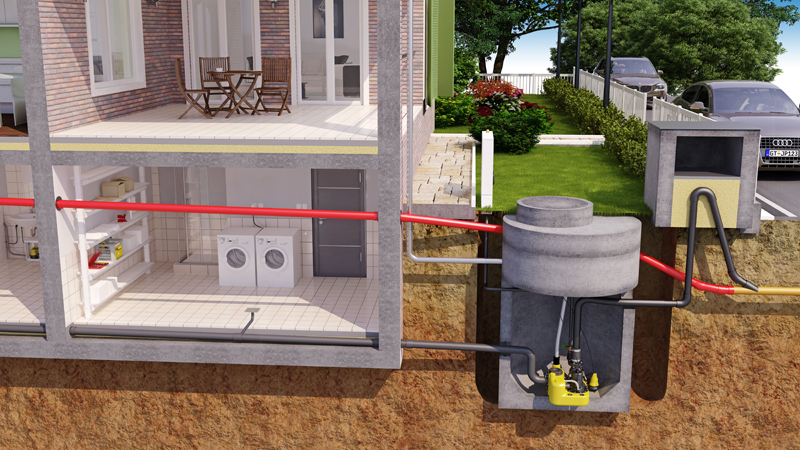 Commercial
For commercial buildings such as hotels, pubs or restaurants, more power and greater reliability are required. The COMPLI 1000 is a duplex unit with two pumps on one tank. They operate alternately, or work together during periods of peak load. The standard station is complete with an integrated swing-type check valve, a control panel and connection to building management system (BMS).
Industrial
The COMPLI 1200, with a tank capacity of 350l, is designed to provide the ideal solution for industrial plants or hospitals. The inlet at the back can be installed for variable heights (560 to 700mm) and is swivel-mounted (180°). For higher waste water volumes (industrial and municipal uses) other suitable duplex units are available.
For more information on the COMPLI range, visit: www.jung-pumpen.com