Based in the small town of Steinhagen, Jung Pumpen is a well-established name throughout the German market. With roots dating back to 1924, the company is now under the umbrella of parent company Pentair, and is looking to further develop its presence in the UK over the coming months. PHPI's James Moore visited the German manufacturer of wastewater pumps and lifting stations to find out more.
In 1924 Heinrich Christian Jung set up a plumber's and installation workshop in a small building measuring 400m2. Just under 100 years later, the foundations he laid have been transformed into Jung Pumpen's major headquarters and manufacturing facilities – with additional training facilities for installers. It goes without saying that the company has grown considerably since Heinrich's time.
Now employing 365 staff throughout its home country and with units having been sold in the UK for the past 25 years, the manufacturer is looking to further develop its presence in the UK market. With the backing of parent company, Pentair, it is well placed to do so.
Pentair integrated the Jung Pumpen brand into its portfolio in 2007 in accordance with its mantra of providing a whole water treatment solution – from the beginning of the life cycle, to the end. Whilst the branding changed a little in 2013 (now Pentair Jung Pumpen) the parent company decided to alter little else in the manufacturer's operations.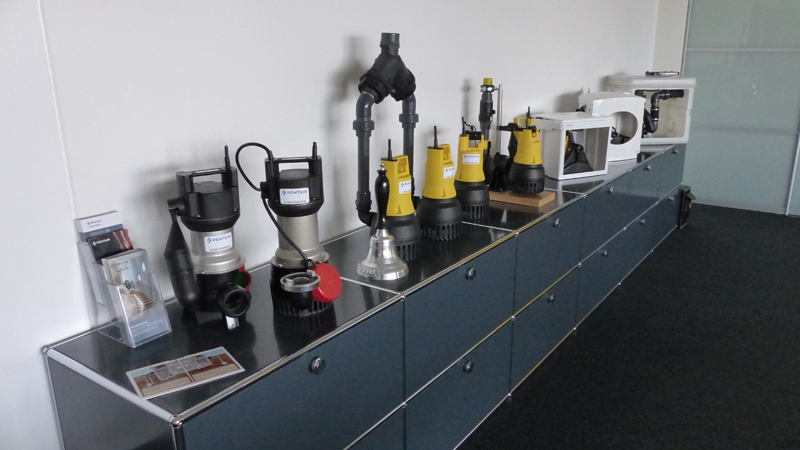 Dr Andreas Kämpf, Marketing Communication Director, comments: "It made little sense to disrupt the distinctive yellow and black branding colours of our products. It is a well-known brand, and is recognised by distributors and installers across our key sales regions, so there was mutual agreement to maintain our brand as much as possible – whilst making the market aware that we are now a division of the well-established and reliable Pentair umbrella."
Quality control
Indeed, though the UK market is certainly a different challenge than that of Germany, Jung Pumpen is keen to continue to develop the brand and its message of quality with installers over here. "Whilst legislation and general wastewater treatment practices are different, we have a range of products that are well-suited to the UK market. Our manufacturing processes ensure the highest quality solutions, and there are examples of this already in the UK – with our COMPLI sewage lifting stations having been installed at Wimbledon Stadium. In addition, Thames Water relies on COMPLI units for back pressure protection."
Having visited the facility in Steinhagen and witnessed the manufacturing process first hand, it quickly became apparent that 'quality' is at the heart of Jung Pumpen's operations. Via a mix of robotics and experienced, well-trained staff, every pump is put under rigorous testing procedures – ensuring a quality control process that leaves little room for error. Even the packaging process is carefully organised so as to safeguard against any potential transportation or loading damage.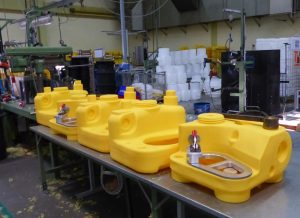 This message of attention to detail is certainly one that the company is looking to bring to installers in the UK market. With its distinctive branding and quality processes, Jung Pumpen will be looking to step up engagement over the following months. Indeed, with a training suite complete with two classrooms, break area and basement demonstration zone, it believes greater engagement will result in trust and belief in the company's products.
Wastewater solutions
Education is also part of the plan. Whilst the German market offers different challenges to wastewater solutions, both installers and consumers could benefit from the message and advice Jung Pumpen can offer. With installation and advisory videos abundant on its website, installers can use these as a tool to explain to customers the importance of backflow protection in their homes – particularly when one considers the continual rise of extreme weather conditions throughout the UK.
Products such as the range of COMPLI sewage lifting units are said to be ideal for new build properties and commercial spaces such as restaurants, whilst there are a number of smaller units on offer such as the U3K submersible drainage pumps or WCFIX ranges as lifting stations for work in situ or basement renovation projects.
For the growing wetroom market, the company also provides a solution with its PLANCOFIX unit. Fitted either as a floor drain in the shower or adjacent to the shower with a side inlet, the product provides drainage of floor entry or low level entry showers where gravity drainage is not possible. Such a unit fits well with the emergence of wetrooms and three generational living becoming increasingly routine in UK households.
Jung Pumpen does not simply want to be seen as a manufacturer, however – and says it is always on hand to offer installation and specification advice. Andreas comments: "We are always happy to help and support installers. It's key that these units are installed correctly to ensure efficient backflow protection, and for many engineers this may be a new task. A plethora of advice is also available online with numerous videos on our website and social media channels." Below is an example video, with many more available here.
The development of the training centre demonstrates the manufacturer's commitment to such values. We were taken around the demonstration zone by Marco Koch, one of Jung Pumpen's Technical Sales Trainers, and his passion and knowledge of the entire range – from small emergency repair drainage kits to the larger, commercial COMPLI systems – was clear to see. Indeed, such attitudes were echoed from everyone I spoke to on my tour of the facilities.
As the UK market for wastewater systems continues to grow, Jung Pumpen is recognising the need to educate on the value of such installations and puts faith in its quality procedures to gain valuable trust with installers. With its distinctive branding, the company is sure to make a visible impact as it continues to expand its operations on British shores.
For more information on Pentair Jung Pumpen, visit: www.jung-pumpen.com