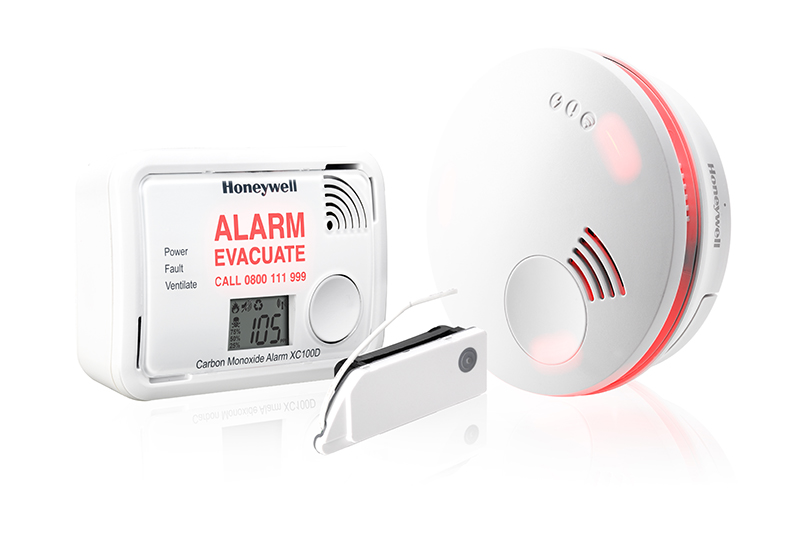 When it comes to carbon monoxide alarms, there are many misconceptions in terms of CO and, unless these are corrected, can leave householders exposed to the risks of CO poisoning. Adrian Keats from Honeywell Home Safety gives his top tips on keeping homes safe and explains why, even in the current challenging climate, CO alarms are still as important as ever.
Carbon monoxide (CO) poisoning is still responsible for at least 60 deaths every year in the UK. As such, it is core to the duty of the installer to raise awareness of the dangers of CO poisoning and provide a good quality alarm to protect the homeowner when on call outs to service or install any fuel burning appliances in a customer's home.
Know the silent killer
A person exposed to carbon monoxide could easily dismiss the initial symptoms as something else, such as a case of the flue or virus, so it's important to be aware of the similarities and differences.
Carbon monoxide poisoning exhibits many common flu-like symptoms including headache, nausea, vomiting, fatigue, chest pain, weakness and dizziness. As carbon monoxide poisoning progresses, more severe symptoms may include fainting, difficulty thinking clearly, an increased heart rate, and eventually loss of consciousness and convulsions.
As an installer, communicating the most common symptoms could eventually help save a customer's life.
Know where to site
When completing an installation for a landlord, you may find that, while their property complies with legal CO requirements, it's still unsafe. To remain compliant with The Smoke and Carbon Monoxide Alarm (England) Regulations 2015, a CO alarm must be installed in in any room that contains a solid-fuel burning appliance.2
This is the bare minimum to ensure safety. Many incidents of CO poisoning are the result of badly maintained or faulty gas appliances such as boilers or cookers, which are not specifically addressed by the legislation.
In light of this, it's best to recommend a CO alarm in every room housing a fuel burning appliance and, for proper protection, an alarm in any bedroom above these, too.
Don't site it in cupboards, behind furniture or by outside doors and ventilation equipment (such as extractor fans), as this will prevent it from working effectively. Under normal circumstances you should keep the alarm away from areas of high condensation, such as bathrooms and test the alarm regularly, as you would with a regular smoke alarm.
Always read and follow the manufacturer's instructions on placing, testing and servicing the alarm, and pay attention to any notes regarding its battery life.
Know quality
It may be tempting for homeowners to find the cheapest option online, but it's crucial for installers to communicate the importance of choosing a well-established brand with BSI certification: EN50291-1 2010 / EN50291-2 2010.3 and Kitemark. When it comes to safety, it's a small price to pay for effective protection and peace of mind.
Although practising CO safety may seem obvious to experienced installers, it's vital to bear in mind that the public at large may need guidance when it comes to protecting their household.
These are unprecedented times but the threat of CO poisoning remains unchanged. By flagging CO safety to their customers, installers can help keep them safe and generate extra revenue by making sure a home has the necessary protection.
For more information, visit www.homesafety.honeywell.com