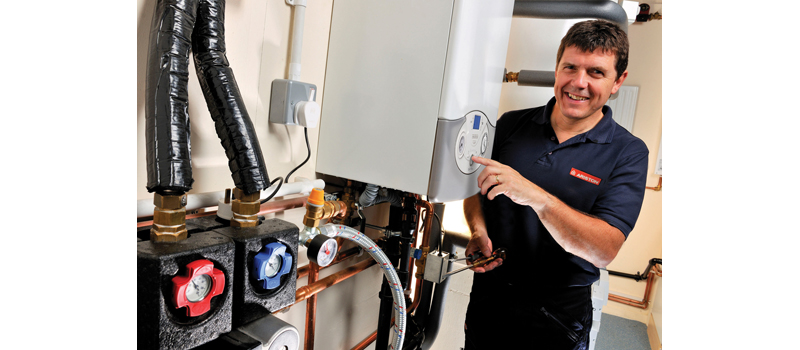 Continued investment in training, especially in the boiler market, is vital for installers if they are to continue developing their skillset while keeping up to date with any changes in legislation. Mustafa Findik, Managing Director at Ariston, looks at the important role training will play throughout the careers of the heating engineers of today – and the future.
The UK heating sector remains a highly competitive environment, which means installers need to keep their knowledge base and skillsets up to date in order to stay ahead of their rivals. Plus, as boiler and heating technology continues to advance, regular training is the only way engineers can ensure they have the required knowledge and experience to fit the latest products safely and effectively.
However, the topic of skills – or rather a shortage of skills – is one of the major talking points throughout the industry. A report from the Federation of Master Builders (FMB) in July 2015 stated that rising activity in the small and medium-size enterprise (SME) sector threatens to be undermined by a prevailing skills shortage. Undoubtedly, this is a concern, as nobody wants to see a lack of skilled workers bring a flourishing sector to a grinding halt, especially when there are so many technologically impressive products out there in the marketplace.
This report was closely followed by PricewaterhouseCoopers (PwC) reporting on how skills shortages were contributing to a slowdown in the construction sector – posing a 'serious challenge' not only to the industry but the economy as a whole.
It's not all doom and gloom of course, as the industry has been growing steadily over the last few years. What is important is that this growth doesn't suddenly tail off due to a lack of skilled workers arriving to pick up tools.
While the UK Government has implemented a long-term strategy of creating three million new apprenticeships by 2020, the heating industry needs to ensure there is no lull in proceedings between now and then. This is why the industry – and manufacturers, in particular – needs to aim for higher levels of training, placing greater emphasis on educating both existing gas engineers and the next generation of installers. After all, as technology continues to evolve, becoming more complex and sophisticated, those already in the heating sector need to keep up to date with developments.
We are already pushing installer training here at Ariston, having invested in 14 new Centres of Excellence throughout the UK, each offering free high efficiency gas boiler courses. These consist of theory sessions and hands-on, practical classroom experience – including expert tuition on ErP, controls and understanding operational parameters, such as how to range rate a boiler and install multi-zone systems. Attendees will also gain valuable experience working with live gas and water connections, while familiarising themselves with the latest products and technology, as well as the latest legislative requirements. Delegates also receive £300 upon attendance, so there's even a financial benefit in keeping up to date with training.
Now, any training course must be industry recognised, covering everything from specification and installation, to commissioning and fault finding. Attending these training sessions enables installers to enhance their skills and improve their profitability, as it broadens the amount of products they can work on, allowing them to work for a greater number of customers. Plus, as alluded to earlier, being armed with the latest product knowledge is a sure-fire way to stay ahead of the competition.
Boiler training further highlights the importance of regular servicing and encourages installers to make customers aware of gas safety. Training courses educate gas engineers on how to check combustion settings and correctly use a flue gas analyser to measure CO2 settings, as well as other elements such as checking boiler efficiency, data logging and differential pressure.
In addition to all the practical and product elements, all relevant documentation should also be explained. For example, the HHIC Benchmark Commissioning List, which is supplied with every boiler in the UK and validates the installation warranty, along with any technical fiche documents and product labels which coincide with September's changes to the ErP directive.
Having sufficient training also ensures installers are not excluded from contracts – and even affords them the luxury of choosing how much work they undertake. While there will always be competition among heating engineers for the best work, well-trained installers remain highly sought after. Plus, the more trained installers operating in the industry, the fewer 'cowboys' there are carrying out substandard (and often illegal) work.
Looking at the situation from a customer's perspective, a well-trained, qualified installer offers the reassurance that work is being carried out to the very latest and highest standards. Training and certification is the best way of conveying trust to end users – after all, they're not going to hire someone who doesn't appear to know what they are doing!
So, although installers will have boilers they recommend and fit on a daily basis, it's important they fully understand the products to guarantee a safe, straightforward and professional job. With over 20 million boilers actually fitted throughout the UK, coupled with the emergence of new models, training is more essential than ever if engineers are to keep up to date with the latest advances. Training is also a valuable asset in helping installers grow their businesses, while ensuring they work safely and in accordance with the latest legislation. We don't want to see a skills shortage hold the industry back, so the more heating manufacturers can do in terms of offering and promoting training, the better.