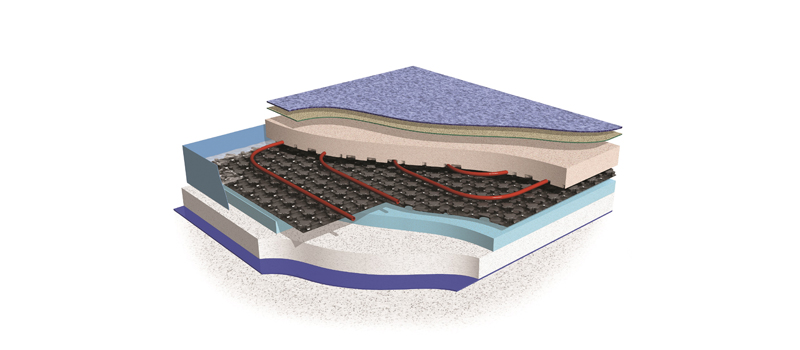 In order to achieve the required performance for an underfloor heating installation, there are three key elements to consider. These will depend on the individual installation. PHPI gets the lowdown from Hep2O.
The three essential system elements are:
Floor materials – there are several options ranging from simple staple systems where pipe is affixed direct to the floor to various panels which keep the pipe at the correct spacing and ensure even distribution of heat across the floor surface above.
Manifold – provides flow and return circulation of water at the correct temperature and flow rate to ensure an even, comfortable warmth across the whole floor surface.
Controls – monitor water and air temperature and activate the heat source. The 'nerve centre' of the system.
Although every UFH installation is different, the overall criteria for integrated solutions which unite the three key elements remain constant. These are:
Appropriate heat output when and where needed
Maximum energy efficiency
Reliable time and temperature control as required
In each of the three essential elements – floor materials, manifolds and controls – there are choices to make depending on the various detailed criteria present in each installation. The Hep2O system can provide a solution to suit any combination of these factors and, for those who need help in selecting the right system, online tools are available to assist.
Floor materials
The choice of floor product is influenced by whether the floor is a new or existing construction, the type of construction (solid/screeded or dry/timber, or special constructions such as acoustic floors) the size and shape of the space and the type of floor finish. For advice on which system will suit a project, Hep2O offers a system select tool on its website and in its literature to guide you to the correct choice.
Manifolds
Manifolds are required for installations consisting of two or more plumbed circuits connected to one primary heat source. When UFH is being connected to a high temperature heat source which also controls hot water or other heat emitters, a mixing unit is connected to the manifold to mix water to the required temperature. The Hep2O Composite Manifold can be sized to serve the exact number of individual UFH circuits, up to a maximum of 15. Single circuit installations with water temperature control only require to be connected to their heat source via a mixing unit alone.
Controls
The choice of the time and temperature control required for UFH is initially based on whether wired or wireless installation is practical/preferred, whether programmed or non-programmed operation is required, and the number of individual circuits required (and whether these are to be separately controlled or linked). Additional operational features and functions may be included for added convenience, such as remote operation, or operational safeguards for homeowners, such as frost settings or child lock.
Hep2O UFH solutions provide a comprehensive array of choice, enabling you to tailor the combination of key elements exactly to the preferences of an individual homeowner. With the online tools and estimator, you can select the best option and most cost effective solution.