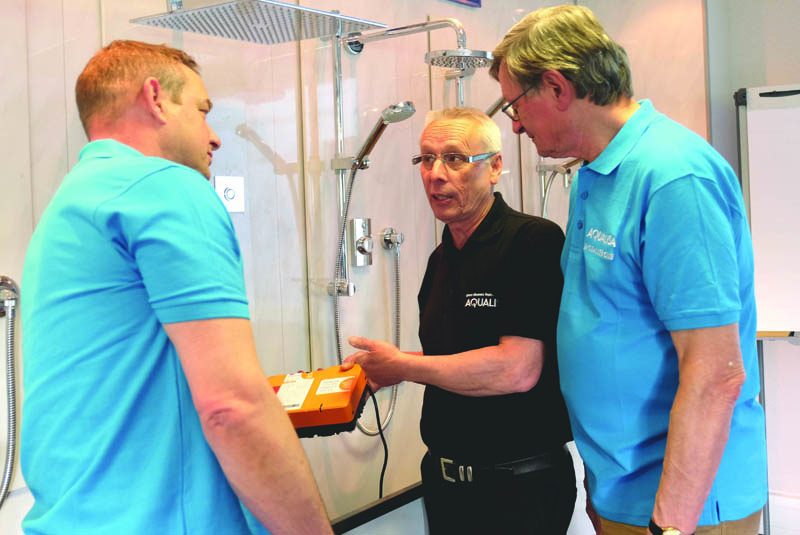 Vicky Daniels, Channel Marketing Manager at Aqualisa discusses the importance of manufacturer-led training sessions.
There is significant talk in the plumbing industry of a skills shortage, with demand significantly outstripping supply. This may seem like an added advantage to those within the plumbing industry as it cements job security. However, it could have a damaging effect on the future of the plumbing industry as experienced plumbers retire and are not replaced – a growing concern highlighted by respondents to a recent survey by Wavin, with 56% stating that the skills gap is the biggest threat facing the plumbing industry today.
The government introduced the Apprenticeship Levy in April 2018, which significantly changed the structure of the apprenticeship funding system. The Levy encourages employers who have annual wage bills over £3 million to invest in apprenticeship programmes and raise additional funds to improve the quantity and hopefully quality of apprentices taken on.
While this can be seen as a step in the right direction for assisting individuals wishing to enter the profession, continuous development from manufacturer training is also imperative to future-proof the talent pipeline. After all, no matter how high the product quality is, it is only ever as good as its installation, meaning a skilled workforce is crucial to ensuring a quality build.
By offering installers product training, manufacturers can provide best practice techniques for installation and maintenance. This, in turn, can help installers to sell products based on product benefits and ease of installation as well as system compatibility – all criteria which add up to a satisfied customer.
Legislation, processes and advancements in technology constantly change within the plumbing industry and it can often prove difficult to keep track of them. Installers should therefore look for manufacturers who provide training not only on their products but also on industry standards and approvals – for example, the latest shower safety requirements and water regulations. This will help installers stay up to date with all relevant changes and make sure they provide the knowledge and skills required to provide an expert service.
If installers are not up to date with the latest legislation and technologies, they may risk losing out on jobs where their skillset does not meet the project's or the customer's needs. For instance, as smart showers increase in demand, it is important that installers attend training sessions. Training is not only required for those who are new to smart showers in general but also to those unfamiliar with the breadth of smart ranges – digital showering is now a firmly established category in which installers are becomingly increasingly more confident. However, technology has moved fast in terms of delivering a more personalised and convenient shower experience so installers need the expertise to explain how a digital shower works, as well as its advantages.
Providing high quality, informative materials to support the installation also helps to ensure service is exceptional. For example, Aqualisa provides a comprehensive suite of installation and user guides, supplemented by a series of short training videos that will assist with most common queries about installing a smart shower – as well as a dedicated customer care team and UK service engineer network to back up all Aqualisa installations.
There is a high demand for plumbers. At Aqualisa, we seek to provide comprehensive care, training and development programmes to ensure the professional development of installers. The investment in training will not only help the company and installer but will also provide better services to customers and improve the status of the industry as a whole.
To book a place on one of Aqualisa' training sessions, visit www.aqualisa.co.uk/training
To watch Aqualisa's training videos, visit www.aqualisa.co.uk/customer-care/smart-installation-videos or search Aqualisa Showers on Facebook