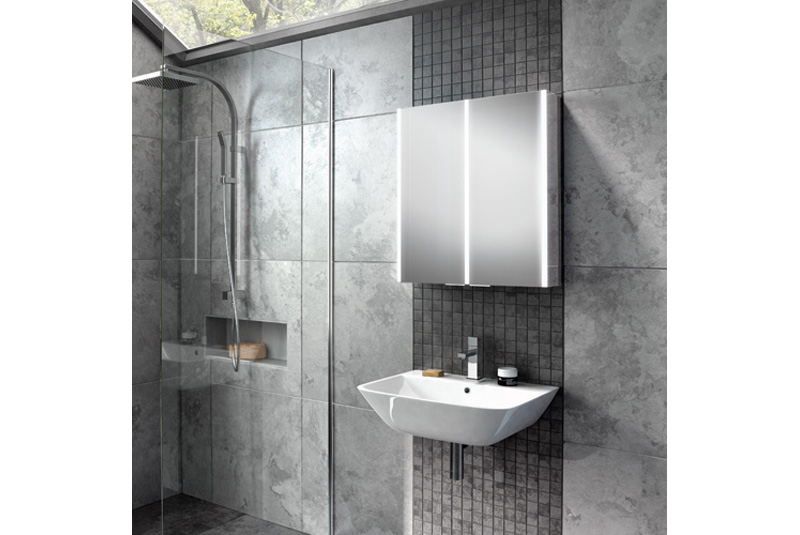 Ash Chilver, Sales Director at HiB, comments on the importance installers should place on taking stock of the latest trends.
To help improve your customer service offering, it is vital that as an installer, you take on board customer opinion and feedback, not to mention the latest design trends. Product designs and bathroom trends are quick to change, particularly with connected technologies that are so often desired by customers at present. And, as more consumers plan for renovations rather than moving house in the midst of this uncertain economic period, the bathroom is often the first port of call.
When it comes to the once humble mirrored cabinet, for example, today's offering has evolved to include integrated charging sockets and USB ports – ideal for toothbrushes, shavers and trimmers. Further techy enhancements can be found in the form of colour temperature changing LEDs.
According to research, the lighting of a room can have a significant effect on our mood, emotions and sleep patterns. Both the intensity and the colour of a lighting scheme can have a measurable impact on our psychological state, and in the bathroom, where relaxation is a priority, this is particularly relevant.
Cabinets which feature colour temperature changing technology, for instance, can make all the difference. These are able to either harmonise with overhead lights or softly contrast them, depending on the homeowner's preference. Furthemore, colour-adjusting LED lighting can meet wellbeing needs too, as experts advise bright lights for alertness and subdued tones for tranquility, both of which can be achieved at the touch of a button.
In line with this way of thinking, we've added some exciting new features to one of our most popular mirrored cabinets: Xenon. Its mirrored exterior enhances surrounding décor by reflecting wall tiles to create a striking statement, whilst the soft close, multi-door design is fringed with vertical light strips that emit a gentle, pleasant glow for flattering radiance. It was already stylish, but now it's smart too.
With technologies like these at the top of the agenda for many consumers, it's absolutely worth taking note of the latest developing trends. Installers will be able to show their passion for the industry, as well as a professionalism that may ensure they acquire repeat business in the future.