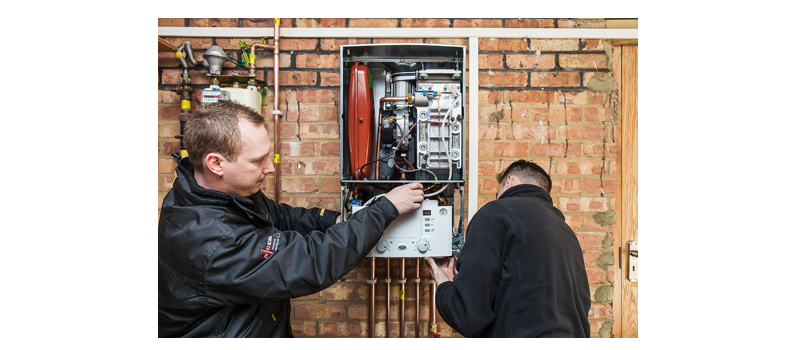 Taking on an apprentice can seem like a burden to many in the trade. While bringing an inexperienced person into your business may, on the face of it, seem like a time-consuming and expensive endeavour, it can be a shrewd long-term business decision as well as a fulfilling and educational experience. John Cruickshank – founder of Cruickshank Plumbing – certainly feels that way. Alex Juggins caught up with John and his apprentice, Charlie Whitbread, on site.
John, tell us about your background in the heating and plumbing industry
My route into plumbing was somewhat unconventional. One evening, I was down at the pub with my dad and his mates. My dad mentioned that I was looking for work, and one of his friends, who happened to be a plumber, said he'd take me on. I'm thankful to this day that it wasn't the bricklayer.
My company, Cruickshank Plumbing, has been up and running now for three years. The first year in business was awful – I wasn't professional enough, turning up to jobs in a random company t-shirt and tracksuit bottoms, my van didn't look the part and, ultimately, I wasn't making enough money.
Slowly, work began picking up. I think it was probably down to the general upturn in the economy at the time. I began getting more and more phone calls with offers of work, but I realised that if I was going to make a success of my business, I had to change the image of the company.
Tell us about how Charlie's apprenticeship came about
Part of my plan for the company was to expand my workforce – I needed help with the increased demand, so I approached a local college to find an apprentice. I wanted somebody who could show initiative, so I looked for somebody who had already booked themselves onto a course. Charlie's CV dropped on my desk and the two of us got on well when I went to interview him. I decided to take him on for a three-month probationary period and he's still here!
How has the apprenticeship worked for you, Charlie?
It's great working with John. It's nothing like working for a big company, where there's pressure to complete a high volume of jobs, with very little focus on personal development. I think it's actually quite hard to find a 'good' standard apprenticeship these days. With John it's one-on-one, quality training which focuses on me, so I'm happy. I'm also learning a lot from John regarding running a business, how to deal with customers and how to present myself as a professional.
How does the college side of things fit in with your day-to-day work on-site?
I go to college one day a week and the rest of the week I'm working, putting my learning into practice. I find that the variety of work that I'm lucky enough to get involved in day-to-day with John means that I have a wider understanding in the classroom at college, which isn't the case for everyone.
How's it been from your perspective, John?
Working with Charlie has been fantastic; his work is first rate because he has the right attitude. I could teach this stuff to 100 young adults, but I'd only find one with the right attitude. This is a crucial part of taking on an apprentice, which is why I was so careful in choosing somebody who I felt had the work ethic and personality that I was looking for. To be honest, I see a lot of myself in Charlie, we're very alike and I think that's what makes it work.
In terms of teaching Charlie about the business, he's always asking about invoicing, estimates and surveying jobs, and it's great that I can impart my knowledge to him. These are things that aren't covered in much detail in college, but it's essential that he learns it.
Tell us about the responsibility involved in taking on an apprentice
I perhaps didn't realise the level of responsibility and the involvement that taking on an apprentice would entail. There's a lot of correspondence with Charlie's college which I need to keep on top of, there's small things that I had never thought of like employer's liability insurance, and of course I'm responsible for paying Charlie's wages and providing his equipment. I would say to anyone thinking about taking on an apprenticeship that it is a really rewarding thing to do, but you have to realise the responsibility you are taking on, because it's a young person's future that you are dealing with.
The most important thing to me is that Charlie continues his training – I've said to him that he should never miss one day of college. Every Monday I ask him how college is going, and if there is anything he wants to go over, we will always talk about it.
So, taking on an apprentice is not a decision you'd take lightly?
It is definitely not a decision to be taken lightly, but if you're committed and you've done your research, it's a great thing to do. If, like me, you've got a long-term plan for the business, you need to think about bringing in new blood at some point. Ultimately, I think that I'm now a better engineer for taking Charlie on.
What are your plans for the business in the near future?
I want to build my church from the ground up. I'm hoping that Charlie stays with me for a few more years and continues his training. I have plans to take on another apprentice in October and I feel as though I'm more prepared this time around. Hopefully I'll get a clone of Charlie!