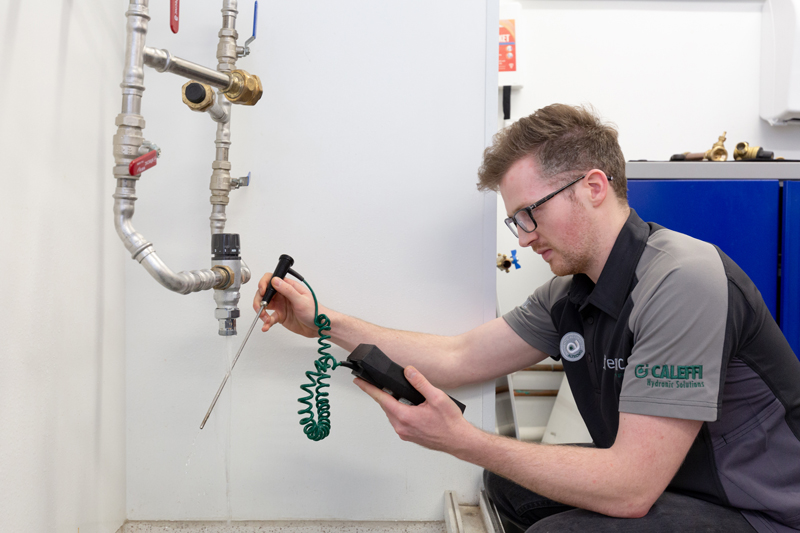 Altecnic's Technical Manager, Ed Morris runs through his guide to getting the most out of thermostatic mixing valves.
TMVs keep water temperatures safe by blending hot and cold water and maintaining it at a constant temperature.
Fully immersed in the mixed water outlet port is a temperature sensor, which is the controlling element of the TMV. The valve expands or contracts accordingly to continually maintain the correct proportion of hot and cold water entering the valve.
There are three different types of TMV, each used for applications that have differing regulations.
Which one to use…
TMV2 valves are designed and tested to be used in domestic environments to reduce the risk of scalding at home. They are part of the British building regulations to control the temperature of hot water in domestic bathrooms, specifically baths and bidets. The regulations apply to all new build domestic properties in the UK, along with homes where bathroom renovations involve moving or replacing baths, showers or bidets.
TMV3 valves are used in high-risk commercial healthcare environments. They offer a high level of protection, reacting much more quickly in shutting off the flow of water if the cold water fails, or a safe temperature is exceeded.
The third type of valve, a tempering valve, is usually for delivery of water at much higher temperatures unsuitable for the intended applications of TMV2 and TMV3 valves. Tempering valves are used in systems where the temperature of water in the storage cylinder can exceed 60ºC, such as in solar heating systems with multiple outlets or as part of recirculating domestic hot water systems.
Installation and compliance
Before the introduction of the TMV accreditation schemes in the late 90s, there were few regulations in place to help protect vulnerable people against scalding. In order to tackle this issue, regulatory schemes were introduced in both domestic and healthcare environments to protect people, namely young children, the disabled and the elderly.
TMVs undergo rigorous testing by independent group National Sanitation Foundation (NSF) International. TMV2 valves are compliant with BS EN 1111 (high pressure) and/or BS EN 1287:1999 (low pressure), something that the UK Building Regulations Part G requires. NSF International also tests and certifies TMV2 valves against the updated performance standards BS EN 1111:2017 and BS EN 1287:2017.
Other important factors to take into account when carrying out performance testing on both TMV2 and TMV3 valves include ensuring that the company/manufacturer of the valve must prove its compliance with ISO 9001, or equivalent quality management system. The valve being used must feature the correct markings to make it clear to any operative that it meets the correct standards and approvals, also any information regarding the standards should be printed in the valve installation operational manual and data pages.
You can find out more about your responsibilities regarding safe hot water at www.safehotwater.co.uk and www.antiscald.co.uk
Safety first
The recommended temperature range for delivery of safe hot water where a TMV is installed is 39 to 43°C. The TMVs are not provided at a factory-set safe temperature so the commissioning instructions provided need to be followed and the desired temperature set on installation.
The conflict between delivering water at safe temperatures and fighting off harmful legionella bacteria should always be taken into consideration with TMVs.
Water should be stored below 20°C or above 60°C to prevent the growth of legionella bacteria, which can be extremely harmful and even fatal if exposure occurs. As TMVs allow for high temperature water storage the risk of bacterial growth is reduced, however it is not eliminated altogether.
The location of the TMV plays an important role here. Any space between the TMV and outlet where blended water is stored provides a breeding ground for such bacteria. For this reason, it is recommended that:
*TMVs are installed as close to the water outlet as possible, mixing water at the point of use where possible
*Multiple TMVs should be used in the case of multiple outlets; use of a single TMV increases the risk of bacteria growth
Servicing and maintenance
TMVs play a very valuable role in delivering hot water at safe temperatures, however they shouldn't be fitted and then forgotten about. Ensuring the valves are serviced and maintained regularly can help ensure that they are still delivering water at the required temperature to prevent scalding.
Therefore, it is highly recommended that TMV valves are checked and maintained once a year. The outlet temperature should be tested to check that there is no significant change and that the failsafe shut-off activates as intended.
If the TMV doesn't meet these requirements then a full TMV service plus recommissioning, or a new valve will be needed.
The valve and filters plus strainers and any other components within the device should also be inspected, cleaned, descaled and disinfected.
When flushing or disinfecting your system with the TMV in situ, certain disinfectant chemicals may wholly or partly remove the lubricant from the Thermostatic Mixing Valve. So, it's recommended that the valve is checked for performance after flushing and re-lubricate or service if necessary.