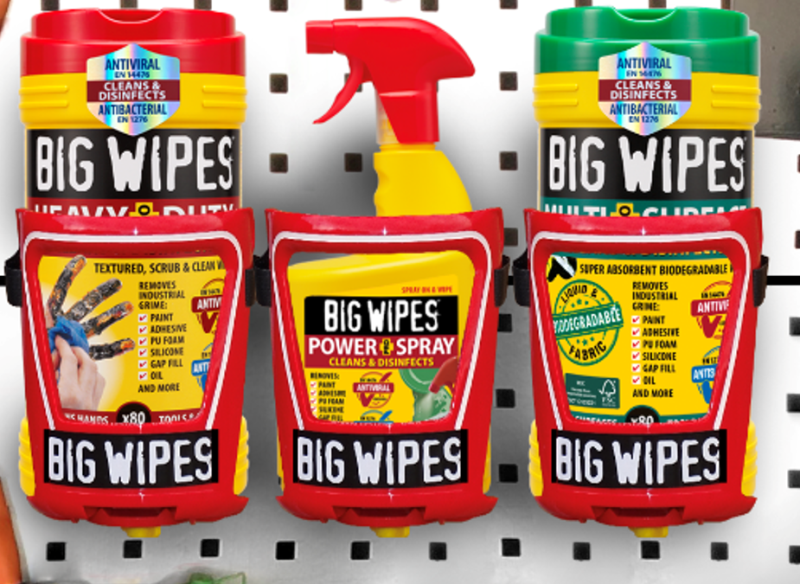 One of the biggest costs to plumbing & heating installers is their time. Working clean will save you time allowing you to get jobs done faster and improve standards, resulting in delighted repeat customers!  
To help, Big Wipes has introduced the Big Wipes Van System. An all-in-one racking and dispensing solution, it contains all the Big Wipes essentials necessary to fix problems fast, clean up quickly and effectively and get to the next job – all in one handy kit.  
The three dispensing brackets allow Big Wipes to be 'holstered' & stored securely, but also free to be taken onto site to deliver quick and effective cleaning on hands, tools, and surfaces.  
The Big Wipes Van System includes the dual-sided, textured, Heavy-Duty wipes that capture and contain even stubborn dirt & grime, plus a refill pouch (pouches contain 90% less plastic) to refill the tub when you run out. There is also a tub of the 'super-absorbent' biodegradable Multi-Surface wipes to deliver a closer, finishing clean on surfaces, plus a refill pouch to refill the tub when you run out. Plus, a Big Wipes Power Spray to 'recharge' them as you work, to keep them powering through dirt all day long, along with a set of the 3 Big Wipes 'holstered' cages. 
For your chance to win the Big Wipes Van System please enter using the form below. Entry Deadline is 31st January 2024.