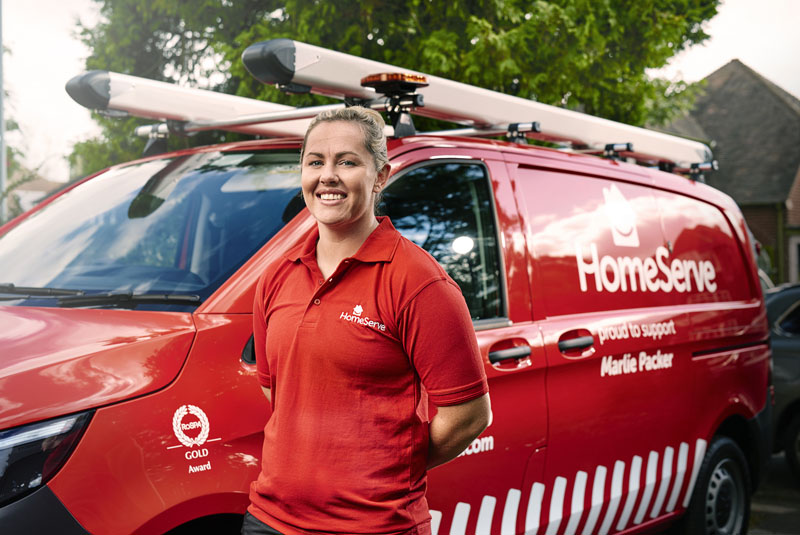 HomeServe plumber – and England World Cup winning rugby star – Marlie Packer has been named as a role model for female engineers by an organisation that campaigns for gender balance across STEM industry.
Announced to celebrate International Women's Day 2018 (Thursday, March 8), Marlie will begin working with the team from WISE to challenge stereotypes and promote careers in science, technology and engineering to young women.
Marlie, who is also dyslexic, became a plumber after leaving school. Her rugby career was taking off but she knew she needed a profession.
Along the way she's faced plenty of challenges – and it's her 'can do' attitude that means she's perfectly placed to pass on her experience in her new role at WISE.
"It hasn't always been easy," Marlie said. "But I love being a plumber and I love playing rugby for my country. I wouldn't change it for the world.
"When I left school I knew that I wasn't going to work in an office, sitting in front of a computer. That might be for some people but it just wasn't for me.
"I did some labouring during the summer and loved it. Two years later I was a qualified plumber and I haven't looked back since."
"It's such an honour to sign up with WISE as a role model. The work they do is incredibly valuable and makes such a difference to young women who might want to pursue a career in science, technology or engineering but not know how to go about it. I can help them find their pathway in life and show people just what a brilliant job being a plumber is."
WISE enables and energises people in business, industry and education to increase the participation, contribution and success of women in science, technology, engineering and maths (STEM).
And Shagufta Sharif, Development Manager at WISE says Marlie is the perfect person to help them do that. "We're delighted to welcome Marlie to WISE as a role model," she said. "We're confident that she will play a huge role in showcasing the fantastic careers that are available to women in STEM.
"She's also a perfect example of someone who hasn't always taken the easy route and has had to overcome plenty of challenges along the way. We're really excited about working with Marlie and Homeserve."
Greg Reed, CEO of HomeServe Membership, added: "Marlie is a brilliant ambassador for HomeServe as well as being a fantastic plumber. She inspires us whether she's holding her tools or her rugby ball and I know she'll do the same in this role with WISE."
For more information about WISE, visit: www.wisecampaign.org.uk/