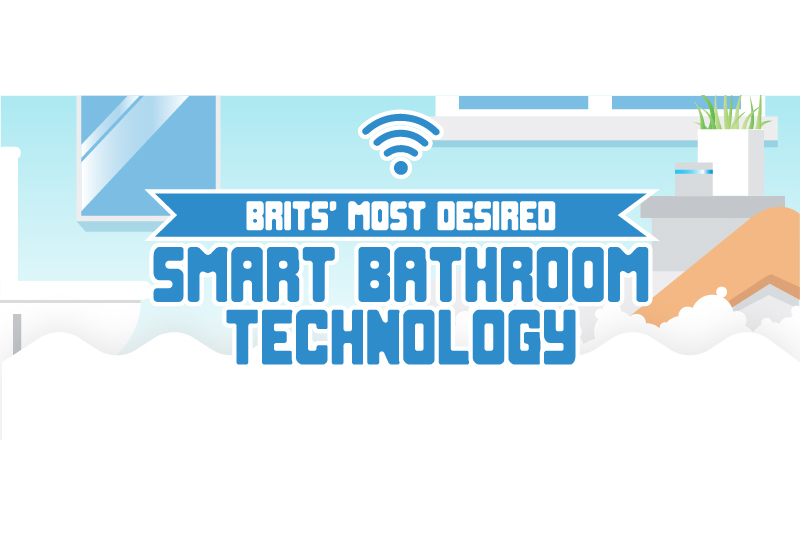 Research from Showerstoyou.co.uk, which surveyed 1,424 British homeowners, has identified the bathroom technology features that appeal most.
When it comes to the toilet, homeowners most desire a self-cleaning feature (83%), followed by a self-deodoriser function (55%) and the ability to generate a heated seat (31%.)
69% of Brits are vocal about digital controls for precise temperature, spray and timing as the tech trend they most desire in the shower, followed by mood lighting (55%) and built-in sound – presumably for a shower-sing-along – at 48%.
Similarly, mood lighting (66%) tops the list of features British homeowners would most like to see fitted in their bathtub, followed by a built-in scented mist dispenser (62%) and a built-in heated backrest (41%).
In terms of general bathroom tech, 62% of Brits' surveyed by Showers to You selected temperature control/thermostatic smart control as the feature they would like to see in their bathroom.
Water conservation technology came second at 41%, highlighting that homeowners are becoming increasingly environmentally conscious within their homes. Wall-mounted, touch-panel interface was voted the third most-desired general smart bathroom technology (34%.)
Emerging tech
Elsewhere in the bathroom tech universe, emerging technologies are tempting homeowners everywhere with the promise of sanitising, warming (and cooling), health-conscious solutions. Fairly new to the market and oftentimes underpinned by a hefty price tag, these technologies aren't commonplace essentials… yet.
Showerstoyou.co.uk asked homeowners which of these emerging technologies they'd most like to try in the future. Here's the top five:
1 Sanitising bathroom accessories – 59%
Gadgets that use UV light to disinfect items like damp towels – leaving them fresh, fluffy and clean!
2 Warming drawers – 52%
Think heated towel rack but in drawer form. The perfect place to store towels, robes and slippers
3 Fitbit Wi-Fi scales – 48%
An advanced set of scales which track weight, lean mass, body fat and more – and sync data wirelessly and automatically to your Fitbit account
4 Virtual reality showers – 45%
This feature enables homeowners to project scenes – such as the beach, jungle or somewhere peaceful – within the washroom.
5 Cooled cabinetry – 28%
Essentially refrigerated bathroom cabinets, which allow you to keep medicines cool (should you wish to), as well as store drinks!