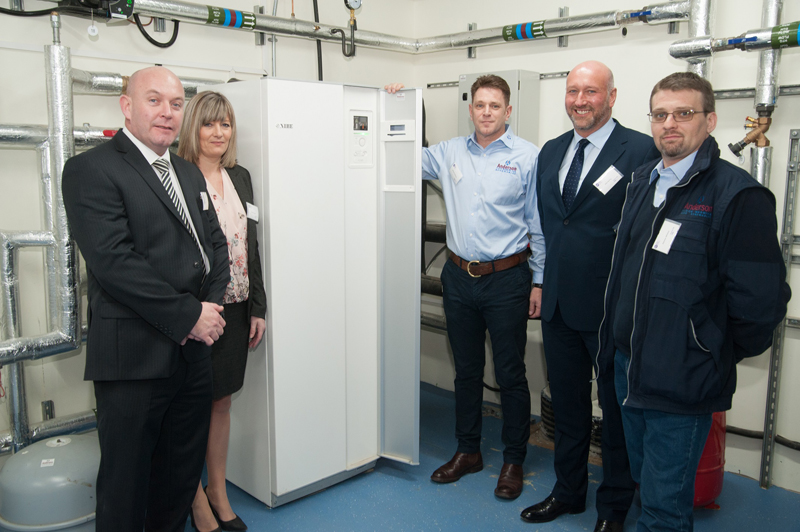 A newly opened 'zero-energy' teaching block at South Lanarkshire College in Scotland has been fitted with a ground source heat pump system from NIBE – helping it become the first building in the UK to achieve a BREEAM sustainability rating of 'Outstanding'.
Situated on the college's East Kilbride campus, the state-of-the-art £2.6 million building has been specifically designed with first-rate environmental credentials in mind. It boasts a host of efficiency-enhancing measures, including highly insulated floors, walls and roofs, triple-glazed windows, low-energy lighting and electrics, rainwater harvesting and solar PV panels on the roof. Partnered with a water-based underfloor heating system, the energy-efficient NIBE F1345 40kW ground source heat pump (GSHP) was specified to meet the heating requirements of the eight-classroom block in the most sustainable, cost-effective and reliable way possible.
Stewart McKillop, principal at South Lanarkshire College (SLC), explains: "We pride ourselves on our forward-thinking approach to sustainability at SLC, and we couldn't be happier that our new teaching block has been deemed 'Outstanding' by BREEAM assessors. We already have a range of NIBE products in our on-site renewables training centre, which students use for practical sessions – so the ground source heat pump system from NIBE seemed like the natural choice to heat the new block. For even greater efficiency, we opted to pair the heat pump with water-based underfloor heating, which operates at similarly low flow temperatures.
"In fact, the NIBE system is so efficient that it has been awarded a rating of A+++ in line with energy labelling criteria under the ErP Directive. The heat pump system and the solar PV panels combined generate enough renewable energy to meet the block's entire heating and power needs, making it a 'zero-energy' building. It really is a huge asset to the whole college – not only from a resource point of view, but also as a real-life example of sustainability in action. As well as being a valuable learning space for our construction and energy students, it's a place for us to bring local businesses and community groups, and showcase the benefits of low-carbon, low-resource buildings first-hand."
The new SLC facility excelled in all 10 BREEAM assessment categories, which range from energy, waste and water to health and wellbeing. The project was given £1.45 million-worth of support from South Lanarkshire Trust and £700,000 from the European Regional Development Fund. It was also awarded a further subsidy from South Lanarkshire Council's Renewable Energy Fund.
Robin Adderley, sales and marketing director at NIBE, says: "NIBE has a longstanding relationship with South Lanarkshire College, and we are really pleased to have been a part of what is a truly pioneering project. The new block sets the bar high for sustainable construction in the UK, which is reflected in its outstanding BREEAM assessment. It's also a perfect working example of how heat pumps can be the ideal choice for larger-scale applications – helping them to minimise their carbon footprint and keep running costs down in the process."
NIBE's MCS-accredited F1345 GSHPs are specially designed for use in larger residential, commercial and industrial settings, and use ground, rock or lake as a heat source.  Available in an output range of 24 to 60kW to suit applications of various sizes, the high-efficiency units perform at an industry-leading COP of up to 4.51 at 0/35°C. They also feature an integrated control system for bespoke programming and a multi-colour user display for straightforward and intuitive operation.