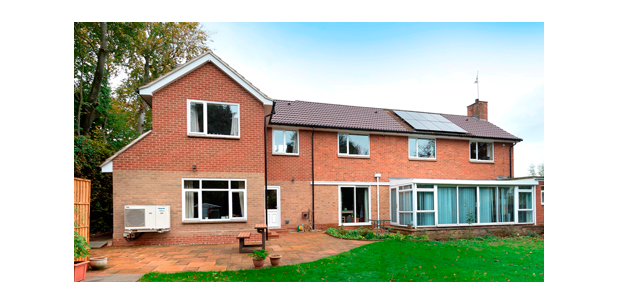 Many homeowners are looking at ways to utilise renewable energy to power and heat their homes, be it via a heat pump or solar panels. Panasonic has recently been involved with a residential property where both solutions have been installed and are working together to provide maximum energy savings. 
At the property in question – originally a four-bedroom property – the homeowners invested the help of Nexus Building Solutions for a complete refurbishment and extra two-bedroom extension. The family were looking for a heating solution that would not only fit in well with the existing oil burner and radiators, but also provide reliable and quality performance.
Specifying 4kW Panasonic 250W HIC panels to accompany Panasonic's T-CAP Monobloc Aquarea heat pump, Nexus Building Solutions has helped the property to benefit from energy-efficient and cost-effective underfloor heating, which runs through six different zones within the house.
There were two key motivators which lead the family to decide on a new Panasonic Aquarea air source heat pump. Firstly, the cost benefits; having a new large six-bedroom property meant that their heating costs were significant and they were keen to find a solution that kept them warm while reducing their energy bills.
Secondly, the heat pump's compatibility with solar thermal technology meant that the family could qualify for government rewards from the FiT Scheme and any surplus would go straight back into the pump. The family are now saving money every month compared to their previous fuel bills.
"Since fuel prices continue to rise, we have seen a change in our customers' heating needs, requirements and priorities," says Avnash Jhita, Operations Manager at Nexus Building Solutions. "Faced with an economic climate that stretches outgoings, homeowners want energy-efficient heating and hot water on demand. Offering a heating solution that is affordable, reliable and offers an attractive return on investment, is vital for stimulating business." 
Panasonic's Aquarea heat pump does just this. With a COP of 4.75 and option to add on a Panasonic PV panel, consumers are provided with a completely renewable and cost-effective energy solution, which sits in perfectly with current government incentives. 
"We are delighted with the results from installing Panasonic's Aquarea heat pump and PV solar panels," says the homeowner. "Not only is the house warm and cosy, but the extra energy generated from the solar panels is transferred straight back into the pump. We're so impressed that we're currently in discussions with Nexus Building Solutions to install another Aquarea heat pump that will replace our oil system in the main house when a retrofit is required."
"Panasonic's Aquarea heat pumps are straight forward to use and easily controlled, just like a normal boiler – you flip down the lid, you select what sort of temperatures you want in the house for your hot water and what times you want it. It's easy."
A compact and versatile heating system, the Aquarea heat pump will be able to fulfil heating demands even in temperatures as low as -20°C. Independent tests have also shown that Panasonic's air-to-water heat pump is capable of saving up to 78% on heating expenses, and is more efficient than fuel-fired boilers, gas boilers and electric heaters.
Panasonic claims that its Aquarea range is the most comprehensive, versatile and cost-effective range of air-to-water heat pumps on the market. It features heat pumps from 7 to 16 kW, single and three-phase alongside stand-alone and split-units.