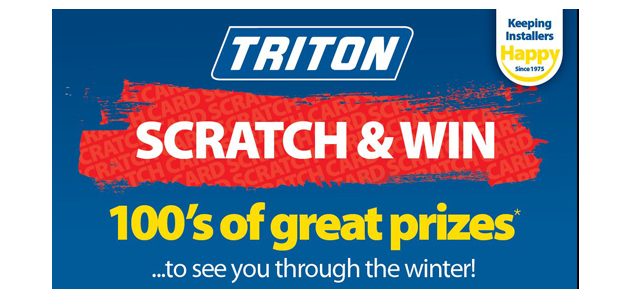 Triton has launched a brand new instant win campaign designed to keep installers happy throughout the busy winter period.
Triton's 'Scratch & Win' campaign will see hundreds of prizes put up for grabs, ranging from safety boots to thermal mugs, plus a chance to be in the main prize draw where one lucky winner will claim a brand new Volkswagen Caddy worth over £16,000.
To be in with a chance of winning one of the prizes on offer, installers simply need to pick up an exclusive scratchcard whenever they purchase any one of Triton's  range of electric and mixer showers from their nearest participating stockist. The promotion applies to purchases made between 14th November 2014 and 27th February 2015.
Triton's range of electric and mixer showers includes the T80Z Fast-Fit electric shower and the new EXE Bar Mixer which offers installers one new mixer shower with a choice of two different handle options.
Lorna Fellowes, Managing Director at Triton, commented: "We've been keeping installers happy since 1975 and our latest campaign offers hundreds of great prizes to see the industry's professionals through the winter months. As a leading manufacturer we want to ensure installers can not only benefit from the most comprehensive range of showers on the market, but can also get their hands on some great prizes that will really keep them smiling.
"With our new scratchcard, everyone really is a winner!"
For more information on Triton's 'Scratch & Win' campaign and its range of electric and mixer showers, visit www.tritonshowers.co.uk.