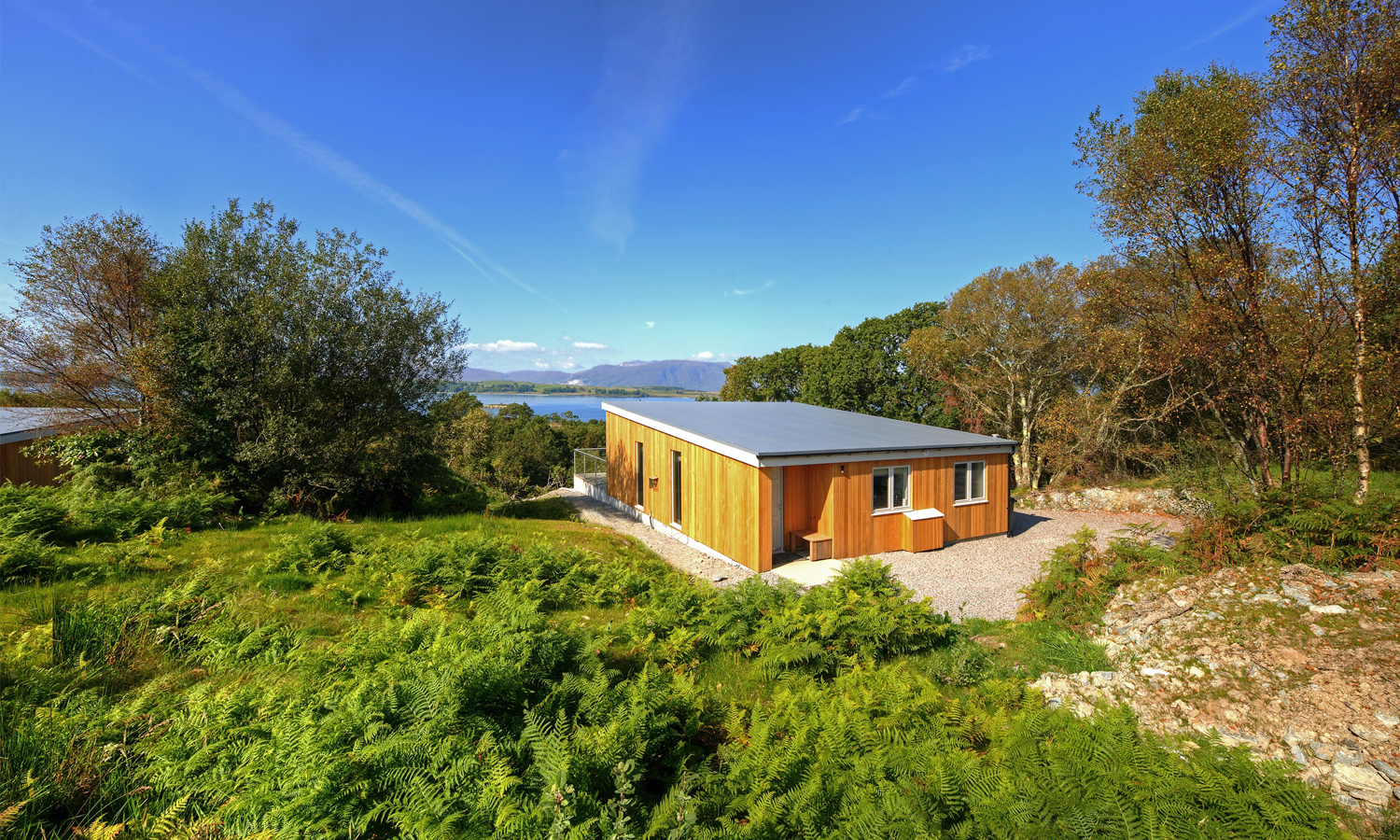 Two luxury eco holiday apartments on the west coast of Scotland are now benefitting from a sustainable, cost-effective and readily available supply of hot water and space heating – thanks to the installation of a new NIBE F2040 air source heat pump system.
Set on an elevated ridge in the 300-acre grounds of the Isle of Eriska Hotel, the newly opened, one-bedroom Hilltop Reserve apartments are completely off-grid. While space heating and hot water for the rest of the hotel comes from a large biomass system, piping this uphill to the hilltop development 600m away was not a viable option – so the challenge was to find a reliable, on-site renewable heating system that would meet guests' needs all year round. As each of the one-bathroom apartments (complete with their own private hot tubs) will be permanently occupied on a time-share basis, they have a high annual heating and hot water demand – so choosing an efficient, economical and easy-to-use solution was also paramount. Beppo Buchanan-Smith, managing director at the hotel, had done some research into NIBE air source heat pumps, and approached local renewable energy specialist Ferguson Energy for a bespoke solution.
Barry Ferguson, director at Ferguson Energy, specified, designed, sized and installed a NIBE system – which consists of a 16kW F2040 air source heat pump (ASHP), a 500L VPB hot water cylinder, a UKV 200 buffer tank and SMO 20 intelligent controls. He explains: "When Mr. Buchanan-Smith first came to us, he already knew biomass wasn't an option for the eco lodges, due to their remote, high-up location, and was interested in exploring heat pumps as an alternative. As the lodges are very well-insulated and fitted with water-based underfloor heating throughout, we advised that they would be ideally suited to a NIBE F2040 ASHP (which operates at similarly low flow temperatures). Having worked with NIBE products before, we were able to specifically recommend the F2040 as the best system to meet the project's needs – both in terms of performance and capital cost.
"We sited the ASHP unit outside a separate, purpose-built plant room (and installed the accompanying hot water cylinder and buffer tank inside the room). This means the whole system is set apart from the lodges themselves – something we achieved by running insulated piping between the plant room and the properties. By opting for a 16kW F2040 model – which not only has enough capacity to serve the existing two lodges, but could also easily accommodate two more in the future – we've created a versatile, small-scale district heating system that fits in with plans to grow the development. There is even scope to replicate the ASHP district systems further along the ridge if necessary."
Now fully up and running, the system is specially set up to require minimal customer input. Its user-friendly SMO 20 controls are pre-programmed to keep the lodges at a consistent, comfortable temperature of 21°C during daylight hours and 15°C at nighttime, with hot water available on demand. The weather-compensated system shuts off automatically when necessary, and is Uplink-enabled – allowing the Ferguson Energy team to monitor performance online and offer assistance in the event of a system alert.
Beppo Buchanan-Smith, managing director at the Isle of Eriska Hotel, adds: "As luxury holiday homes, our Hilltop Reserves are sold on a ten-year basis with no maintenance fees. With this in mind, when it came to choosing the right heating system, we were conscious that it not only needed to be high-spec, reliable and easy to operate, but also as cost-effective to run as possible. Our guests expect luxury, and we wanted their heating system to reflect this – providing readily available and dependable hot water and heating whenever it is needed. The system is now fully operational, and we're delighted with the results!"
Phil Hurley, managing director at NIBE, concludes: "This project really conveys the scope of what you can achieve with renewable heat. As well as providing guests with comfortable, convenient and unobtrusive heating and hot water that complements the luxury feel of the Hilltop Reserves, the new NIBE air source system is an economical, efficient and long-term solution from the hotel's point of view too. It is also capable of evolving to meet the changing needs of the development as it expands, making it a true investment for the future."