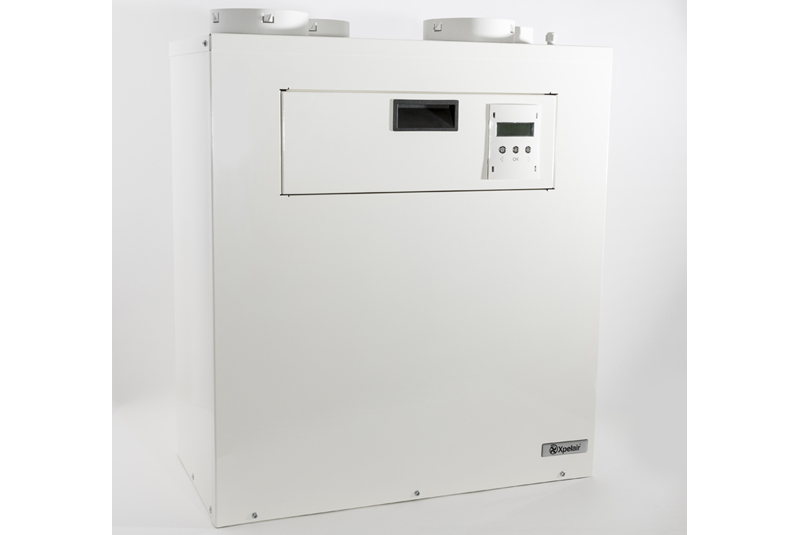 The Passivhaus Institute has awarded Xpelair's Mechanical Ventilation with Heat Recovery (MVHR) unit, Natural Air 180, the Passivhaus Standard, demonstrating its ability to drastically improve the energy performance and indoor air quality of a building.
A Passivhaus certification can be awarded to a building, component or individual that meets the stringent criteria of the standard, which aims to dramatically reduce the requirement for space heating and cooling, whilst also creating excellent indoor air quality and comfort levels.
The recognition is particularly crucial in the UK with the Government committing itself to reducing carbon emissions by 80 per cent by 2050. With more emphasis being placed on housebuilders to achieve the standard, homes and buildings are becoming far more air tight, resulting in less natural ventilation occurring and a higher build-up of indoor air pollutants. Xpelair's Natural Air 180 unit has been primarily designed to address these issues.
Natural Air 180 is said to provide an efficient and flexible approach to whole house ventilation the unit has been purpose designed for consistent performance and provides an unrivalled level of flexibility. From NOX filtration for optimised safety through to PIR sensor activity for enhanced efficiency and cold-climate pre-heating, each unit can be customised using Xpelair's extensive range of ancillaries.
Lee Stones, Product Marketing Manager for Xpelair, commented: "We are delighted to have been recognised by the Passivhaus Institute as Xpelair is dedicated to improving the indoor air quality of buildings and homes across the UK whilst also ensuring they are as energy efficient as possible. The Passivhaus Standard is further recognition of our dedication to continue to design, engineer and manufacture industry-leading products that will not only help the UK meet its ambitious carbon reduction targets but also provide real benefits to the occupants of homes and buildings."
The concept of MVHR is quickly gaining traction as a method of allowing for energy recovery and addressing health concerns through a cost-effective, mechanical, balanced ventilation. Combining mechanical ventilation with heat recovery, it also offers both the opportunity to extract air through a central heat exchanger and recover heat into the air supply.
Natural Air 180 also features Xpelair's Ghost Air Movement technology to deliver near-silent running, ideal when looking to minimise disruption to the family. It also boasts the company's Intelligent Adaptiflow Sensing for Assured Installed Performance through constant volume technology, and an active humidistat, which will boost the unit when there is a rapid increase in humidity.
The system is a compact size of 552mm x 609mm x 285mm (WxHxD) and comes complete with a two-year warranty.
For further information, visit: www.xpelair.co.uk