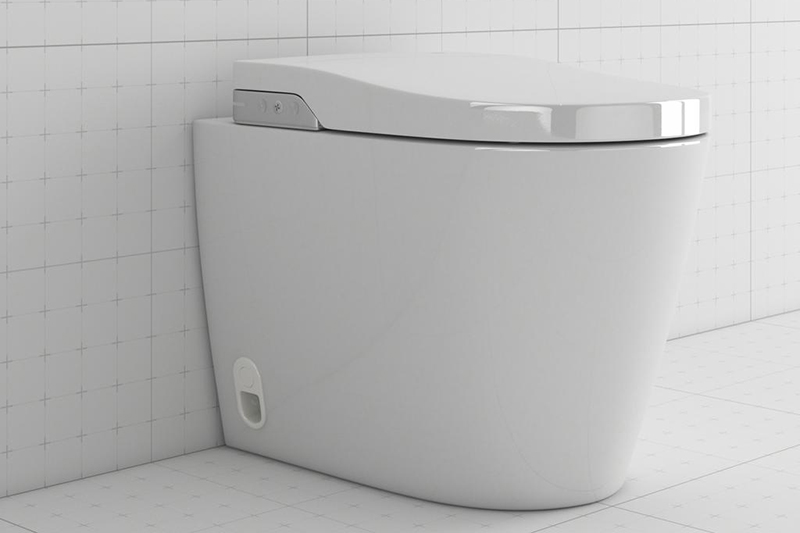 Roca's latest innovation in shower toilets is the In-Wash with In-Tank, which combines intimate hygiene and freedom of installation.
The In-Wash In-Tank toilet is designed to provide technology and design without compromising on its main function: bringing a total hygiene experience to the WC.
With Roca's In-Tank technology you can forget about the cistern, as the water tank is integrated into the WC. The Soft Air injection system propels water towards the upper section of the bowl, providing a full, effective and quiet flush. Its two simultaneous water outlets, tornado and cascade, guarantee a stronger flow with minimum water consumption. The entire bowl is thoroughly cleaned thanks to the Rimless Vortex design that removes the inner rim and provides a 360° flush.
The technology and design of In-Tank is combined with the hygiene of In-Wash, which features a front and rear wash to guarantee the full hygiene experience.
The In-Wash nozzle can be adjusted to reach the most delicate areas thanks to its oscillating massage, also providing gentle drying. To guarantee its total disinfection, the removable nozzle cleans itself before and after each use and includes an extractable tip that can be easily removed for more in-depth cleaning.
As in other Roca Smart Toilets, the remote control and the side panel are intuitive and allow the adjustment of the water and air temperature, as well as the position of the nozzle. This WC with integrated cistern also features two push buttons to opt for a full or a partial flush. In the event of a power failure, this Smart Toilet guarantees up to two full flushes by using the side button. Available in wall-hung and floor standing versions, the In-Wash with In-Tank features SOFT AIR technology for optimal flushing no matter the water pressure.
The bowl of the In-Wash with In-Tank features new Supraglaze enamel, exclusive to Roca, which allows any residue to slide right off and hinders the build-up of dirt. A third layer, applied on top of the existing enamel, provides a totally waterproof, shiny and easy-to-clean surface, maintaining the performance of traditional enamels in terms of durability and hygiene.
Offering a hassle-free installation and easy maintenance, In-Wash In-Tank does not require a frame. Without a separate conventional cistern or built-in installation system, the WC offers better use of space within the bathroom and greater design freedom. For installers, fitting the In-Wash with In-Tank is simplified as it just requires a water outlet and a conventional power connection.
"We are incredibly excited to be launching the In-Wash with In-Tank," comments David Bromell, Head of Marketing at Roca. "The individual technologies offer so much in their own right, but by combining them, we've been able to take a significant step forward in the smart toilet category. In-Wash with In-Tank furthers our vision of genuine innovation, with intuitive and thoughtful use of technology, to deliver a product with exceptional functionality, design and convenience."