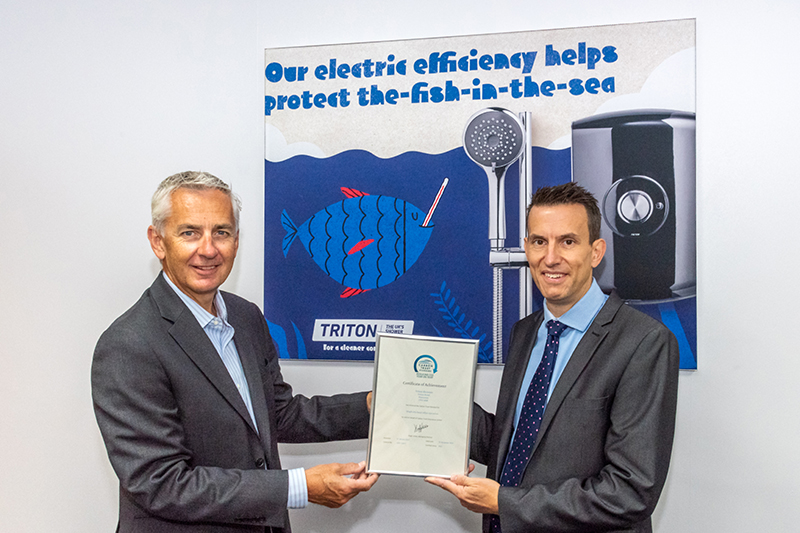 Triton Showers has achieved the Carbon Trust Standard for Carbon, underlining its commitment to reduce carbon emissions year on year, as part of the group's ambition to achieve carbon net zero by 2025.
Organisations can achieve this independent certification if they are committed to making real reductions in their environmental impact, as well as demonstrating best practice in measurement, management and operational improvements over set lengths of time. During the assessment period, Triton lowered its CO2 footprint by 38%.
In Triton's case, the journey towards a more sustainable future is not a new initiative but one that has been a core focus for several years prior to 2021. Having sent nothing to landfill since 2015, and with many other eco-successes to report, including driving down waste pollution, reducing water usage by 38 per cent, and installing LED lighting throughout 85% of its facility, the manufacturer is well placed to make a difference.
David Tutton, Managing Director at Triton, comments: "We are delighted to have received such a well-recognised and notable accreditation thanks to everyone's hard work and determination. Attaining the standard is the culmination of many different strands of activity taking place throughout our entire business to make a cumulative change – but we are not done yet.
"We will continue this pathway in the months and years ahead with a view to reaching carbon neutral status, and onwards to becoming net zero by 2025, which is also Triton's 50th Anniversary year."
Going forward, Triton aims to accomplish its vision of being the most sustainable shower brand in the UK by building momentum in this area and taking vital steps to 'move the dial' positively for the planet.
Part of this drive will involve harnessing the brand's expertise in the area of electric water heating, as domestic water and energy wastage continues to come under scrutiny, alongside electricity coming to the fore as a clean source of power that is fit for the future.
John Newton, Associate Director at the Carbon Trust Advisory, added: "We're pleased to congratulate Triton Showers on achieving the Carbon Trust Standard for Carbon. This certification demonstrates their commitment to continuous improvement in sustainability through reducing their carbon impact year on year."