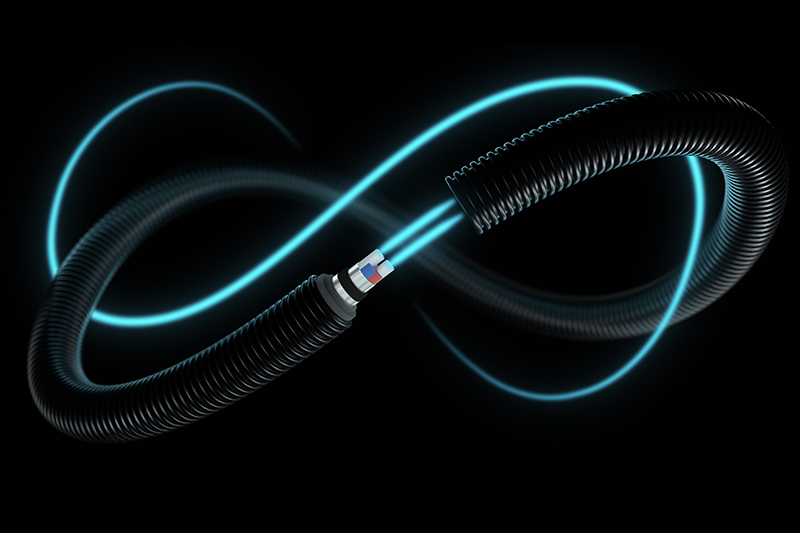 A high-performance pipe designed to make heating systems more sustainable has been launched by Uponor.
Ecoflex VIP Thermo represents the next generation of pre-insulated pipes thanks to its ability to significantly minimise heat and energy losses. The product's efficiency stems from its hybrid design which combines technology from bonded and unbonded insulated pipes to create a solution that delivers up to 48% lower heat loss compared to unbonded pipes, and 34% compared to bonded pipes.
In addition, Ecoflex VIP Thermo is flexible and durable, making it ideal for complex designs and projects where the installer is working in confined spaces. With up to 60% less bending force compared to alternative solutions, Ecoflex VIP Thermo can be navigated around obstacles or laid across bumpy ground without requiring additional connections. This minimises potential weak points that could lead to leaks after the pipes have been laid.
Uponor's new pipes are ideal for use in both local heating networks that supply individual properties and where house-to-house connections are required, as well as the district heating networks that are being increasingly used for large complexes and multi-residential developments.
Installers working on projects where efficiency and sustainability considerations are key can rest assured that using Ecoflex VIP Thermo will ensure a heating system that meets the highest standards for both. Choosing such high-performance solutions is vital, especially as the pipes which connect heating systems to the buildings we live and work in can account for up to 50% of a system's heat loss.
A further benefit of Ecoflex VIP Thermo is that the outer diameter of the pipe is up to 30% smaller than alternatives available on the market. This means that the trenches running from a heating network to a building can be smaller, saving on time and labour while also making it easier for the installer to find suitable pathways for the pipes to run.
Mark Dowdeswell, Senior Category Manager at Uponor, said: "Our extensive experience at Uponor working on high-performance heating systems means that we know what installers need their pipes to provide. We've used this expertise and insight to create Ecoflex VIP Thermo, a pre-insulated pipe that combines the highest standards of energy efficiency with advanced installation benefits.
"Ecoflex VIP Thermo delivers energy efficient, low carbon heating by significantly reducing the heat losses that typically occur when water travels from a heating network to a building. We've not sacrified functionality in place of sustainability to achieve this, as thanks to its flexible, compact design, Ecoflex VIP Thermo simplifies the application process while being highly reliable. These properties mean installers can rest assured that not only will the pipes be easier to work with but that they will keep on working without leaks or issues for an extended period of time."