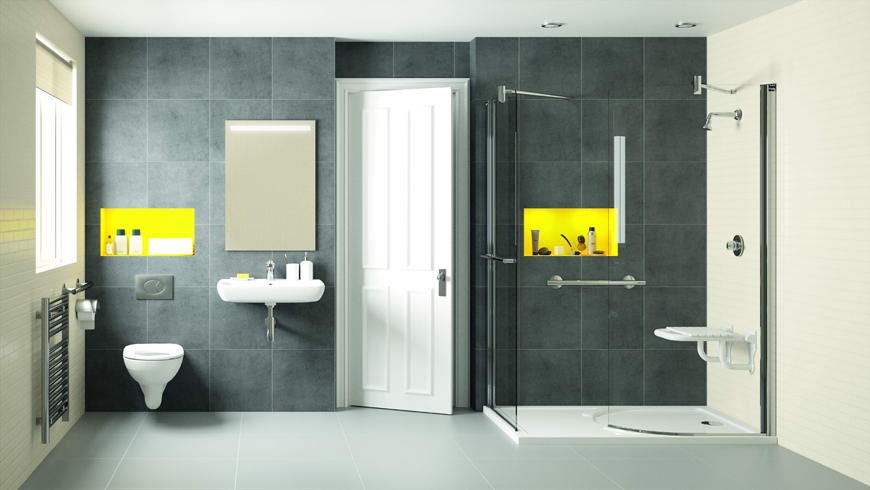 Twyford has unveiled the Energy Collection – arguably its most significant launch in a decade. Alex Juggins reports.
The unveiling of the Energy Collection typifies the adoption of a fresh approach by Twyford, a brand with great heritage. The collection comprises three sanitaryware and furniture ranges, namely e100, e200 and e500, as well as two shower enclosure ranges – es200 and es400. Each has been developed with an eye on different price points and design needs in the domestic and commercial sectors – from entry-level to mid-market. Twyford has also sought to recognise the importance of a happy installer by ensuring that the products are quick and easy to install.
The e500 is the mid-priced range designed to hit the so-called market 'sweet spot' for design, quality and value. Design-wise, it reflects the latest trend for slim-rim washbasins, which are available in round or square designs. Complementary and versatile water-and-humidity-resistant furniture units are also available with e500, finished in high gloss white or grey. All toilets feature Flushwise water-saving technology and Rimfree comes as standard on the close-coupled option.
The e200 range caters for the growing need for space-saving designs and is packed full of features to bring bigger-bathroom benefits into compact spaces. Corner basins, short projection washbasins and integrated towel rails are just some of the features that make this range suitable for the smaller bathroom. A wide range of furniture sizes, including space saver units, are available with e200, again finished in high gloss white or grey.
Twyford says that e100 has been designed and developed to provide all round style and quality at entry-level prices. The versatile range includes washbasins in both round and square modern designs and an extended choice of toilet styles, adaptable to all applications to suit all selectors. The range also features the easy-clean Rimfree toilet as standard and Flushwise water-saving technology.
Completing the new Energy collection are the es200 and es400 shower enclosure ranges. es400 is the new, mid-market range of enclosures and bath screens, complete with stylish and useful features and anti-limescale glass treatment as standard. The es200 is especially designed as an entry-level range of stylish and affordable enclosures.
Brent Hudson, Commercial Operations Manager at Twyford, says: "Twyford is a heritage brand with a long history of innovation and product development. Even with the challenging economic climate of recent years, the company has retained a strong position and has remained a household name and we are the only bathroom company worldwide to hold the Royal Warrant. Despite the recession, we have continued to invest in new product development and are now at a key stage in the modern history of Twyford."
To launch the new range, Twyford has invested £150,000 into its flagship showroom at Alsager, which is now open. This substantial investment is part of the parent company Sanitec's strategic plans to raise the profile of the Twyford brand.