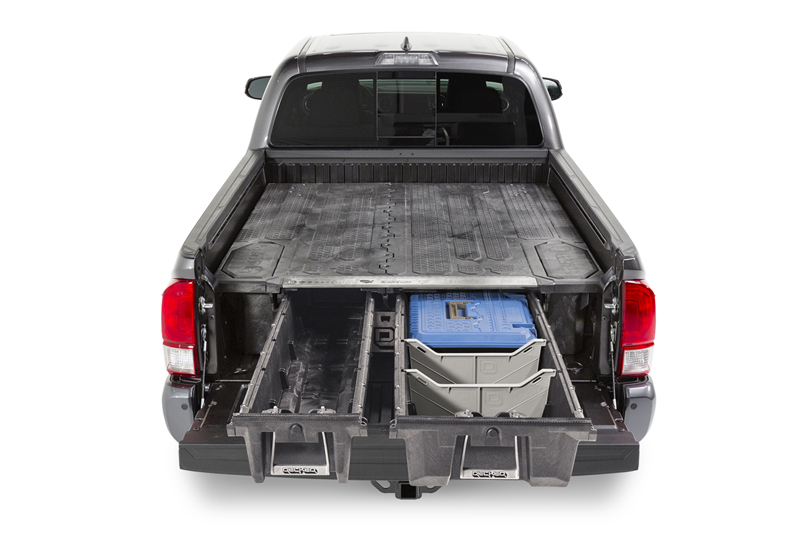 Truckman is launching a new pull-out drawer storage solution which secures, organises and gives easy access to tools – said to be ideal for plumbing and heating professionals with pick-ups. 
Originally developed for the US pick-up market, DECKED features two secure, full bed-length roll out drawers to provide ergonomic access to tools and equipment, while allowing full use of the truck bed. The system creates a raised deck with a galvanised steel sub-frame within the truck bed, which has a capacity to carry up to 1,000kg, allowing for heavy jetting equipment to be place on top of the deck.
DECKED's customisable pull-out drawers make the storage of drainage rods, pipe benders, and power tools easy, says the company. Optional drawer extras include a portable toolbox and dividers to support efficient and organised storage, along with drainage plugs and additional locks to provide enhanced security.
Extremely weatherproof, DECKED can be fitted to an open back pick-up. Manufactured using durable, 100% recycled, High Density Polyethylene (HDPE) and includes integrated drainage channels to keep water away from drawer contents on site.
Each drawer, which can carry equipment up to 100kg, opens at waist height creating ergonomic access to equipment. Further storage capacity is provided by two integrated storage bins that can be accessed through the deck to hold smaller items such as pipes and small tools.
Mike Wheeler, Executive Chairman of Truckman, said: "DECKED has become the ultimate storage solution in the US and we're delighted to exclusively bring it to the UK for British pick-up users, ideal for plumbing, gas and heating professionals. The quality of its build means it can stand up to the challenges of the plumbing and heating sector while providing an organised and secure storage solution."
DECKED, which comes with a three-year warranty, is compatible with the Nissan NP300 Navara, Toyota Hilux, VW Amarok, Isuzu D-Max, Ford Ranger, Mitsubishi L200 and Fiat Fullback.