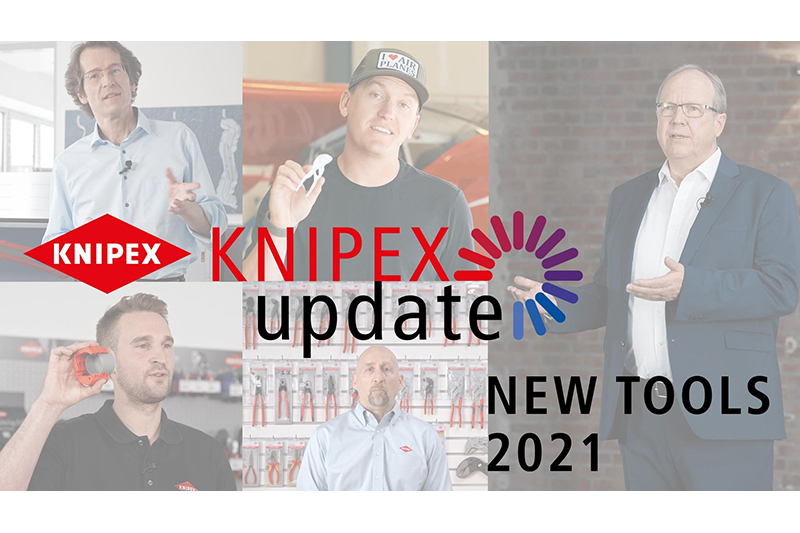 KNIPEX showed its brand new tools for the first time as an international online launch event.
The video, produced at international locations, is available in seven languages. In it, experts and trade professionals present four tool innovations:
KNIPEX BiX, a new type of cutting tool, cuts plastic pipes and sealing sleeves at the same time. The tool, which is only the size of a fist, is the first in its class to flexibly adapt to pipe diameters between 20 and 50mm and cuts HT pipes and empty pipes made of non-reinforced plastic in just a few turns of the hand.
Pliers Wrench XS is the new mini talent in the pliers wrench family. With a length of just 100mm, it is small enough to fit in your pocket, but still grips workpieces and fasteners up to 21mm.
KNIPEX CutiX is designed to set new standards as a universal knife. The latest generation cutter features variably adjustable blade stabilisation, making it a flexible all-rounder.
KNIPEX TwinGrip slip joint pliers are described as an all-purpose gripping tool, and a perfect addition to any tool collection. The innovative front gripping jaws make them perfect for loosening rounded and worn fasteners.
ICYMI: Win a KNIPEX Student Toolkit
David Barnes, Marketing Manager of KNIPEX, looks at the tools which could form the foundations of an apprentice's first professional toolkit.
As an apprentice, filling your toolbox with the best tools to get the job done is vital. But how do you know which tools to start a professional toolkit with? We have picked out the six key tools we believe will serve as the go to in a professional toolkit for any apprentice plumber.

Pliers and cutters
First up, Combination Pliers and Diagonal Cutting Nippers are key tools for plumbers. These tools will help you cut, grab, nip and twist items, even in the most cramped and hard to reach areas. These tools have many functions individually – all designed to save you time, money and effort.
Pipe Wrenches and Water Pump Pliers
With 25 jaw locking positions, Cobra Water Pump Pliers can be set to the desired size by the push of a button. Fine size adjustment ensures optimum handle position and box-joint construction prevents the pliers pulling to one side when in use. A user-friendly guard prevents fingers being pinched.
Whatever the job involves, whether it's tightening nuts and bolts, bending, pressing or gripping, the Pliers Wrench from KNIPEX is an great all-rounder, suitable for every plumbing and heating engineer's toolbox. Check out our You Tube or social channels for hints, tips and How To's.
Pipe cutting
As a plumber you will be doing a lot of this so getting a decent pipe cutter in your tool bag is a good way forward. The KNIPEX TubiX pipe cutter makes it easy to cut pipes up to 35mm in diameter and with a wall thickness of 2mm accurately. Simply place the open TubiX pipe cutter on the pipe, then position and lock the cutting wheel into place on the workpiece using the QuickLock single-handed quick adjustment. The pipe is cut by turning the tool, and the clearance between the cutting edge and the pipe can be freely adjusted with the ergonomic feeding barrel. The cut surface can then be deburred if necessary.
Cabinet keys
Believe it or not, accessing cabinets, cupboards and water closets will be necessary in your day-to-day work, especially if you do any work in offices, local authority or commercial buildings. A simple but universal cabinet key, like the KNIPEX DoubleJoint will more than pay you back, saving you hours of needless chasing and borrowing cabinet keys.
WIN A STUDENT TOOL KIT
KNIPEX is offering two great options on a Student Kit. The first is a Basic Plumbing Kit featuring Combination Pliers, Diagonal Cutting Nippers, Pliers Wrench and Cobra Water Pump Pliers.
The Premium Plumbing Kit features a Control Cabinet Key DoubleJoint, Combination Pliers, Diagonal Cutter, Pliers Wrench, Cobra Water Pump Pliers and TubiX Pipe Cutter.
KNIPEX has teamed up with PHPI to giveaway a Premium Student Tool Kit to an apprentice. To enter, simply fill in your details below, submit your apprentice's name, and tell us why they deserve the prize. Entries must be in by midnight on September 30th 2021.
If you're interested in buying a kit (and you just can't wait until the competition closes to find out if you've won),  click here and use the code KNIP25 for a discount.