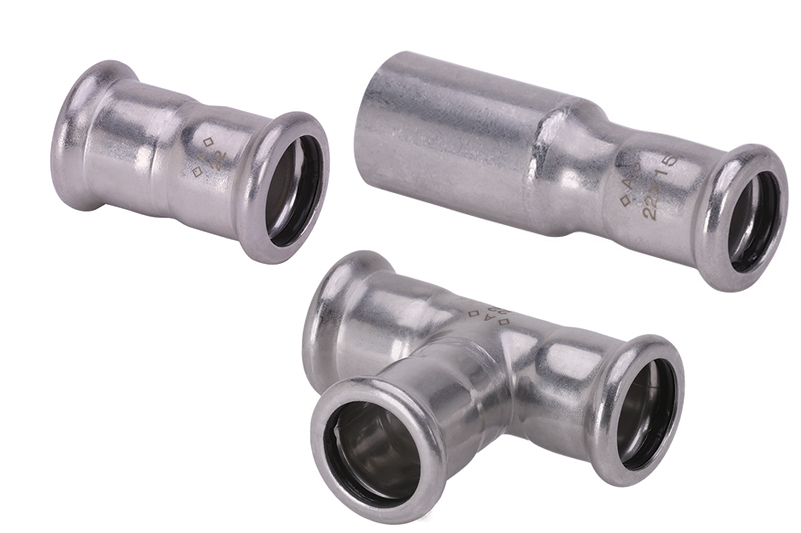 Conex Bänninger has extended its Inox fittings range, adding an <A> Press Inox single press option that is available in 316L stainless steel in sizes from 15 to 54mm.
WRAS approved, <A> Press Inox fittings are suitable for a variety of commercial and industrial applications, including drinking water, heating and cooling installations, and rainwater harvesting. They are also suitable for low pressure steam, oil-free compressed air and industrial process water systems.
The new 316L fitting is a low carbon version of the standard 316 grade.
<A> Press products are pressed using 'M' profile jaws and carry a 25-year warranty when installed to manufacturer's guidelines (terms & conditions apply).
Installers should check the Conex Bänninger website or manufacturer's guidelines for which jaws are compatible with which press tool, as it is essential the correct jaws are used when pressing.
Dan Wild, Business Unit Director for UK and Ireland, said: "We are delighted to bring <A> Press Inox to the market and expect it to be a popular choice with installers.
"Stainless steel is a high performing alloy with excellent properties that make it perfect for heating and plumbing applications.
"It is corrosion resistant, protected by the formation of a self-repairing passive oxide film, and the addition of chromium and the mineral molybdenum has given it increased resilience.
"Also, the presence of nickel in the alloy encourages austenite, a form of iron that makes the material malleable with good formability.
"The thermal expansion of stainless steel compares favourably with other materials, with expansion and contraction in response to changes in temperature being very similar to copper.
"It is also fully recyclable, another important consideration for the industry, which is rightly focused on being as environmentally friendly as possible."
The fittings are suitable for use with stainless steel tubes to EN 10312 series 1 and 2, and have a maximum operating temperature of up to 110°C at 16 bar pressure.