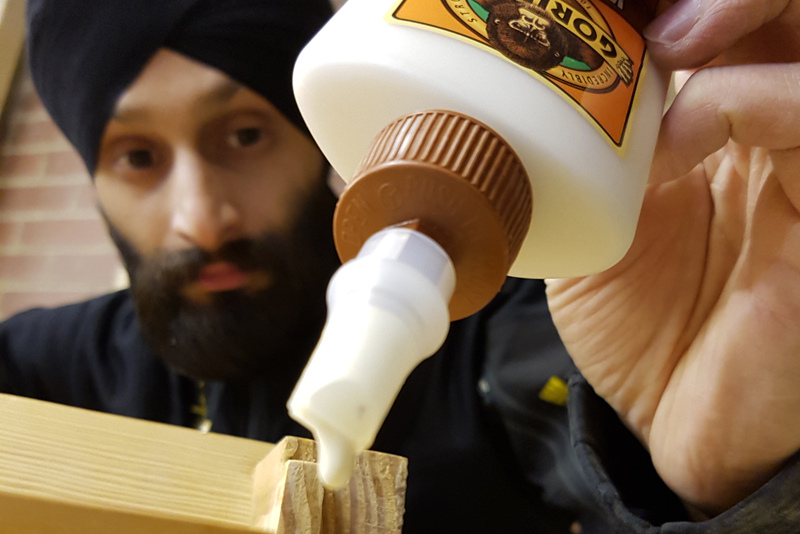 Tibby Singh Chodha adheres to the rules with Gorilla Glue.
Over its 18 years of evolution, Gorilla Glue now includes various species in its troop of products but it's only right to start where it all began – with the original Gorilla Glue. Just like the packaging, the colour of the glue is orangey/yellow. What's most impressive is that it sticks to almost everything, is 100% waterproof and dries quickly. In fact, it's so versatile you can even sand it, paint it and stain it. Like myself, many may have placed a screw or nail in the nozzle to prevent the glue from drying out. Now there's no need to do this as Gorilla has incorporated a little pin in the nozzle that prevents clogging.
Soon after the original glue, there was the birth of the next generation of Gorilla products. So I'd like to get stuck into this review as there are so many products to talk about from tapes, and epoxies to other adhesives. The most common glue I use is wood glue, and Gorilla's Wood Glue ticks all my requirements. Incredibly, it's 80% dried in just one to two hours, is D3 Water resistant (so can be used for both indoor and outdoor applications) and dries a natural colour to blend into the material like it has never been used. The only thing it doesn't do is expand, which means your joints won't be seeing daylight through expansion gaps. The cap again contains that anti-clog applicator, allowing you to come back to it still flowing like it's just been opened.
This brings me onto the Impact Tough Gorilla Super Glue, which certainly makes an impact with its super-fast drying time of just 10 seconds – so you've only got one chance to get it right. You may be wondering what materials it can be used on, whilst I'm trying to work out what materials it can't be used on. It bonds to metal, ceramic, paper, wood, leather, rubber, most plastics and much more. It even dries transparent and is sandable to get the best finish. Another anti-clog cap means it only goes hard after you take its top off and penetrate those gaps, and the jobs done and dry before you know it.
Talking about gaps the Gorilla Epoxy is ideal when it comes to gap filling. This product might look a little sophisticated, but it's very easy to use. There are two syringes, one with the resin and the other with the hardener. These can be easily and evenly pumped out to create the final mixture. Don't worry if you can't find any surface to make the mix, because Gorilla Glue has even placed a mixing tray and stick for application. This can also be used on many different surfaces but will have to be applied relatively quickly as the Epoxy will start to dry within around five minutes. It dries clear and can be sanded and painted too.
Speaking of clear, Gorilla also produces a Clear Repair Tape that's crystal clear with thousands of uses. It's fantastic for fixing, patching, sealing, holding and protecting. Yes you've guessed it, it's waterproof.
Finally, another solid product is the Gorilla Heavy Duty Grab adhesive, which comes in a tube and is applied with a mastic gun. If there's anything that can do everything, this is definitely the one. It works on all surfaces for all purposes, from indoors to outdoors, in extreme temperatures, and even bonds underwater. And it doesn't just finish there because it can be finished by sanding and then painted within one hour.
This may all start to seem like it's getting a bit confusing as to which glue you can use where because there are so many available. Fear not, as selecting the correct product for your particular applications made easy with the Gorilla Glue Guide – which makes all your life choices easier. It's easy to follow, with everything spilt into categories and colour coded; now that's a bright idea. As they say, the Gorilla Glue products are designed for the toughest jobs on planet earth. Once you've used it, you'll stick to it!