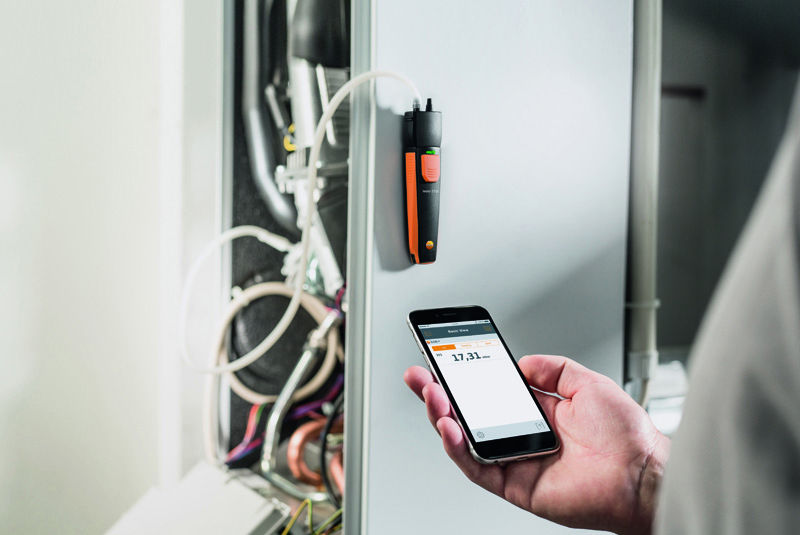 Testo has extended its range of digital measurement solutions, having recently unveiled its Testo Smart Probes. These pocket-sized professional measuring instruments can be intuitively operated by smartphone or tablet via a free app. PHPI's Alex Juggins attended a virtual press conference (yes, that's a thing) to learn more about how these products are suitable for all important temperature, humidity, pressure and flow velocity measurements.
Smartphones and tablets make our day-to-day lives easier in almost every situation. So why not contractors' measurement tasks? That's what Testo's engineers asked themselves – and the result was the development of the new Smart Probes range. The end product is eight compact measuring instruments which can be connected to a smartphone or tablet via Bluetooth, and conveniently and intuitively operated via an app. Despite being small, the Smart Probes are equipped with the manufacturer's customary professional measurement technology and are suitable for all temperature, humidity, pressure and flow velocity measurements.
The central operating element of the Bluetooth measuring instruments is the versatile Testo Smart Probes App. The app can be installed for free as an iOS or Android version, and offers the user many practical functions, including clear measurement value readout, curve display of the measurement data in graph or tabular form, as well as the dispatch of the measurement data as a PDF report or Excel file. More application-specific measurement menus make working with the Smart Probes even more efficient and allow measurements from up to six Smart Probes to be combined.
The distinct advantage of the new Testo Smart Probes is their ability to provide a practical and cost-effective solution for measurement of recent applications. An example of this is the differential pressure gauge, as one product in the range that can be used to measure gas flow and static pressure in order to check the tightness of gas pipes. For utility companies installing Smart Meters, this allows an efficient and effective audit trail in cases where customers complain of gas smells.
Smart Meter installation offers huge potential for this product, with approximately 50 million meters to be fitted in over 26 million households across the United Kingdom by the end of 2020. Another application for heating engineers is the balancing of radiators through checks of flow and return temperatures on thermostatic mixing valves by using a clamp or an infrared thermometer. Landlords needing to survey properties for risk of mould can use the dedicated mould test in the Smart Probe App.
Running on a tablet or phone provides the Smart Probes App with access to customer address details. Once measurements have been completed, a simple Import function in the app allows customer details to be automatically added to reports which can be saved and emailed.
The Testo Smart Case is just as compact as the measuring instruments themselves. It allows the Smart Probes to be safely stored and transported. On the outside, the case consists of a robust and flexible hard shell, on the inside it has a soft foam rubber inlay with fitted compartments for the individual measuring instruments. The Smart Probes are safely protected, should the case happen to fall onto a hard floor.