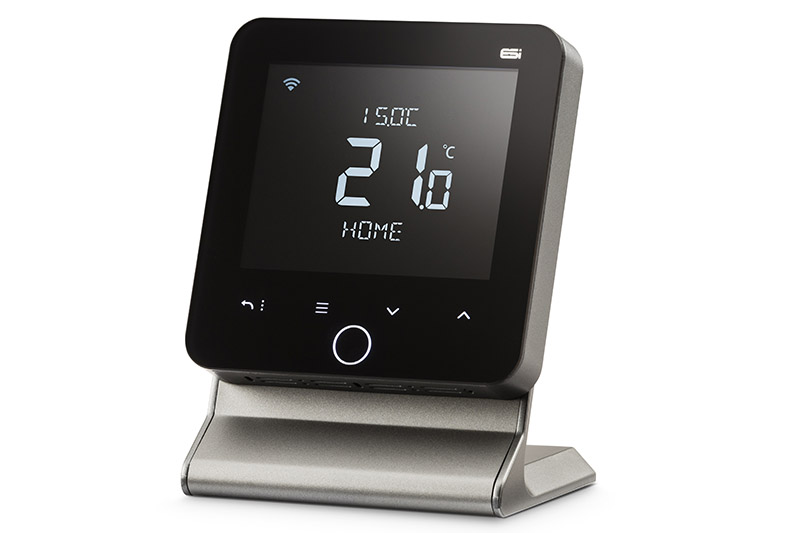 Tristan James, UK Sales Director, ESi Controls, introduces the company's new 6 Series WiFi Programmable Room Thermostat and outlines the range of heating control options available.
Using the latest heating controls on new heating systems, or upgrading existing heating systems with new controls, is one of the ways to increase the energy efficiency of an already energy efficient heating system. It can also ensure that homes are benefitting from the best control options.
One solution, recently launched by ESi Controls, is the new 6 Series WiFi Programmable Room Thermostat. It offers the latest in heating control for homes and commercial premises. Fully OpenTherm compatible, this new range of controls allows full control via the room thermostat or via a mobile phone or tablet, with a range of features to impress homeowners.
Features include Optimum Start/Stop, Domestic Hot Water (DHW) setpoint, Hot Water time and temperature control when working in conjunction with a wireless cylinder thermostat, full 7-day, 5/2 day or 24-hour programming options, a boost facility, a helpful Holiday Mode and it's an ERP Class 5 Product. These sleek new controls are available in white or grey.
OpenTherm compatible
Despite the COVID situation, we've had a stunning year of sales and we've kept up with the development work as well so that we can introduce the 6 series on time. The initial response from our customers has been phenomenal.
The new 6 series complies with all relevant directives, incorporates the latest in energy efficiency technology and is OpenTherm compatible for installers using OpenTherm in their installations. It also comes with a three-year warranty.
Range of options
Whilst the 6 Series utilises the latest control technology, ESi realises that on the heating controls front, the control selected must reflect the homeowners or tenants that will be using the controls – who will need to feel comfortable operating them. Whilst for many, the latest technology is a huge plus if they are internet savvy – to perhaps older people or vulnerable individuals who need simplicity in their controls, the modern screens and flashing lights of wifi connected controls may well be a step too far.
The company is typical of the major heating control manufacturers in that it offers a range of programmers from a simple 1 Channel version to a 3 channel Multi-Purpose Programmer, which enables the installer to comply with Part L of the Building Regulations by providing separate timed heating control for living and sleeping zones in a home.
A programmable room thermostat lets the homeowner choose what times they want the heating to be on and what temperature it should reach while it's on. A seven-day timer makes it possible to set a different heating pattern for each day while 5/2 programming offers different options for weekdays and weekends.
ESi's best-selling ESRTP4 model provides 7-day, 5/2 day or 24-hour programming options, with up to six time and temperature events being available each day. Because these are also available in wireless versions, they can be installed anywhere in the home.
With a large, easy to read LCD display and being simple to use, the ESRTP4 provides genuine saving, as these models have Delayed Start and Optimum Start / Stop and also offer a landlord facility to facilitate annual maintenance. ESi's RTP5 and RTP5 Wifi units along with the very latest RTP6 'Touch' units are worth a closer look for those looking for the top end technology options.
Dial up
But for people who prefer a control dial to push button controls to control changes to heat in a room – and there are still a lot that do – the ESi Electronic Room Thermostats offer the simple answer they are looking for. Available with or without an LCD display, the homeowner simply has to turn the dial to the desired temperature.